Mokaatil landed the big handicap on Cazoo Derby Day, the five-furlong World Pool "Dash" over five furlongs, to give 21 year old jockey David Egan ever first Epsom Downs success.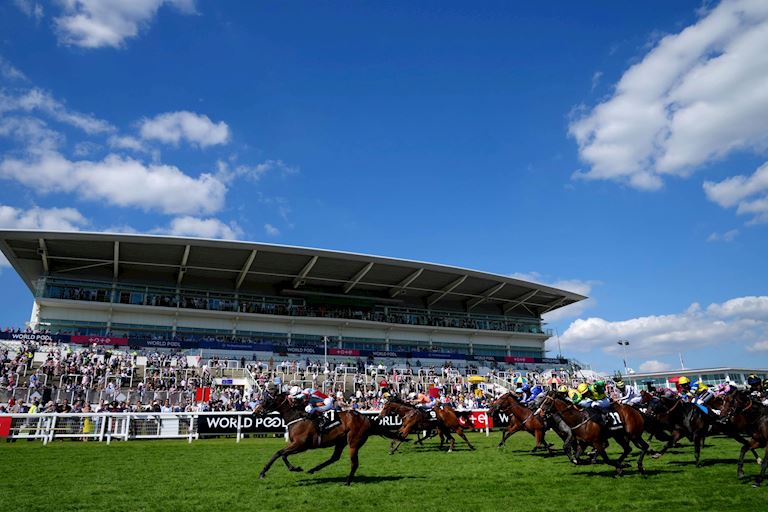 A 25-1 chance, the six year old Lethal Force gelding was not for passing in the final furlong, seeing off all challengers to score by a length and a half.
Egan, the 2017 champion apprentice, said afterwards: "It is a lovely one to do it in and it was also my first ride in the Dash as well. He is a horse that has been running over six and seven (furlongs).
"This was a fast run five and if he was able to jump the gates well and get a prominent position and not be put under too much pressure for the early part of the race he was always going to stay on up the hill nicely on what I thought was testing ground.
"He pinged the gates, we got a nice position. About two out, I had the decision to let him roll down the camber and come left of the lead horse or drag him back up the hill and I thought it was the best thing to do to let him keep his momentum up.
"He has stayed on well past the line and galloped on after the end so going back to six furlongs will be no problem. He is a fantastic horse and it is great for Mr Williams' team who give me a lot of support.
"There was a lot of speed and one horse in the corner of my eye did jump very fast close to the rail and I was able to get within a length of it which I was happy with. As long as I could tag on to the back of one that would go quick enough to take me into the race, and as I said he finished off nicely and he quickened up well."
Asked about it being his first Epsom Downs winner, Egan replied: "It has been a little while coming as I've been coming here since I was a 7lb claimer and I never broke the duck so hopefully they will come like London buses now!"
Winning trainer Ian Williams said: "It was a bold move, really, and we weren't sure we had done the right thing. When the rain came, that was obviously going to help a bit, and he's put up a performance which is probably a career-best.
"The gentlemen that own him (Midtech) enjoy their racing, and we spoke today about coming here and enjoying the moment and seeing how we go, and they've walked away with the winner of the Dash, which is fantastic. We're all happy.
"David [Egan] did a very good job of getting an early position, and he kept him in the race when he could have been taken off his feet, and, to be fair, he finished very strongly, like a horse who did stay that little bit further. The blinkers have worked a treat today.
"I didn't appreciate that it was David's first winner at Epsom until the trophy presentation - a good result for him as well.
"I'd love to say this had been in the book for the past six months and had always been the plan, but I think we've been very fortunate with how the race has been run today, and we'll take him and see what he - and the handicapper - does next."
Irish-based hander Kevin Coleman, responsible for runner-up Only Spoofing, (13-2), said: "It was a great run. We thought that this was going to happen and that we'd be on our heads early – we told Tom that he'd struggle from the get go – but I'm delighted. He's a hardened sprinter now, he's all guts, and it's great to be here in this place!
"One of the owners is based here so there's every chance that we'll come back to the UK at some point but I might try to get him in the Rockingham Stakes at the Curragh at the end of this month. This isn't the place for him, but when you have a heart it doesn't matter. It took us a while to get the key to him, but I think it's the ground, so we're delighted."
Jockey Tom Marquand added: "He's run a super race. I could probably have done with an extra half a furlong with that climbing ground because he was doing his best work late on. He finishes his races off well and that's his trademark, so I'd like to think that Kevin will find a big race for him somewhere."
Andrew Balding, trainer of third-placed Stone Of Destiny (5-1), said: "He'd ideally want it a bit quicker, but that was a smashing run off top weight."
Cam Hardie, rider of fourth-placed Mondammek (6-1), said: "I didn't have any trouble but if anything the gaps probably opened a bit too easily for him. He travelled nicely today and settled very well off that pace, but he found the camber a bit awkward and was just lugging down it a bit. He'd win a Dash on fast ground."