Jockey Adam Kirby celebrated the first Classic triumph of his career by cruising to Cazoo Derby victory on Adayar – then praised trainer Charlie Appleby for his "unbelievable loyalty".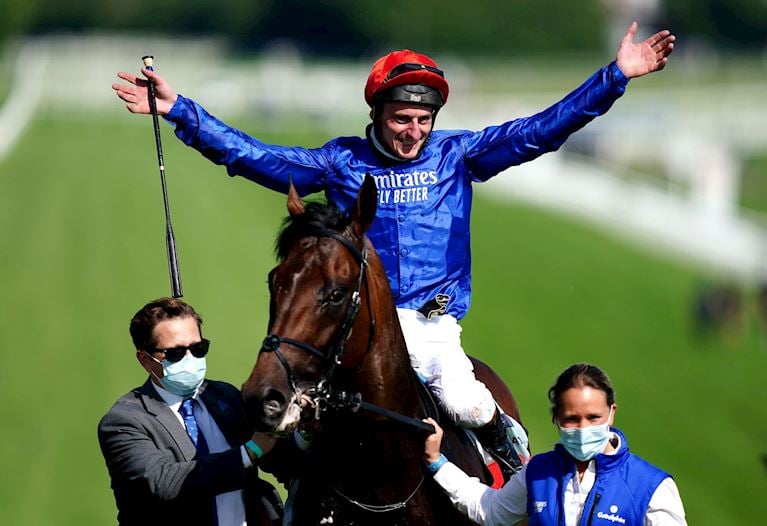 Just 72 hours earlier Kirby had been left devastated after losing the ride on John Leeper when connections decided to replace him with Frankie Dettori, who became available following Aidan O'Brien's decision to run only Bolshoi Ballet in the Epsom Downs showpiece.
However, Appleby showed faith in Kirby and offered him the ride on Adayar, a horse he had originally wanted the 32-year-old to ride.
Adayar, a 16-1 chance, was a little slowly away but soon recovered to track the leaders in today's 242nd staging of the premier Classic. After hitting the front two furlongs out, the result did not look in any real doubt and Adayar kept on resolutely to come home four and a half lengths clear of 50-1 chance Mojo Star, with stable companion Hurricane Lane another three and a quarter lengths back in third. The 11-8 favourite Bolshoi Ballet never threatened and finished a well-beaten seventh.
Speaking after partnering Adayar to victory in the world's greatest Flat race in front of a COVID-19 restricted 4,000 spectators, Kirby said: "It's quite unbelievable, really. I don't think it's sunk in yet.
"I can't thank Charlie Appleby enough; his loyalty is unbelievable. He's a real man's man. Clive Cox, my guvnor isn't here today but he's the most loyal man, and to be able to ride class horses when you're just a sort of run-of-the-mill jockey and you get a chance on the big day to deliver - it's a marvellous feeling.
"He ran well in the Derby trial, and obviously that form now is great, but we're all wiser after the event. I can't thank all connections enough, and it is a day that will never be forgotten.
"There was just enough room up the rail, and I thought if I could just get in I could help them make their minds up, so I got in; luckily the horse was brave enough to go through with it and galloped up to the line and out through it. It's a marvellous day. I hope my mother was watching!
"I was asked to ride John Leeper, which was an exciting moment. Five minutes later, Charlie [Appleby] rang me and asked me to ride this lad. I said I'm sorry, I've just put my name to John Leeper. Mr Dunlop said, if you're going to ride him, put your name to him, and I was a man of my word and I did. And it's worked out great that I lost the ride on him!
"I'm not really a person to get overexcited about things, but I was then and it was a real buzz. I hope my kids are watching, and at least they know when they call Daddy an all-weather jockey, he's not an all-weather jockey."
Asked about the rollercoaster nature of the week, Kirby said: "You wouldn't have wanted to be around me for the first hour of that night, but then I got over it.
"Luckily I spoke to Charlie relatively quickly and, like I said, he had his jockey booked and he was a champion jockey (Oisin Murphy) and he was kind enough to let me ride the horse. Full credit to him - he's a great trainer, a great man and a great father, and I can't thank him enough."
Asked why it took him time to come out of the weighing room for the presentation, Kirby said: "It was a light enough weight for me, and I just wanted to have five minutes to take it in and drink some juice. Mad, crazy - what goes around comes around."
Kirby paid tribute to the legendary jockey Walter Swinburn, who Kirby rode for earlier in his career. Swinburn rode three Derby winners, headed by the great Shergar 40 years ago before turning his hand to training. Swinburn died aged 55 in 2016 following an accident.
Kirby continued: "He was a top man and a very sad loss. He taught me great things as well and taught me always to be very cool and calm and relaxed about things - I I wouldn't say that's come out in me today, but... He was great to ride for and a fantastic man. He had a lovely family and I am sure they will be pleased for me too.
"Being described as an all-weather jockey has never really bothered me, but it does on days like today, but now they can all keep their opinions. I'm good on the all-weather because I ride on the all-weather, and I get horses with chances on the all-weather. You can't win these big races unless you're in them, for starters, so it's great to pick up a ride in The Derby, let alone win it."
Asked about the physical sacrifices he has to make to be able to ride, he said: "It's been an absolute privilege to have the extra couple of pounds for the allowance due there to being no sauna, which has made my life a lot easier and a lot less stressful.
"I deal with that kind of stuff in my own way, but I suppose I'd be a bit awkward to live with sometimes - fair play to the missus (Megan Evans), she hangs in there well. Full credit to her."
Kirby is involved extensively with behind the scenes activity at Godolphin and broke in One Ruler (sixth today). However, he was unsure whether or not he broke in Adayar.
He concluded: "It's great - I do a lot of horses for Charlie. I love every minute of that as well and Charlie is a great supporter of ours. Everything's going smoothly there and we've got some lovely horses. Today is a massive bonus. Charlie is a top man and I will never be able to thank him enough."
Trainer Charlie Appleby added: "I'm delighted for the whole team. I'm delighted for Sheikh Mohammed and Godolphin. Being a home bred as well and obviously Frankel having his first Derby winner and it is great for Adam. He knew him as well as anybody and as I have said in past interviews as well he broke all three of the runners in at Vicarage Farm so well done to them as well.
"I'm delighted to be in this position again and it is a very privileged position to be in. To win it the way he has done it he has stamped his authority there amongst the three year old middle distance horses now. We will get back and let the dust settle and it will be interesting to see what the boys have got to say about the other pair as well.
"I had the conversation on Wednesday evening with his Highness (Sheikh Mohammed) about the three horses in contention for today and I put it up there that Adayar would be more of a staying horse. Thankfully he put me straight back where I should be and he said, 'No Charlie there is only one Derby and you need to stay in the Derby' and that is why he is here today. As always, I have to give all my thanks and support to his highness.
"Adam has been a huge part of the team he has been with us since I've started training and he has helped us out on the racing side of it and everybody knows he brakes a lot of the horses in for us now.
"I have to say thoughts go to Oisin as well as he was very professional how he took the news as well. Obviously once Adam became available I was always going to offer the ride to him and once Oisin picked the phone up he said 'I know what you are going to say Charlie' and said 'I understand' so I have to say a big thanks to Oisin for being a true sportsman and very professional.
"The thing about three horses all three were fit and well and the conversation was do we want to run all three in here or do we want to move the puzzle around slightly and hand on heart if you had asked me who was the natural pace horse of them all it was Hurricane Lane.
"They all worked together on Wednesday morning and I think most people would have said Hurricane Lane was the one but the one thing about this race is staying is the job and that is what he did in abundance there.
"Once he hit that rising ground it was very much to say it was never in doubt. You see the size of this horse he is learning all the time. At Lingfield we all go there to try gain some experience but it is harder round Lingfield than coming around Epsom for those big horses. We all know the camber and undulation of both tracks. We felt Lingfield was a harder track to come round so he would have learned plenty.
"As respect to them as individuals - they all looked great and were training well. I couldn't give a negative to any of them coming in apart from one horse that was going to be more of a St Leger horse and that was him. I'm not saying we won't see him there yet. Huge credit to everybody involved and it shows his Highness' and Godolphin's enthusiasm of breeding and going to the sales.
"The horse in third there Hurricane Lane is a £200,000 sales purchase and he has finished third in the Derby. He is going to be a big contender for some of the nicer races for the rest of the year. I'm in a lucky position to have the support team around me from Marie Murphy and Alex Merriam my assistants to the guys and managers in the yard the secretaries and everyone on the farms and my family.
"We all know what this game can be like, which is tough and you put a few hours in and you come home not quite as happy as you left for work and they have to put up with a lot. It's a huge thanks to everybody.
"He is a big horse and I wouldn't like to say we will rush to anything yet. We will take this on and sit back and have the nice discussion after winning these races where we will go next.
"Adam is a natural horseman. You can put him on any type of horse. He can settle a horse he can tend horses. When I first took out a license Adam rode winners for us early on. He is a natural horseman. I don't need to say what he does as he has just done it.
"I think if you win an English Derby you don't have to call yourself an all-weather jockey but Adam is far from an all-weather jockey. I'm just delighted he is part of the team and that he has had a winner.
"When you are in a position I am in and thankfully have the horses that we have in our care expectations are always there. When you have your first Derby winner it is one of those surreal moments it is your first Derby winner but it is a sense of relief you have ticked off one of the boxes that you are employed to do. Coming into today's Derby everyone was a bit more relaxed.
"As I say it's like driving a car unless you have driven a Ferrari you don't know what one is like. Until you have won a Derby you don't really know what horse you need to win a Derby but thankfully we are in a position now that we are learning what horses are needed and we have a great team in sourcing the horses to train."
William Buick, who rode the third placed Hurricane Lane, added: "I chose to ride Hurricane Lane and I was very happy with it and Charlie was very happy as well. His victory in the Dante was good and he's been doing very well ever since. He ran a huge race to finish third and it was only his fourth start.
"I was very happy with the position we got, he jumped well and travelled well up the hill and put himself I thought in a nice spot. We were in a position where we were nice and relaxed and we got into a position where we could go when I wanted to – which is what we did.
"Obviously Adayar picked up amazingly well and won like a very good horse and Adam had a very good trip on him. He's done very little wrong, he's placed a couple of times in trials earlier in the season and you'd imagine as a big horse he's going to get even better.
"I haven't watched the race back properly yet but you have to be very impressed with what he did today and I'm delighted for the whole team and Sheikh Mohammed. He puts so much into it and this is what he deserves."
THE 2021 CAZOO DERBY – FACTS & FIGURES FOLLOWING THE VICTORY OF ADAYAR
Winning jockey Adam Kirby was enjoying a first Classic success when partnering Adayar to victory in The Cazoo Derby of 2021. It is the ninth Group One success of his career.
It is a second Cazoo Derby and second Classic success for trainer Charlie Appleby, who previously saddled Masar to success in the premier Classic in 2018. Appleby, who was also responsible for today's third Hurricane Lane and sixth One Ruler has only had seven runners in total in The Cazoo Derby. Today's victory was the 38th Group/Grade One victory of Appleby's career. He began training in 2013.
Owner Godolphin was winning The Cazoo Derby for the second time, with the its Royal blue silks previously carried to success by Masar in 2018. Godolphin was founded by Dubai's ruler H H Sheikh Mohammed in 1992 and has now won 338 Group/Grade One races.
Sheikh Mohammed first tasted success in Britain with Hatta at Brighton in 1977. The ruling Maktoum family of Dubai and its associates have now been responsible for seven Derby winners in total – Nashwan (1989 – Hamdan Al Maktoum), Erhaab (1994 – Hamdan Al Maktoum), Lammtarra (1995 - Saeed bin Maktoum Al Maktoum), Kris Kin (2003 – Saeed Suhail), New Approach (2008 – HRH Princess Haya of Jordan), Masar (2018 – Godolphin) and Adayar (2021 – Godolphin).
Adayar's victory today was a first in The Cazoo Derby for his sire Frankel. Owned by the late Khalid Abdullah and trained by the late Sir Henry Cecil, Frankel won all 14 of his races between 2010 and 2012, 10 of which came at Group One level and his Timeform rating of 147 is the highest in the organisation's history.
Frankel was himself a son of 2001 Derby winner Galileo, who is the most successful sire in the history of the Derby with five success. Today is his second success as a paternal grandsire, with his son New Approach (the 2008 Derby winner) responsible for Masar in 2018.
WINNING JOCKEY
ADAM KIRBY – 2 CAZOO DERBY RIDES, 1 VICTORY
2017-11 Dubai Thunder
2021-1 ADAYAR
WINNING TRAINER
CHARLIE APPLEBY – 7 CAZOO DERBY RUNNERS, 2 VICTORIES
2014-14 Pinzolo
2014-15 Sudden Wonder
2018-1 MASAR
2019-9 Line Of Duty
2021-1 ADAYAR
2021-3 Hurricane Lane
2021-6 One Ruler
WINNING OWNER
GODOLPHIN – 37 CAZOO DERBY RUNNERS, 2 VICTORIES
1995-6 Vettori
1997-9 Bold Demand
1998-2 City Honours
1998-9 Cape Verdi
1999-9 Dubai Millennium
1999-13 Adair
2000-4 Best Of The Bests
2000-6 Hatha Anna
2000-11 Inchlonaig
2000-12 Broche
2001-3 Tobougg
2002-3 Moon Ballad
2002-7 Naheef
2003-8 Graikos
2004-2 Rule Of Law
2004-7 Snow Ridge
2005-3 Dubawi
2008-7 Rio De La Plata
2009-9 Kite Wood
2010-3 Rewilding
2010-6 Al Zir
2010-8 Buzzword
2011-11 Ocean War
2013-12 Dawn Approach
2014-7 True Story
2014-14 Pinzolo
2014-15 Sudden Wonder
2015-2 Jack Hobbs
2016-8 Cloth Of Stars
2016-16 Moonlight Magic
2017-5 Benbatl
2017-8 Best Solution
2017-11 Dubai Thunder
2018-1 MASAR
2019-9 Line Of Duty
2021-1 ADAYAR
2021-3 Hurricane Lane
2021-6 One Ruler