Warwick Racecourse is to stage a new perpetual trophy race in honour of the legendary jockey, Stan Mellor on November 6th. Stan Mellor, who sadly passed away on August 1, has been correctly described as one of the great figures of post-war steeplechasing.
Born in 1937, Stan's career in racing got underway when he started working in the yard of George Owen at Malpas in Cheshire. He commenced as an amateur and secured his first riding success in a selling hurdle at Wolverhampton in 1952. He would go on to be a three-time Champion jockey (1960-1962) and the first national hunt rider to secure over 1000 winners, a feat he achieved in 1971.
His first major victory came aloft French Winds in the 1960 Topham Trophy at Aintree and two days later he came home second, again over the big Liverpool fences in the Grand National on Badenloch.
His career saw many highs and occasional lows. He calculated he had fallen on no fewer than 750 occasions. His major wins included two King George VI Steeplechases; 1964 Frenchman's Cove and 1969 Titus Oates. Frenchman's Cove had also given him success in the Whitbread Gold Cup of 1962.
In 1963 Stan won the Champion Chase at Cheltenham on Sandy Abbot, and followed that up in 1964 when he landed the Mackeson Gold Cup on-board Super Flash. By the time he retired from the saddle in 1972, he had secured a tally of 1,035 wins. That year he was awarded an MBE to acknowledge his services to the sport of racing.
Known as a tactical genius, he famously defeated the legendary Arkle on-board the 25-1 shot Stalbridge Colonist in the 1966 Hennessy Gold Cup, a ride still celebrated for its guile and cunning.
On retirement from the saddle he went on to join the training ranks where he sent out 700 winners from his base in Lambourn.
His successes included sending out the first two home in the 1979 Triumph Hurdle with Pollardstown and Tenth of October. He would win the race again with Saxon Farm in 1983. He also won two Whitbread Gold Cups with Royal Mail in 1980 and Lean Ar Argaidh in 1987.
Stan was also the first Chairman of the Jockey's Association and worked closely with the Injured Jockeys Fund.
His wife Elain, was seven times Lady Champion rider and both their daughters, Linz and Dana rode winners under rules.
At Warwick, where his memorial race will be run, he rode 37 winners including success in the Warwick Chase on the famous horse Crudwell, a winner of 50 races, 16 of which came at Warwick.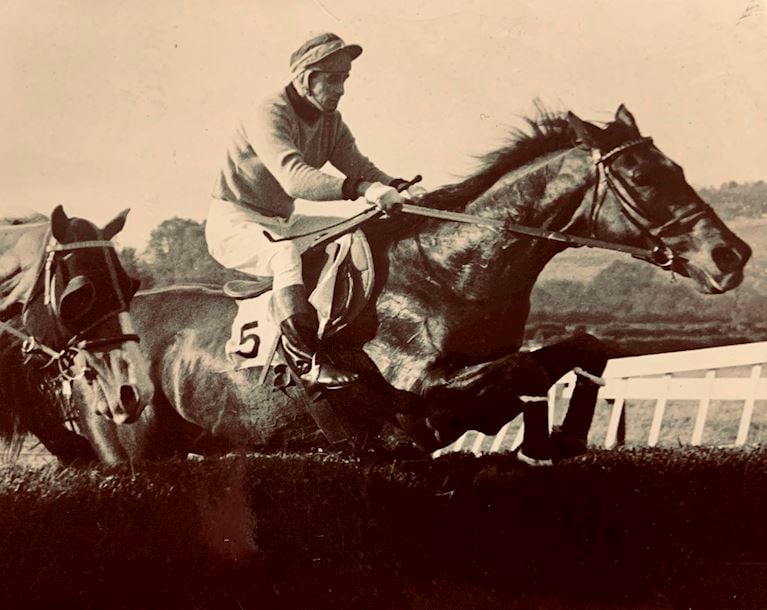 Elain Mellor said:
"Stan's first winner at Warwick was on Jan. 7th. 1956 riding Tea Fiend for his first boss, Cheshire trainer, George Owen. Many more winners followed over the years as a jockey then as a trainer.
When our children were small we would take them with us and park alongside the rail adjacent to the last fence, where we could see all the action. This experience could vary from watching Stan being scooped up after a fall to cheering him home on a winner.
We found Warwick to be a friendly, fun racecourse where owners and racegoers could enjoy themselves, and hopefully in the not too distant future they will be able to do so again. The whole Mellor family is delighted that Warwick will stage a race in Stan's memory."

Andre Klein, General Manager at Warwick said;
"Much of my love for horse racing can be traced to the fact that I grew up in Ashbury, a stone's throw from the racing village of Lambourn. I was always inspired by the many racing heroes living around me and none more so than the great Stan Mellor, whose career as a jump jockey ended a year after I was born. Stan was a thorough gentleman, always kind, generous and encouraging and was greatly admired by all that knew him. I am honestly humbled that Warwick Racecourse has been given the opportunity to run a race in his memory. He visited the track with Elain two seasons ago as our guest, where he entertained our Members with colourful stories from his long and successful career."
Jane Hedley Clerk of the Course at Warwick said;
"The Novice Chase chosen for Stan Mellor's Memorial is the feature event of the afternoon's programme, valued at £12,386 to be run over two miles. The corresponding contest has been won by some highly rated young chasers in recent seasons. Last year's winner was the mare, Maire Banrigh, who went into the Arkle Chase as an unbeaten winner of four chases, whilst the 2018 running went to the talented Kalashnikov, who went on to win the Grade One Manifesto Chase at Aintree. Hopefully this year's winner will scale similar heights."