Epsom Wartime Stories is a collection of memories from members of the public who were in the local area at this time. These fascinating stories give an insight into daily life during the war and the impact it had on Epsom and the racecourse.
"...I lived in West Hill in Epsom with my parents, grandmother and sister, later to be joined by my two cousins who were bombed out of their home. We had two Morrison shelters in our lounge with sandbags on the windowsills and a blast wall outside.
.
Two large concrete tank traps were built between our house and next door. Our neighbours in Hookfield had twenty-four tank traps right across their lawn. A house on the other side of the road going towards Epsom Common, at the bottom of West Hill, was commandeered by the army who built a pill-box in the front room which had a view right up to Parklawn Avenue and across the Common.
The land on Epsom Common from Christchurch to the Stew Ponds and the Wells Estate was levelled to the ground and sown with wheat and barley.
Thirty feet deep by eighteen feet wide tank traps were dug alongside Stamford Green Pond up to the Scout hut next to the Church and a searchlight battery was installed near the Church.
I remember a German Messerschmitt flying very low along Epsom High Street, coming down over the Clock Tower. It was heading towards Ewell and being chased by a Spitfire. Everyone ran into the shops to take cover. The aircraft was shot down by the Spitfire over Epsom Downs; the pilot baled out and was captured."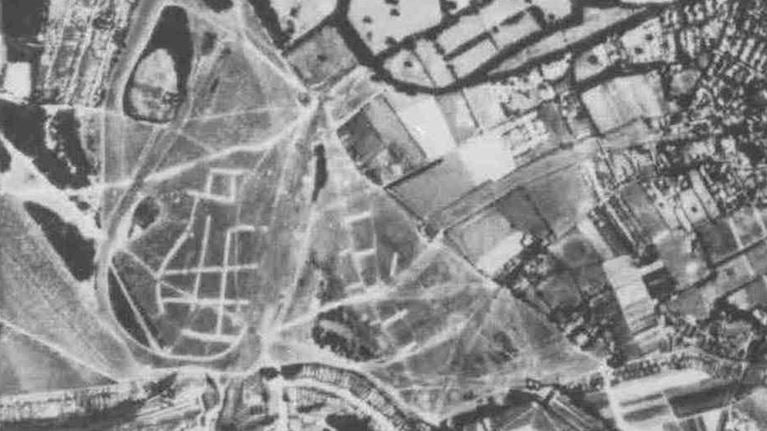 Image taken by the German Airforce shows trenches dug into the chalk over the racecourse to prevent landings.
This extract comes from WW2 People's War - an archive of World War Two memories written by the public and collated by the BBC.
More Epsom Wartime Stories: