Andrew Balding trains Investec Derby prospect Kameko at his yard in Kingsclere. After an incredible win in the 2000 Guineas last month he remains one of the favourites for the Greatest Flat Race in the World on Saturday 4th July. We visited him to find out more about his preparations.
"We are really pleased with the way that Kameko came out of Newmarket, he is a very laid back horse. He slept that night got up the next morning on Monday morning and back to work and hasn't looked back since. We sent him upsides on Saturday which was his first faster piece since the Guineas and I was really pleased with him, he is just such a professional and I couldn't be happier at this stage. We have got one more big piece of work to go and as long as that goes well we are all systems go."

Reflecting on Kameko's success at Newmarket, Balding said:

"We went into the Guineas with high hopes that he would run very well but I was really pleased with the way he won the race. I think it was a strong Guineas, I think both Wichita and Pinatubo are two very good horses and he picked them up and was on top at the end and that was important. I think his last furlong was his best furlong even though he hung slightly across the track he was really strong at the end of the race. I think that has got to be encouraging in terms of looking towards Epsom."
On training Kameko he added:
"From the day he arrived in the yard Kameko has just been the most sensational horse to have anything to do with. He's so relaxed, he's so professional, he's always worked to a high standard. He is an easy horse to read which is important and helpful for a trainer. The only time I think I felt we got it wrong was when we had him a little too fresh for the Royal Lodge that day but we learnt from that and he is a horse who needs and enjoys plenty of work and thats fantastic, we have had a good lead up to Epsom so hopefully we can keep that going for another ten days that would be great."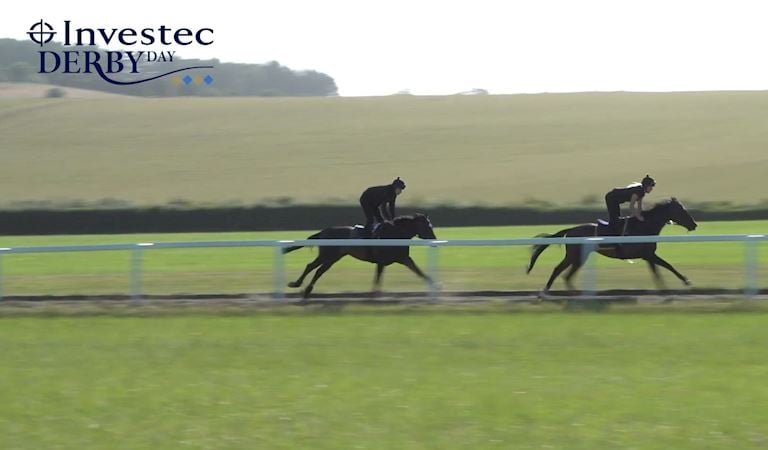 Click to watch the full interview.

The Investec Derby will be run behind closed doors with no crowds this year. About the change in atmosphere Balding said:
"The funny thing with the lack of racing crowds and the fact that no one is able to attend the race meetings does have a totally different atmosphere at all the races I have attended now whether it be at Ascot or Newmarket or Kempton. It is very very quiet and the horses are very much more relaxed than they would be if there was a big crowd there and I think it is to the advantage of every horse this year that there aren't any crowds and theres no excuses from that point of view. Its a totally different ball game to be honest, obviously not one we want to prolong further than this year but its been a help to a lot of horses I would have thought that the fact there is nothing going on and they are just very relaxed and switched off at the races."

On handling the Epsom track he added:
"Handling Epsom is something you just never really know until you get to the racecourse and I know we have had an opportunity we could have gone to have a gallop there and maybe it would have helped but to be honest with you he has got to handle it at racing pace and there is only one way to see if they can adapt to do that and thats to run in the Derby so I hope because he is a horse who travels well in his races, he's had plenty of experience. He had four races last year and already had one this year and I think he came into the dip and out of it very well this year in the Guineas that he should be able to handle it. There are no hiding places at Epsom, thats why its designed and why the race is run there so if he can't handle it he shouldn't be winning the Derby.

"It wouldn't be the same if it was moved to Newmarket, I know they did that because they had to during the war years. Full credit to the Epsom board, to the BHA, The Jockey Club for getting this organised and getting it on at Epsom because it just wouldn't be the same test for these horses and if you want a Derby run anywhere else it probably wouldn't feel the same so I'm very relieved from that point of view that it is at Epsom."

Balding spoke of the association with Qatar Racing and said:

"Obviously I have trained for Qatar (Racing) for a long time, virtually since they started having horses in training and we have had some good horses in the past like Elm Park who obviously ran in the Derby a few years ago and Side Glance who won and ran in big races all over the world and won the Mackinnon in Australia so we have had a long and very happy association so it is really nice for me to get a good horse for the Qatar team and obviously for Oisin who is their retained jockey and has been supported by them virtually from day one is great and we are all friends and all have the same ambition so it would be a great experience if we could pull this one off."

Reflecting on Mill Reef, the last Derby winner trained by his father from Kingsclere he said:
"I think Kingsclere as a racing yard has a huge history with the Derby, going way back even beyond John Porter so it has been a long time. 50 years since the last Derby winner (Mill Reef), I think dad was a sort of 30 years after the one before him so there has been some fairly big breaks in-between so we would be pushing hard to try and get it done in the next 20 years anyway."