Trainer Ed Walker has the favourite for this year's Investec Derby, which will be run behind closed doors at Epsom Downs Racecourse, with English King. He won at Lingfield in the Derby Trial and looks forward now to the Investec Derby on Saturday 4th July. We visited him to find out how he's preparing...
"He (English King) has come out of Lingfield very well, it was the perfect prep. I always wanted to go to Lingfield because I think it mimics Epsom really well. The ground was quite quick but he came out of it great and handled conditions very well and we have had plenty of time to freshen him up, get weight back on him and he is ready to go.
"We always thought he was a really nice horse, he only does what he's asked to do at home. He's not the most flashy work horse but he was very impressive at Newcastle and that was solid form so we knew he was a horse who was going to turn it on on the track and he's just one of those horses that has got everything in terms of he relaxes, he stays, he travels and like all those good horses they have got to be able to quicken off a high tempo which he proved really well."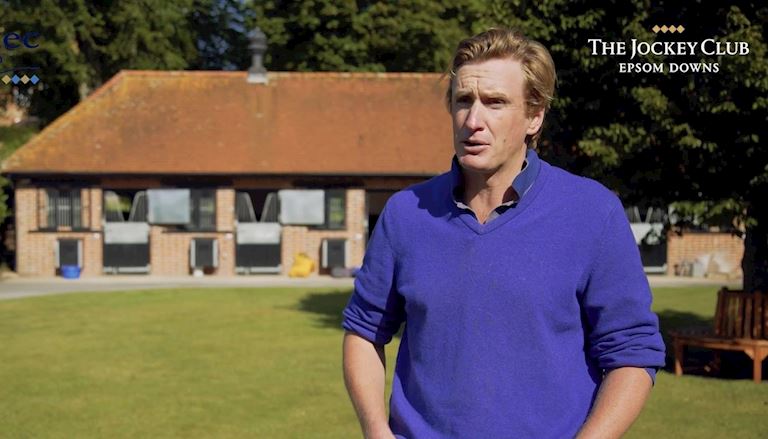 Click to watch the full visit.
Frankie Dettori will ride English King in the Epsom Classic on Saturday 4 July. Walker spoke of the change in jockey from Tom Marquand who has ridden the horse to his last two successes:
"Frankie Dettori is going to take over from Tom (Marquand) which is obviously a big blow for Tom. I did say to him after Lingfield when we chatted after the race and I said your only danger is Frankie and you just need to hope that John (Gosden) has got a runner in the Derby and as it turns out he hasn't. I feel for Tom, he's a really bright talent and a great kid and is doing unbelievably well. So Bjorn (Nielsen) and I obviously mulled over it a lot, Bjorn has got the connection with Frankie through Stradivarius, they are good friends and like I said to Tom when I told him, I said in five to ten years time I will be mobbed for taking you off the Derby favourite when you have been multiple Champion jockey and it is just bad luck for Tom because he was only ever going to get jocked off for one man and he happens to be free. It is a real honour to have Frankie riding him."
This will be Ed Walker's first runner in the Investec Derby. He spoke of the excitement of having a leading contender:
"There has always been a bit of a buzz through this Winter coming into Spring and we were obviously very frustrated not to get going, as everybody was, but there has been a real buzz and obviously with him winning like that and having one of the leading contenders for the Derby has really upped the excitement in the yard."
On training English King he added:
"He is a real joy to train to be honest, he's obviously by Camelot who was by Montjeu and when I worked for Luca Cumani we had a lot of lovely Montjeu's and they have all got that great personality, that big character and I think Camelot's inherited that and passed it on to his progeny. I always really enjoyed training Monjeu's when I was with Luca and we have had a few Camelot's and they are very similar, very playful horses. They need a lot of work and very active mentally and need plenty of graft to keep them in the right place and he is like that. He does strong canters most days which he takes really well and he needs that to keep him in a good place. He can be quite playful to and from the gallop and he was quite fresh through the winter but he is much better now and got his back down a bit."
The Investec Derby will be run behind closed doors for the first time in its history. About the change in atmosphere for this year Walker said:
"No crowd is probably going to be a benefit to all of the horses not just him. It is a shame really because one of the great things about the Investec Derby is that it is the ultimate test, mentally, physically and why it is such a prestigious and important race for the breed. I wouldn't have been worried had there been crowds, there was obviously no crowd at Lingfield but at Newcastle he was good. He's playful but that is just him and you would be worried if he just moped around but yes it will help but it will help all of the horses in the race. With regards to the track, he handled Lingfield pretty well, I think he would have learnt a lot. He came down the hill well enough but I think he would have learnt from that and hopefully will cruise around Tattenham Corner.
"For the Investec Derby not to be run at Epsom would be verging on shocking really because it is a massive test and Epsom is a real challenge. Horses have got to be well balanced, they have got to stay, cope with the prelims which won't be the same as normal but it wouldn't quite be the Derby if it wasn't at Epsom."