Epsom Downs Racecourse is pleased to support the national effort against the Coronavirus pandemic by becoming one of only seven mass vaccination centres in the country from Monday 11th January 2021.
The racecourse has been used by the NHS to administer vaccinations since Wednesday 16th December and Geoff Lewis, Mill Reef's 1971 Derby-winning jockey who lives locally and is 84 years old, was one of the first to receive his vaccine on site.
With the Government now stepping up its efforts to vaccinate as much of the population as possible, Monday marked the beginning of the racecourse's classification as a 'super-vaccination centre'. The venue is being managed by the NHS, whose teams are initially aiming to deliver around 800 vaccinations per day.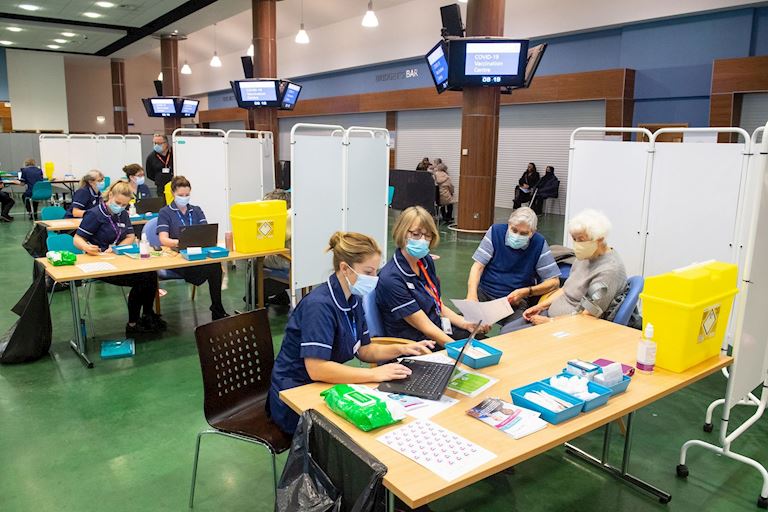 The Epsom Downs Racecourse operations team have been involved in supporting the set-up and opening of the centre, helping to manage the safe flow of people through the site.
Simon Durrant, General Manager of Epsom Downs Racecourse, said: "The Jockey Club is proud to play our part in this national effort against the coronavirus pandemic, with Epsom Downs Racecourse chosen as one of seven sites by the UK Government to act as a 'super-vaccination centre'. We're delighted the NHS operation delivering this is now underway, with the first vaccinations having taken place."
Anyone invited for a vaccination will be notified by the NHS or their local GP surgery. To keep the NHS teams and our employees safe, please do not visit the racecourse unless you have an appointment.
For more about how we're keeping our staff members and visitors safe and read our Racing At Home safety guide.