Our very own annual member, Andrew Johnston has been inspired by Colonel Tom Moore, and will be wheeling the distance of the London Marathon (26 miles 385 yards) from his own 10-yard long kitchen and family room before his three month lockdown finishes mid-June.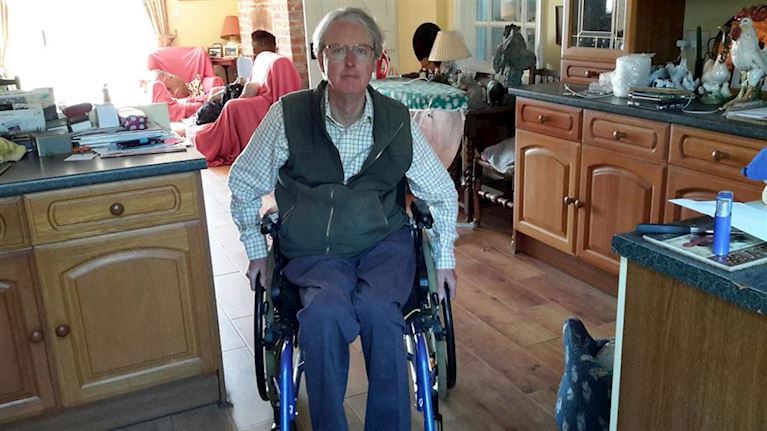 Andrew spent 20 years in the Army, serving in the Coldstream Guards. He was discharged for medical reasons in 1996, having contracted Multiple Sclerosis and since March 1995 has been dependent on a wheelchair. After contracting flu and pneumonia at the same time in January 2018, and spending almost three weeks in hospital, Andrew lost significant weight and muscle loss, increased MS related fatigue and some residual breathing difficulties.
Andrew received the 'Vulnerable Person" letter from the Government in mid-March meaning he had to go into three month isolation due to the outbreak of Covid-19, scheduled to finish on Sunday 14 June 2020.
Andrew started his challenge on 21st April, our Queen's 94th Birthday and will be wheeling 100 lengths of the room a day, completing the challenge on 6th June, the 76th Anniversary of D-Day. In total, he will be wheeling 4,615 lengths of his kitchen and family room!
Andrew is raising money for six charities, all very special to him. Please sponsor Andrew today and support his extraordinary achievement.
Racing Welfare

Supporting the workforce of British horseracing, including stud, stable and racecourse staff who need help when times are hard

NHS Charities Together

Support of the medical and care professions at this time

Combat Stress, the Veterans' Mental Health

the invisible wounds are just as bad as the physical ones

Wessex MS Therapy Centre, Warminster, Wiltshire
La Folia, a Salisbury-based music charity

Andrew and Catherine and the charity are collaborating with Furze Platt Senior School in Maidenhead on a long-term music project in memory of their late daughter Katie, who was an inspirational Head of Music until her death in May 2018

Motcombe Memorial Hall

Providing a conduit to distribute money raised to individuals and organisations within Motcombe and the local community who need additional help at this difficult time
Each page will be updated with Andrew's daily progress.
From everyone at Wincanton Racecourse, we wish you good luck!