It was pleasing to see the return of Jump racing at Southwell earlier this month and at our fellow Jockey Club Racecourse Market Rasen last weekend.
If we were to search for the positives about this period, losing our March, April, and May fixtures last season has allowed the track to have its longest 'break' in recent years, something which is really advantageous in turf husbandry terms, so no doubt the track will present itself positively upon the new season.
There are more remedial works planned. It is due to see its autumn verti-drain which aerates and de-compacts it, followed by an autumn feed and any final dressing and seeding of the take-off and landing areas where needed. We have enjoyed a first summer using our British made Trimax Snake mower, a trailed unit which cuts the track at 100mm in the summer months.
Weather continues to be on our mind despite not racing and it's now been confirmed by the Met Office that we have had the driest and sunniest May on record; we recorded only 5mm of rainfall. The entire site 'burnt off' into a dormant yellow state; but it has vastly recovered after having nearly 90mm / 3.5 inches of rainfall in June.
One of the most important tasks out of season is repairing our nine chase fences, which includes the complete replacement and re-build of half of them biennially.
Fences one, two, three and four have been re-built this year, those are the fences positioned on the home bend and home straight. As the images show, we begin by packing bundles of new birch into each section of the fence, which takes place in May and June, followed by creating the desired fronts and cutting the fences into the correct heights. For the remainder of July the remaining fences will be cut down, before we re-positon them out onto the course ahead of their final dressing and September inspection.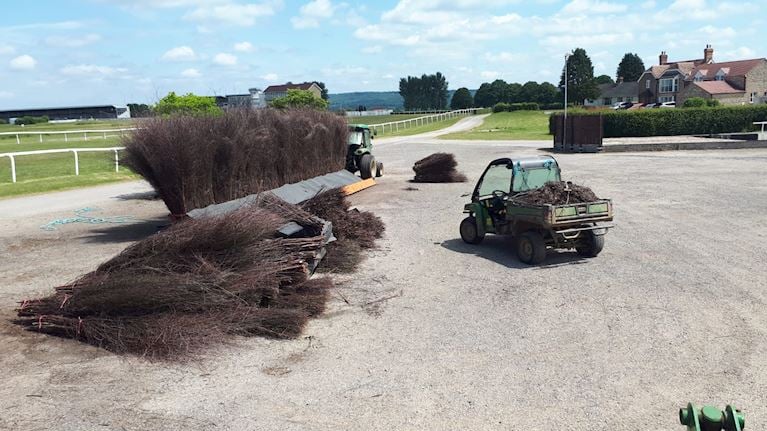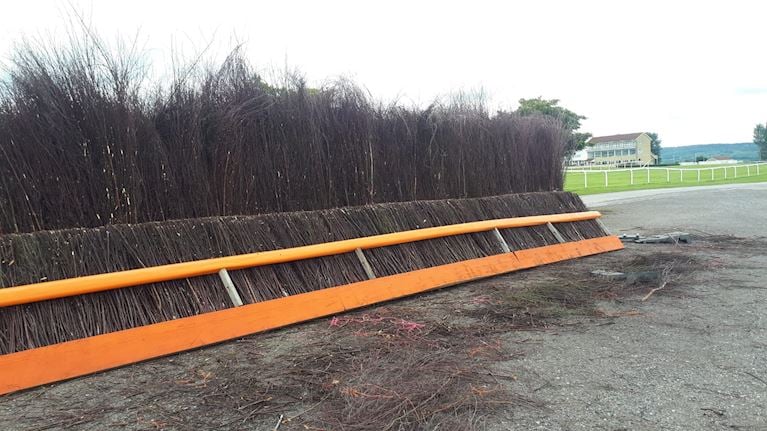 In race planning terms, we remain business as usual for our races which will replicate similarly to last season on the whole. The Programme Book 3 process is still underway, so look out for that being published soon. The most notable update to announce is our now permanent move away from a 2nd May fixture, which was in a trial phase this year. In light of our limited irrigation resources and a dry May, we aren't able to support this fixture moving forward. We feel it can be better placed in December, right in the heart of the season; a new card is being created and will be announced alongside the next Programme Book publication.
We are conscious that we lost our Military Race this year, which so many people put a lot of hard work into, so it was desperately sad to lose the raceday due to lockdown. We have placed a commitment to further support the race again next season in light of more military amateur riders being available than in recent years.
Similarly impacted by lockdown was the Hunter Chase Programme, which we have taken some time to look at and review. Hunter Chasing is an important part of our balanced race programme, so it's disappointing to see some of those races lack a healthy field size at times. Having dropped a Hunter Chase already last year; we are now looking at the options for each Hunter Chase moving forward to help maintain them for future years; so any comments or feedback is welcome.
In other areas, Wincanton Golf Club visitors has soared this summer, since the resumption of outdoor play we seem to have attracted many more players than usual, membership is healthy. The golf course and greens especially are in immaculate condition, with the renewal of bunkers nearing completion.
Thanks for reading our second summer update, we will do another blog later in the year once our fixtures and programme book is confirmed.
Let us pay our respects to Liam Treadwell, 13 time winner at Wincanton who will be deeply missed by the entire weighing room.
We also wish to congratulate Lizzie Kelly on the announcement of her pregnancy, and Barry Geraghty, after the announcement of his retirement. Barry had 13 wins at Wincanton, the second highest number of wins for him at a JCR Small Course. We have fond memories of Yanworth, a Kingwell Hurdle winner in 2017, ridden by Barry before going on to win the Stayers' Liverpool Hurdle at Aintree later that season; true Kingwell Hurdle form!
Daniel Cooper
Clerk of the Course