Thursday 26th May
Hi-res images for use can be downloaded here. Please credit Liyana Winters/University for the Creative Arts.
Part of a fashion collection created by a final-year student at the renowned University for the Creative Arts (UCA) in Epsom which is inspired by the iconic architecture of Epsom Downs Racecourse and the vintage outfits of jockeys and racegoers has been revealed today, as the town prepares for a spectacular Platinum Jubilee weekend next month.
Just over a week before The Cazoo Derby at Epsom Downs on Friday 3rd and Saturday 4th June, Liyana Winters has created a series of contemporary couture outfits which draw on the mix of man-made structures and the natural beauty of Epsom and Walton Downs, coupled with imagery from Derby Days gone by.
With Epsom Downs hoping to welcome Her Majesty The Queen and tens of thousands of racegoers for a celebration of the Platinum Jubilee, the very best racing and the latest in raceday style next week, soon-to-be graduate Liyana visited the racecourse, which is just a stone's throw from UCA, to gather inspiration for her design.
Throughout the detailed design process, Liyana pushed the boundaries of her creative comfort zone, homing in on architectural design and transforming pattern, colour, and texture into a series of contemporary fashion pieces.
An outfit from the collection which features a tunic-style top with a floor-length skirt, hemmed in by an intricately detailed belt inspired has been revealed today.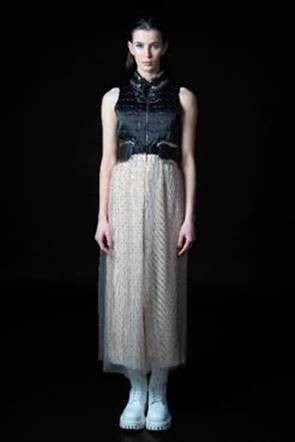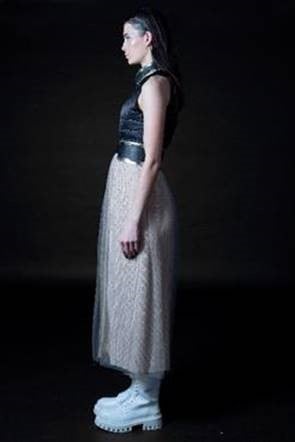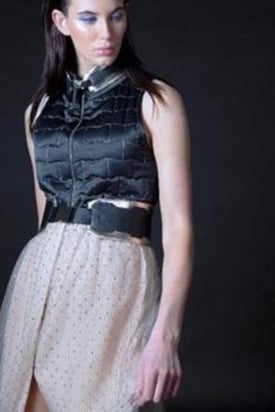 Liyana said: "I have adored my three years at UCA and it was this, alongside a love affair I now have with Epsom,, that inspired me to look close to home for the inspiration for my design.
"Epsom Downs is so close to the university and the mix of structure that sits alongside nature's beauty is always breath-taking. This piece is part of my final work that goes towards my degree and I hope it will help me achieve a high mark when it comes to being judged."
Karen Pengelly at Epsom BID added: "We are blessed to have so much young creative talent in Epsom and I hope Liyana enjoyed creating this fabulous outfit, which shows such flair.
"With assets like UCA alongside Laine Theatre Arts and The Epsom Playhouse amongst many others, there is a vibrant and growing cultural and creative scene in the town and next month's Platinum Jubilee is a wonderful opportunity for everyone to come together and show that to the world."
Professor Jules Dagonet, Director of the School of Fashion & Textiles at UCA, said: "Speaking on behalf of UCA's School of Fashion & Textiles, we are incredibly proud of Liyana for her innovative fashion design and the time and effort involved in creating this outstanding piece of work.
"It is an honour to be a part of the Derby weekend, especially this year with Her Majesty's Platinum Jubilee celebrations in full swing.
"We are also delighted to share that the fashion and textiles buildings at our Epsom campus are set to undergo an exciting transformation for September 2023. Reimagined and remodelled work spaces with state of the art facilities will be available for students from 2023, which is sure to attract a flurry of more exciting young talent to Epsom.
"We extend our thanks to Epsom Bid and The Jockey Club for their collaboration with us in showcasing Liyana's talent."
Simon Durrant, The Jockey Club's General Manager at Epsom Downs Racecourse, added: "The wonderful thing about the Cazoo Derby is that there is something for everyone, whether you want top-class racing or the very best in raceday style and everything in between.
"We feel very fortunate to have such a renowned institution just down the road from us and Liyana's collection is a wonderful way to celebrate all that the racecourse and the town has going on this year for the Jubilee.
"We've been delighted to work with UCA and Go Epsom and we very much hope this will be the start of a lasting relationship for us and racing's most spectacular carnival."
For more information or interview requests:
Viv Onslow, The Oracle Group: viv@oraclepr.co.uk / 0208 394 2821
Joe Rendall, Epsom Downs Racecourse – joe.rendall@thejockeyclub.co.uk / 07766 726698