Epsom Downs Racecourse has today announced that they have successfully reached their £100k target for 'Caroline's Vision for Cancer'.
The appeal was set up in conjunction with Barts Charity following the loss of Caroline Beaumont, a much loved colleague at the racecourse who lost her battle with eye cancer in November 2013. Barts Charity is an independent registered charity for the hospitals of the Barts Health NHS Trust. Charitable giving helps provide state of the art facilities and equipment, supports cutting edge research and ensures the best possible standards for their patients, staff and local communities.
A cheque presentation was made by Anthony Cane, Chairman of Epsom Downs Racecourse, to Michael Smith, Chairman of Barts Charity in the Winners Enclosure following The Caroline Vision's Celebration Handicap Stakes. The race was won by Epsom trainer Simon Dow, a perfect result as Caroline rode out for Simon on many occasions and she would have certainly been cheering El Campion passed the winning post.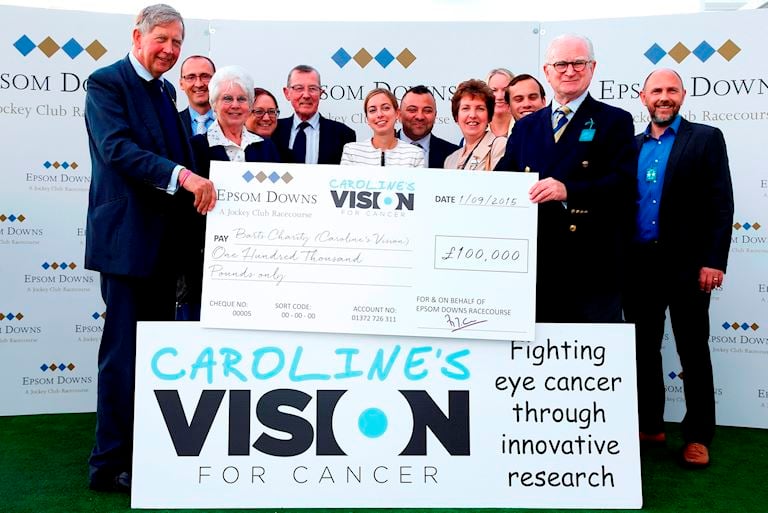 Since the appeal's inception, there have been a number of initiatives undertaken by staff members at Epsom Downs to raise money for Caroline's Vision including sponsored walks, marathons, raffles and cake sales. In addition to numerous fundraising activities, money has also been raised through generous donations from industry members and racegoers. Eye cancer is a relatively rare form of the disease and often doesn't receive the publicity and funding of more common cancers. Thanks to the many donors, the money raised will go towards vital research in this area.
Simon Durrant, General Manager at Epsom Downs Racecourse commented; 'Caroline worked for the Jockey Club's disciplinary department in London for many years before joining the team at Epsom Downs in 2010 and she was an integral part of the local racing community Thanks to people's generosity at Epsom Downs and in the wider racing community, we have reached our target of £100,000 which will be used to fully fund new research into this relatively unknown cancer.'
The two year research project- the contribution of defects in DNA repair in controlling the response to anticancer therapy- is due to start in January 2016. Thanks to the incredible efforts of Epsom Downs Racecourse and the horseracing community.
Dr Nick Plowman, Barts Health NHS Trust commented 'It is a testament to the hard work and dedication of Epsom Downs Racecourse, Caroline's family and her friends that their amazing fundraising will enable us to undertake special research projects into eye cancer. We hope the results of this unique research will further our knowledge of this rare and devastating disease, and help shape more effective treatments. This is a fitting legacy to Caroline's memory for which we are incredibly grateful.'