Epsom has been named Top Town of 2015 by the National Campaign for Courtesy after Epsom & Ewell Borough Council sent in an impressive application demonstrating that Borough residents and businesses work together to make this historic market town clean, safe and welcoming.
The National Campaign for Courtesy is an organisation which strives to promote courtesy and respect in all aspects of life. It has been running for nearly 30 years. As part of their work they award a town each year as their Top Town. This is the second year the Top Town Award has been running and the inaugural winning town was Shrewsbury in 2014.
Campaign Chairman Peter Foot said: "Our local Campaign for Courtesy councillor Mary Zoeller nominated Epsom for the Top Town award and after receiving an outstanding application from the Borough Council we sent along an undercover inspector to see if the claims were valid. They most certainly were. We were particularly impressed with the active community and voluntary groups who work together with the Borough Council. Our inspector commented very favourably on the lack of litter, friendliness of local people and amount of information available to visitors."
Mayor of Epsom & Ewell, Councillor Chris Frost said, "I have known for years that Epsom & Ewell is a special place, with a strong community spirit and that the people here are decent and courteous. It is encouraging that my conviction has been endorsed by the National Campaign for Courtesy and I am pleased to accept this award on behalf of the residents of the Borough of Epsom & Ewell."
Epsom's application was endorsed by testimonials from Chris Grayling MP for Epsom & Ewell, the Mayor of Epsom Ewell Councillor Chris Frost, Town Ward Councillor Neil Dallen, Nathalie Hulbert of Epsom Downs Racecourse (see below), Elaine Teague of Epsom Playhouse, Epsom Civic Society Chairman, Active Citizen 2015 Harry Corben and Paul Taylor of What's On In Epsom. Epsom & Ewell Borough Council was presented with the Top Town Award trophy at a ceremony in the Council Chamber of Epsom Town Hall in September.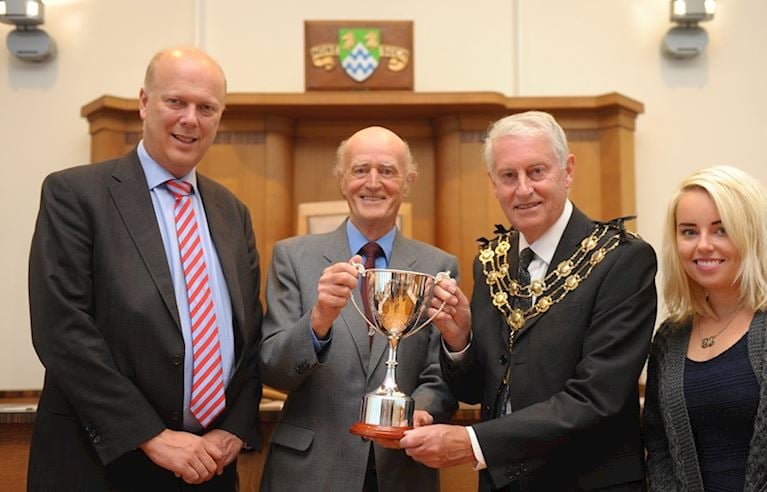 Above left to right: Chris Grayling MP for Epsom & Ewell, Neil Dallen Town Ward Councillor , Chris Frost Mayor of Epsom & Ewell Councillor and Nathalie Hulbert Marketing Promotions Executive for Epsom Racecourse
Epsom Downs Racecourse's Nomination
Epsom Down's Racecourse is a pinnacle of the local community. Steeped in centuries of British racing history, yet commercially astute, Epsom Down's Racecourse accommodates every type of visitor and local resident. The venue is best known for hosting the greatest flat race in the world, The Investec Derby Festival , attracting over 100,000 individuals from far and wide. Epsom Racecourse also hosts music nights including Madness and Blondie, family fun days, Christmas and New Year's parties, plus a variety of conferences and events.
Epsom Racecourse endeavours to maintain a strong link to the local community, working alongside local businesses and business groups such as "The Ashley Shopping Centre" and "What's on in my town", as well as via local media bodies such as Time and Leisure Magazine, Get Surrey, the Epsom Guardian and many more. We also attract people from further afield, with national media campaigns on Channel 4, advertising around Central London train stations, plus via our strong and far reaching online presence.
The team at Epsom racecourse take great pride in staffing our events with the best recruits in the industry, providing a safe an enjoyable visit for everyone. We have dedicated security, catering, operations and customer services staff for every race day, conference and event, who repeatedly receive training and feedback to ensure the best service possible.
Epsom Down's Racecourse are privileged to be part of such a welcoming community, where the public embrace the race day spirit, and businesses help promote wherever possible.