Those in search of the elixir of youth can supercharge their skin with a unique range of skincare based on the spring water from the famous Cheltenham springs and mud from the world famous racecourse.
For 300 years the thermal spring waters of Cheltenham have been hailed for their health giving benefits. The unique mix of saline and chalybeate minerals is especially renowned for its anti-ageing properties and for some of the best grass in sport.
Now these elements come together in a unique new skincare range.
Innovation through research
The Jockey Club has worked extensively over the last two years with scientists at the University of the West Midland's Department of Cosmetic Sciences.
Head of Department, Professor Guillam Soindelapeau, approached the team at Cheltenham after the University discovered that Jump jockeys on the UK circuit showed significantly less skin aging than the general population.
"This surprised us. This should not be the case. Jockeys spend more of their time outdoors exposed to weather so their skin should age quicker and that is before we factor in the impact of a restrictive diet.
"But unlike the general population, jockeys regularly get mud on their face and we were intrigued to see if there was a connection."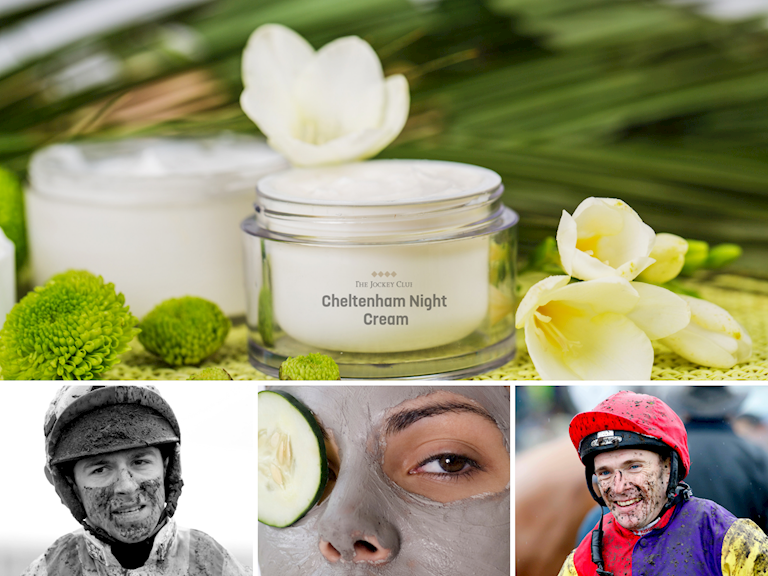 Following further research and successful clinical trials, The Jockey Club and the University have developed a range of creams and masks using mud from the middle of the course and thermal spa water from the town.
"The results for continual six month usage are really encouraging" Professor Soindelapeau continued "with users reporting a softening of lines, wrinkles and improvement in other problem areas."
The beauty line which consists of day & night cream, mud mask and mud cleanser is available exclusively in spas and clinics nationwide and from The Jockey Club's 15 racecourses from today 1st April 2019.