NEWS: THE RIO FERDINAND FOUNDATION LAUNCHES NEW PARTNERSHIP WITH THE JOCKEY CLUB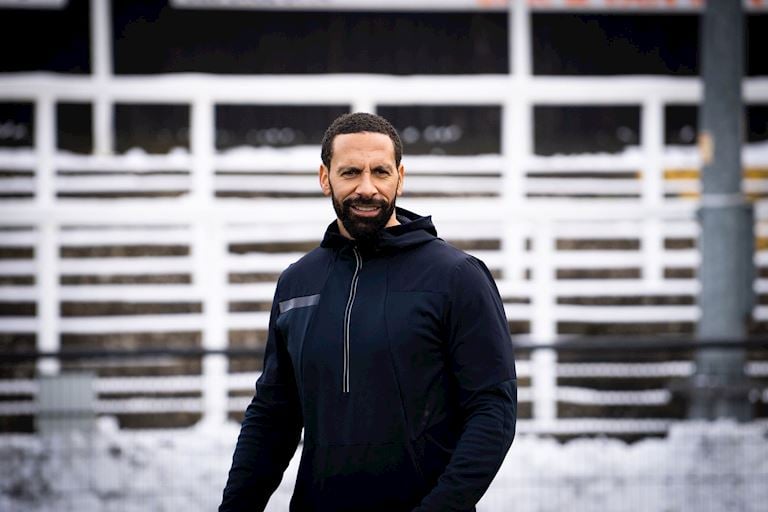 Monday 20th June
The largest employer in British horseracing, The Jockey Club, today announces an exciting new partnership with the Rio Ferdinand Foundation.
The collaboration aims to help young people from some of the UK's most disadvantaged communities learn more about the sport as a pastime and an industry they can work in.
It will initially launch across the three Jockey Club racecourses closest to London - Sandown Park, Epsom Downs and Kempton Park - with the Foundation working with hundreds of young people in the capital every year.
The aim is for the initiative to then be rolled out at some of The Jockey Club's other racecourses nationwide, working with those being supported by the Rio Ferdinand Foundation in other areas of the country.
Initially educating groups of 16 to 24 year olds about the sport through visits, open days and a number of sessions with its employees, The Jockey Club will also showcase the wide variety of employment which horseracing offers, from sales and IT through to turf management and operational roles.
The Jockey Club, which operates 15 racecourses and stages some of Britain's biggest sporting events including the Cheltenham Festival, Randox Grand National and the Cazoo Derby, will then work with the Foundation to provide mentoring and support the young people taking part in the programme in gaining the relevant training and formal qualifications to prepare them for a career in the sport.
The partnership will be integral to the Rio Ferdinand Foundation's #NotBoxed campaign, which features a number of events and opportunities to drive new investment and support from business and government, other decision-makers and people in power and includes industries ranging from construction and sport to music and entertainment.
Rio Ferdinand, the former Manchester United footballer who played 81 times for England, is founder of the youth and community development charity.
He said: "I'm really excited that we're going to be working with The Jockey Club to demonstrate to so many young people everything horseracing has to offer, both as a career path and a sport.
"Ten years ago we set up the Rio Ferdinand Foundation with the aim of supporting and empowering 16 to 24 year olds from some of the UK's most disadvantaged communities, whilst also tackling racism and inequality head on.
"Ever since then we've helped thousands of young people through education and employment, opening their eyes to the opportunities that are out there and helping them make the most of the skills and talent they have.
"Day in, day out we work with community centres, education providers and a whole host of industries with the goal of helping young people realise their true potential and it's fantastic that we're now able to do the same in horseracing through this collaboration with The Jockey Club."
Nevin Truesdale, Chief Executive of The Jockey Club, added: "We want young people and people from all backgrounds to look on horseracing as a sport and an industry which is full of opportunities for them.
"By working with the Rio Ferdinand Foundation we aim to introduce racing to a group of young people who have never previously considered it as a pastime or an industry to work in. My colleagues across The Jockey Club come from a significant range of backgrounds and this initiative will help highlight that it's not essential to want to work directly with animals or to have a racing background to have a career in the sport.
"We're just as passionate about the work the Rio Ferdinand Foundation is doing in the community as those who have helped make it the huge success it is today and we can't wait for this partnership to get started."
Explaining how the collaboration will work, Gary Stannett, Chief Executive of the Rio Ferdinand Foundation, said: "We will be working with The Jockey Club to offer and support grassroots activities that will raise awareness of horseracing as a sport and the multiple career pathways associated with The Jockey Club.
"Our visits and careers-based activities will offer mentoring and training, promote transferable skills and sports-specific skills, and open pathways to employment.
"We are very excited by this partnership and look forward to working with The Jockey Club as part of our #NotBoxed campaign, raising aspirations and creating opportunities for young people."
The first group of young people to be introduced to horseracing as part of the initiative will have their first sessions with The Jockey Club this summer.
Other partners involved in the #NotBoxed initiative investing in young people's skills and future pathways include Warner Music UK, The Gym Group, multi-media entertainment brand KISS and the Guinness Partnership and their suppliers in the construction industry.
For media requiring more details about this partnership please contact:
THE JOCKEY CLUB
Barry Rabbetts, Head of External Communications and Editorial barry.rabbetts@thejockeyclub.co.uk
RIO FERDINAND FOUNDATION
Emma Rouse
ABOUT THE JOCKEY CLUB
One of the largest sports businesses operating in the UK today (2019 turnover: £216.5 million), The Jockey Club is at the heart of so many aspects of Britain's second-biggest spectator sport. We run 15 of the UK's leading racecourses – large and local, where we're charged with looking after some of the nation's biggest events, including the Randox Grand National Festival at Aintree, The Festival at Cheltenham, The Cazoo Derby at Epsom Downs and the QIPCO Guineas Festival in Newmarket. We welcome thousands of racehorses a year to our training centres in Newmarket, Lambourn and Epsom. We run The National Stud in Newmarket and our charity, Racing Welfare, makes help available to all of racing's people. We are governed by Royal Charter to act for the long-term benefit of British Racing and our Patron is Her Majesty The Queen.
For more information please visit www.thejockeyclub.co.uk.
ABOUT THE RIO FERDINAND FOUNDATION
The Rio Ferdinand Foundation is a youth and community development charity. The Foundation works in the heart of the UK's most disadvantaged communities, supporting young people (aged 10-25) to tackle the inequalities they face.
They create opportunities and pathways for young people to achieve their potential through sports, media, arts, and education. They empower young people to take control of their lives, become socially mobile, and drive social change in their communities through their work.
Core values:
YOUTH-LED: Young people are the heart of everything we do, inspiring us to evolve and adapt, so we can support them to realise their full potential.
EMPOWERING: Enabling young people to recognise their skills, giving them ownership to achieve their individual goals.
A CONNECTOR: Bringing young people, their communities and our partnership network together, valuing diversity and creating a shared sense of belonging.
RESILIENT: Bouncing back with enthusiasm and fresh solutions, continually learning and taking the time to actively 'listen' and respond to the world in which we work.
COURAGEOUS: We are not afraid to do things differently with a 'can-do', open, supportive and honest approach.
Find out more at www.rioferdinandfoundation.com and follow on social media channels at @riofoundation.