The Jockey Club has today announced details of how Epsom Downs Racecourse will celebrate Her Majesty The Queen's contribution to horseracing on Cazoo Derby Day, which forms part of the official Platinum Jubilee celebrations on Saturday 4th June.
As well as The Queen's Stand being permanently renamed The Queen Elizabeth II Stand, a guard of honour will be formed on the track by 40 retired and current jockeys to have ridden for Her Majesty, dressed in the monarch's famous purple and gold silks, to greet her arrival.
The welcoming party of jockeys will include 79 year old four-time Derby winner Willie Carson, who also rode The Queen's Oaks winner Dunfermline in 1977, and John Reid, who won The Derby in 1992. Current riders joining the line-up will include Frankie Dettori and Ryan Moore, both of whom have won The Derby twice, and another of The Queen's regular jockeys, Hayley Turner.
The Derby – known as the world's greatest and most prestigious Flat race - remains the only one of the five 'Classics' Her Majesty is yet to win as a racehorse owner, despite having finished second with Aureole in 1953 just four days after her Coronation and third in 2011 with Carlton House, who was her 10th runner in the race and the last horse to contest The Derby in her colours.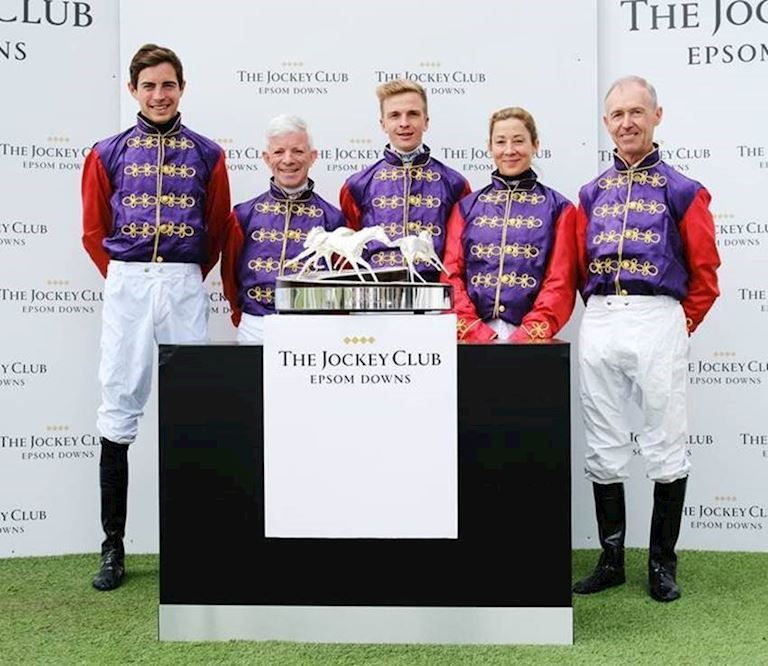 L-R: Jockeys James Doyle, Franny Norton, David Probert, Hayley Turner and John Reid in the Royal silks at Epsom Downs yesterday
It is hoped that Her Majesty, who is Patron of The Jockey Club, will also have a runner in this year's Cazoo Derby, with three horses currently entered in the race – Educator, General Idea and Reach For The Moon. A victory for Her Majesty would be only the second time a reigning monarch has won The Derby, after Minoru in 1909 who ran for King Edward VII.
To recognise Her Majesty's contribution to horseracing and her long association with The Derby – which includes missing just two Derby days between her 1953 Coronation and the start of the Coronavirus pandemic - The Queen's Stand at Epsom Downs Racecourse will also be permanently renamed as The Queen Elizabeth II Stand on Thursday 2nd June, two days before the 243rd running of The Cazoo Derby.

The two-day Cazoo Derby starts on Friday 3rd June with the running of the Cazoo Oaks, followed by Derby Day itself 24 hours later – an event which forms part of the official weekend of Platinum Jubilee celebrations.
A maximum capacity crowd in the ticketed enclosures at the racecourse of more than 35,000 people is expected, with tens of thousands more expected to take their place in the free enclosures on what is known locally as The Hill.
Phil White, London Regional Director at The Jockey Club, said: "We are absolutely delighted that this year's Cazoo Derby will be a part of the official Platinum Jubilee celebrations and excited and proud to be able to take the opportunity to thank Her Majesty The Queen for her enormous contribution to horseracing over many, many years.
"We know that The Queen intends to be with us on the day and to mark her arrival at the racecourse we will form a guard of honour of around 40 retired and current jockeys all dressed in Her Majesty's silks. We're also inviting members of the local community and some local charities to support the guard of honour as flag bearers.

"Derby Day always has that spectacular carnival atmosphere and we're looking forward to a display from the Red Devils and a military band's performance of the National Anthem which will all add to a wonderful occasion."
Other plans to mark the occasion include the unveiling of 15 special hats created by milliners in association with the British Hat Guild, which will be auctioned in aid of Brain Tumour Research.
White added: "As well as her amazing association with horseracing and horses, The Queen also has a special relationship with The Derby. She has only missed four since her Coronation and two of those were in the last two years during the pandemic. To permanently recognise this we are renaming The Queen's Stand as The Queen Elizabeth II Stand. A plaque to recognise this will be unveiled on a community night at the racecourse on Thursday 2nd June.

"On the same evening we also have a Community Beacon immediately adjacent to the racecourse, which will be lit on Thursday evening at 9.45pm. We're opening the gates at the racecourse for a community event as a Derby Weekend launch, free to attend for the community.
"Some of the schools will be showcasing the hats they've been making in the lead-up to the weekend and there will be food, drink and entertainment, before people make their way to the Beacon lighting to finish the evening."

Epsom Downs Racecourse has also announced the Jubilee Family Festival, which will feature a main stage on The Hill and activities for various ages to enjoy.

And White explained: "We have more than 35,000 tickets in our paid enclosures on the racecourse side, but then there will be tens of thousands more on The Hill, and it's free to walk on there, so we're expecting a big crowd. It really is what makes the event unique - the atmosphere, the energy and the people out there are all amazing.

"This year we're also introducing the Jubilee Family Festival. We've had a family enclosure before but this is bigger and better than ever and we'll be launching it in a special year. We'll have a main stage with lots of entertainment on, a range of activities for different age groups, and it's something we're really looking forward to introducing on The Hill.

"As part of our Family Festival zone, there will be an adjacent area where we're inviting lots of racing charities to showcase what racing does so well. There are a number of charities being represented form a racing point of view, so it'll be a nice showcase on a special weekend to show all the good work that takes place in the industry.

"You can buy a ticket in one of our paid enclosures to guarantee your spot, or you can walk onto The Hill free of charge, and be here in person to help celebrate the Platinum Jubilee. I think it's a unique opportunity to be part of what promises to be something truly special."

Speaking at a launch to announce The Jockey Club's plans for this year's Cazoo Derby, a number of former and current jockeys paid tribute to Her Majesty The Queen's passion for horseracing.
Willie Carson - who won The Oaks on Dunfermline for The Queen at Epsom Downs in her Silver Jubilee year in 1977 - said: "When you put The Queen's colours on, especially at Epsom, a jockey would grow six inches. It makes you feel important when you put those colours on. The Queen is the most famous woman in the whole wide world, so you're privileged.
"She's the patron of racing. Without her we would be a little bit lost, because her patronage is a very valuable thing.
"It's not just the horseracing she enjoys, she enjoys the breeding side of it. She likes to know from trainers how the horse is behaving and its attitude, its temperament. She wants to know those things. That's what she's really interested in. The winning post is the end result and she enjoys that, of course, but she enjoys everything before you get to the winning post. That gives her the most pleasure."
John Reid first rode for The Queen while still an apprentice jockey and went on to ride dozens of times in her famous silks.
Speaking about lining up in the guard of honour on Cazoo Derby Day, he said: "It'll be pretty special. It's something I'm looking forward to. I always come to The Derby anyway, but it's going to be a very special occasion this year. I think there will be a big turnout from that point of view, a lot of people are going to want to be here. I'm expecting a big turnout and I'm sure it will happen."

Another who is looking forward to this year's Cazoo Derby and a potential Royal runner in the race is legendary broadcaster Brough Scott.
Scott, who has presented The Derby on TV more than 20 times and remains part of ITV Racing's coverage team, said: "The thought of The Queen winning The Derby this year, of all the fairy-tale stories, that would be beyond it. It's a wonderful thought."
Tickets for this year's Cazoo Derby on June 3rd and 4th are still available here.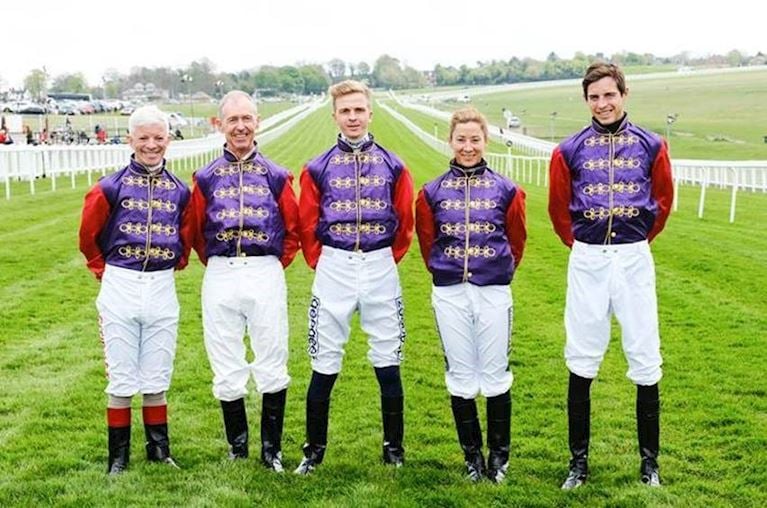 L-R: Jockeys Franny Norton, John Reid, David Probert, Hayley Turner and James Doyle in the Royal silks at Epsom Downs yesterday.