Aidan O'Brien has revealed he could have as many as six contenders for next month's Cazoo Derby, as he goes in pursuit of an historic ninth win in the premier Classic at Epsom Downs on Saturday 4th June.

The Ballydoyle handler is also searching for a record 41st British Classic victory, currently sitting tied on 40 with the 19th Century trainer John Scott.

O'Brien's squad looks set to be headed by Stone Age, who surged into 3-1 favouritism for the race when winning the Group Three Derby Trial in taking style at Leopardstown on Sunday 8th May.

And while he will be without previous ante-post favourite Luxembourg – who was ruled out of Epsom Downs on Sunday – O'Brien has enjoyed a near clean-sweep of the Derby trials that included victories for Changingoftheguard, United Nations and Star Of India.

The list of potential runners is completed by Point Lonsdale and Bluegrass – who runs in the Dante Stakes at York on Thursday 12th May – which in theory could create a headache for jockey Ryan Moore.
However, O'Brien revealed that he feels that Moore will find it very difficult to turn his back on Stone Age after his Leopardstown performance.

Speaking at a media day at Ballydoyle organised by The Jockey Club, O'Brien said: "I suppose it would be hard not to be impressed with Stone Age - he would have liked for something to have led him and there was a horse that we thought would lead and didn't.

"There was no point messing him about and Ryan let him roll along, which was the right thing. The good thing about him is that he had a lot of experience from two (years old) and he was always very happy to get leads at two and he learned a lot.

"I would think Ryan would probably find it hard not to go with Stone Age. The way the others will be ridden will suit him - Changingoftheguard would suit Stone Age, Star Of India would go forward but he's a little bit lazy so he'd probably end up tucking in and United Nations would go forward because he seemed to stay well at Lingfield - so I'd imagine he'd find it hard not to ride him.

"Ryan has had a brilliant three weeks and he's riding unbelievably well at the moment. His ride on Cleveland at Chester was an absolute masterclass.

"We have always liked Stone Age and Changingoftheguard - it didn't bother us at all that they didn't win as two year olds. If we wanted to make them win at two we could have and really we always treat two as education for three and that's why Stone Age contested all of those big races – he even raced over seven in a Group One.

"It probably worked into Stone Age's advantage that he was able to start early because there was a maiden there for him (at Navan) and then he was able to have a nice break to yesterday's trial.

"He didn't really surprise me, I was delighted with him but we've always thought he was a very high-class horse. If you go back and look at all of his runs, the day he was beaten at Leopardstown (in the Group Two Champions Juvenile Stakes) he was running through the line and if you go through and watch back you can always see that there's much better to come."

When asked to run through the rest of his Cazoo Derby team, O'Brien said: "You'd probably have to say that United Nations is a strong possibility if everything is ok with him. He looked like he gets a mile and a half well.

"He ran very well at Epsom and was finishing very well and he looked like a horse who was crying out to go a mile and a half. That day they went very slow and sprinted at Epsom. We weren't expecting the pace to be as hot as it was at Lingfield and he took some reeling in.

"You'd have to say Changingoftheguard gets it well, which is two (horses), and looking at Star Of India he'd be suited by it as well. Stone Age makes it four and then Point Lonsdale and potentially Bluegrass could make six if they do go.

"You learned as we learned, you saw what happened in the races and obviously you'll all have your own opinion. The speed men will have their own opinions and the reality of it is that the only time that we'll find out who is best is when they're all put together – and then that will be fact."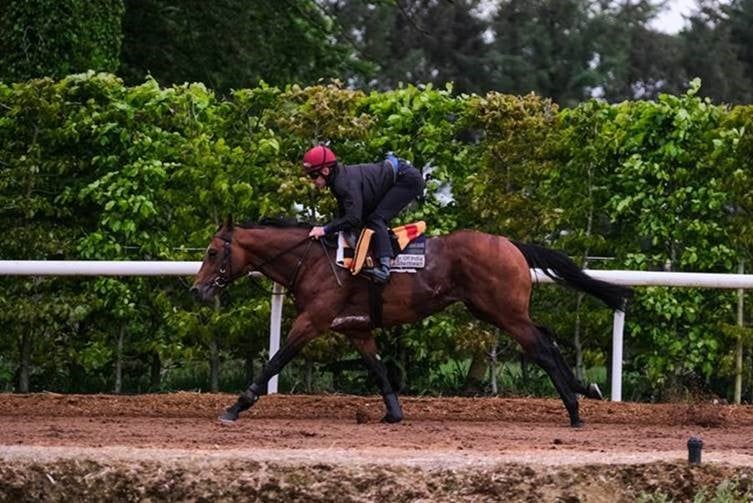 Star of India at Ballydoyle
O'Brien also insisted that no matter how many horses he sends to Epsom Downs, none of them will be making up the numbers.
He explained: "Every single horse will go there with a plan to win and that's the way it is with all of those horses. We do what suits that horse and it suits some to be ridden forward, some in the middle and some at the back.

"Every jockey goes there with the belief that they can win the race and that's the way it has to be. I'd discuss things in front of them so they all know what everyone's instructions are and nobody interferes with everyone else.

"We treat every horse that comes here like the best horse we've got and there's only so many trials, so we run what we think are the best horses for each trials. The trials are usually on tracks that would be good trial runs for the Derby and I think historically that's what they've been.

"I always think with the people that have gone before us, there was always a lot of thought and a lot of reasoning put into where races are run. If the horse works on that track and it looks like they'll get the trip – and the ground is another factor – I think you have to seriously give it proper consideration. The main think we try to avoid is having a slow run race, which keeps you guessing as to whether they're going to get the trip or not as it's a bit false. That's why we went forward with our horses, to see.

"It gives them an education for Epsom and that's why Derby winners can come out of anywhere. Obviously some of those races have better records than others, but maybe that's because the best horses that year have gone there.

"When the trials are coming they're all on different days, so all the horses are on different work programmes and they don't get to work together. It's usually only when they're all put together that we learn (who is the best) and then that's fact.

"We'll see on Thursday whether Bluegrass will be in that team or not but all the other horses we were happy to make the running as we wanted to see whether they were going to stay the trip or not and that's what Ryan did. He bounced them all out and it was literally to try and find out who the best horse is.

"They're all bred to be in the Derby so it's often very hard not to give a horse a chance going into the race. The lads will go through all of that and then they'll talk through it themselves and then they'll say 'listen, this is what we want to do'. Everyone's input is very much in it but they'll be watching themselves and talking to Ryan and the get all the detail and data so they're thinking about it already."

Point Lonsdale was a disappointing 10th on reappearance in last month's 2000 Guineas at Newmarket, though O'Brien feels that it would be folly to rule out the son of Australia in the Derby – a race won by his sire in 2014.

He said: "We always thought last year that he wanted to go a mile but we never went a mile, because we were keeping him at seven because he was the best horse we had at that distance at the time. Looking at him though, you'd always say that he was going to be a middle-distance horse this year.

"He's a very good horse and I'd expect him to step forward a lot from the Guineas and we're giving him the time to help him do that, rather than rushing him back into the Dante - there'd be no reason for doing that.

"Obviously we thought he'd run a bit better than he did at Newmarket and he was a bit disappointing but he's still very much in our Derby plans. He's in good shape and he's a naturally fit and balanced horse, so we don't have to teach him anything and he's very much in the mix now."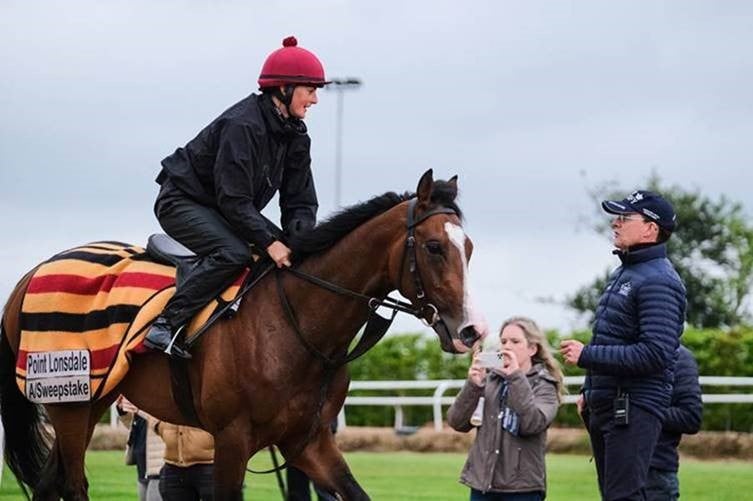 Point Lonsdale and Aiden O'Brien at Ballydoyle
O'Brien has also had some time to reflect on the decision to rule Luxembourg out of the Derby and said: "You learn to deal with these things, because it's only stuff and stuff doesn't matter really.

"There's very few things that matter and we do our very best. I'm disappointed for the lads, but it happens and we move on. There's no point cursing and all that stuff, we tried all that and it's only a waste of energy."

Two of O'Brien's main rivals could prove to be his sons Joseph and Donnacha, who send out the first and second from last month's Group Three Ballysax Stakes in Piz Badile and Buckaroo, respectively.

And while he will be hoping to secure a record-extending ninth victory in the Epsom Downs Classic, O'Brien revealed that he would be thrilled for either one of his sons should they win the world's greatest Flat race next month.

He said: "We always do our best to win no matter what, but I'm always happy when the lads beat us. They are 100% rivals, but I'm still always delighted when we are beaten by them. Believe me there's no inch given anywhere, but that's the way it is and that's our job. There's no horse that sidesteps anyone to fix it for another horse, but it's a tough game.

"I was second twice to Joseph in the Melbourne Cup! It'll never stop being amazing and that's the way it goes. I'm always delighted for him. We knew this was going to happen with our own lads coming on and people improving elsewhere – but that's the way it goes. You don't get complacent, believe me.

"We always love the competition in all of our races, the more competitive they are the better. You're going to get beat loads of times but that drives everyone on, you have to get beat and feel the hurt to experience the joy when you do win. It has to hurt and it does, but that's what drives you on to the next one.

"I learn from the boys and they tell me things. All of the lads are very competitive and interested, which is great. Joseph is doing plenty different all of the time and the good thing is when I ask them a question they usually tell me the truth. It's good because I can learn a lot from them.

"The reality of it all is there's no substitute for a young mind and that's why I love hearing from them. That's why I'm watching the things that they do and come up with and I'd be thinking whether we can add that to our system.

"There's so many young trainers coming everywhere, which is great. It's very competitive at the moment, which is great. We've great young trainers here and in England and there's no easy races anywhere now."

O'Brien has been known for his willingness to hand jockeys their first ride in a Classic and when asked if he would have any qualms about doing the same thing this year, he said: "There's an awful lot of good young riders everywhere at the moment and we're lucky that we've got them. The lads are never afraid to give someone a chance and the older jockeys are really good with them."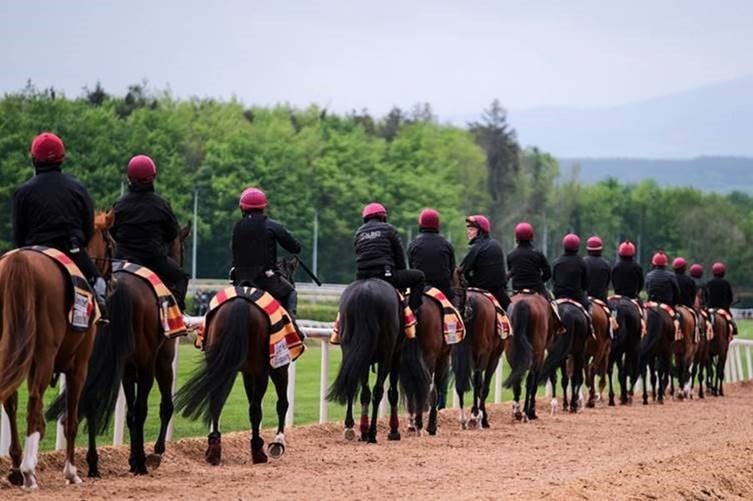 Aidan O'Brien's string at Ballydoyle