Stylist Sarah Kate Byrne, has an eye for vintage and a wealth of experience in styling both men and women including ITV Racing's presenter, Francesca Cumani. We caught up with Sarah ahead of Aintree to see how she dresses for the fixtures and what we can expect to see in Francesca's 2019 Jump racing wardrobe.
WHAT ARE THE KEY THINGS TO KEEP IN MIND WHEN DRESSING FOR THE WEATHER AT WINTER RACING FIXTURES?
"Layers are absolutely essential and Uniqlo do the best thin, layerable HeatTech thermal tops and leggings which are perfect under any outfit as they aren't bulky and will keep you warm when you need it and cool when you don't.

A hat & gloves are essential for keeping you warm, never mind looking stylish. Jane Taylor has brought out a beautiful Italian leather glove range and the gloves are just as beautiful as her hats. A felt trilby or fedora will serve you right through the season if you opt for a neutral colour. Or a fur or faux fur headband is another stylish alternative with practicality on the warmth front thrown in.
A knee-high boot with not too high a heel is a must when the thermostat dips to avoid numb feet. Fairfax & Favor range are superb - comfortable and stylish and made of excellent quality leather and suede. Make sure to treat any leather or suede with protector in case you end up on a wash out day.
If like me, you get very cold hands, pop some of those instant hand warmers in your handbag. Or head straight for the hot toddy tent!"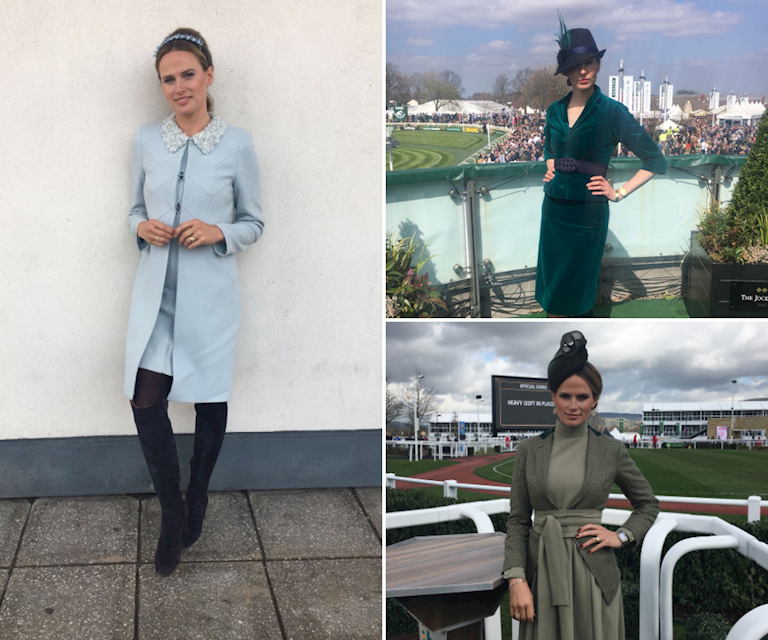 HOW DO YOU JAZZ UP AN OUTFIT YOU ALREADY OWN AND WANT TO RE-WEAR?
"For me the ability to do this is essential as I have neither the time nor the budget to keep refreshing my wardrobe! A trick I use a lot, that is great for the winter & spring meetings when staying warm is key, is to layer a dress under a skirt. So if you have a patterned dress that you have worn, layer a plain skirt in complimentary colours over it or vice versa. Et viola you have a new look!
Pop into VV Rouleax and nab yourself some trimmings to jazz up an old hat or even add some ribbon or faux fur trim to an old coat.

"Ask friends if they have anything they might lend to you. We all have dozens of things lying idle in our wardrobe and it just takes a bit of imagination to rework a piece if you have something fresh to throw in the mix".

TRENDS TO LOOK OUT FOR IN 2019?
"Headbands will be everywhere! I have to say, I am a sucker for them too having used pieces by a variety of milliners last season such as Sarah Cant, Fernanda Lewis and Justine Bradley-Hill. They are so flattering and easy to wear but also so much more relaxed and can be worn again and again in the way that a hat can't.

Bright, block colours always get my vote be it for National Hunt or Flat racing and they were on every catwalk for the SS19 and AW19 collections. Textures such as lace and feathers are another seasonal trend that I can see making it onto raceday looks.

There are so many exciting female presenting roles within racing this year, so I think the fashion stakes across the board will be upped! Hopefully we can give the Aussies a run for their money as they really know how to do it!"
What we can expect to see Francesca wearing at Cheltenham and Aintree?
"This season we are hoping to build on last year and are aiming to work with more British brands and promoting small businesses. We love using bright colours for the gloomier days as they pop on camera. But the priority is keeping her warm as she has to stand outside on the podium for hours on end. You can expect a mix of contemporary and vintage as we have done before and certainly nothing predictable! For The Randox Health Grand National, we will go all out again as more than eight million people will tune in on ITV alone".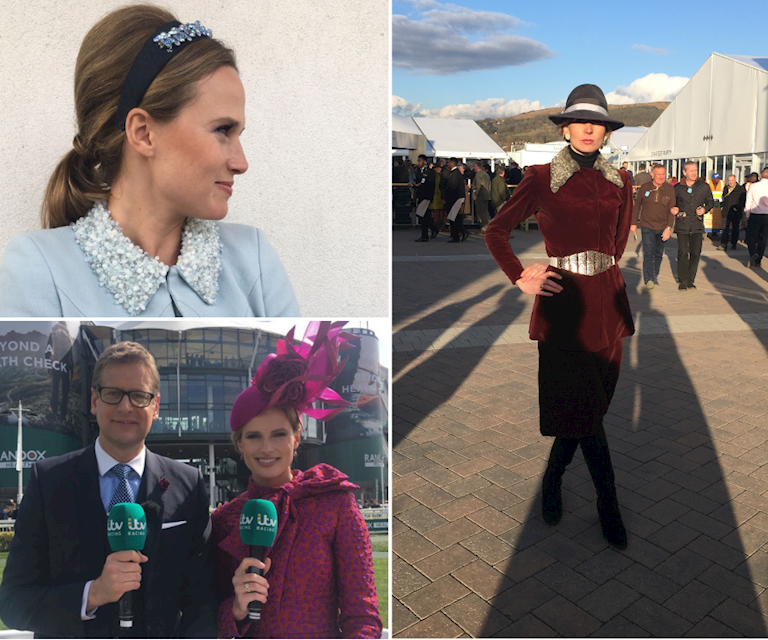 WHAT COLOURS OR FABRICS WORK FOR CHELTENHAM AND AINTREE?

"My advice would be to choose a colour that suits you rather than the meeting and a fabric that suits the meeting rather than you! There is a very good reason why there is a sea of woollens and tweeds at Cheltenham as the wind can be biting! But that doesn't mean you have to go for typical greens and browns. I can't wait to see what everyone will be in this year!"

www.sarahkatebyrne.com
@sarahkatebyrne