Mark Souster Meets One of Newmarket's Brightest Young TrAiners
It's the hope that can kill you. One moment on Wednesday Charlie Fellowes dared to believe that King Ottaker might prove to be an Investec Derby horse. His Investec Derby horse.
He could have been forgiven for thinking, if only fleetingly, of Epsom Downs on 1st June and his colt coming around Tattenham Corner in search of greatness.
A quarter of a mile from home in the Classic trial the Chester Vase, he sat second. But within a matter of a few strides those dreams were cut short as Sir Dragonet scythed down his opponents, with King Ottaker one of those left trailing in his scorching wake. A mile and a half was simply a trip too far.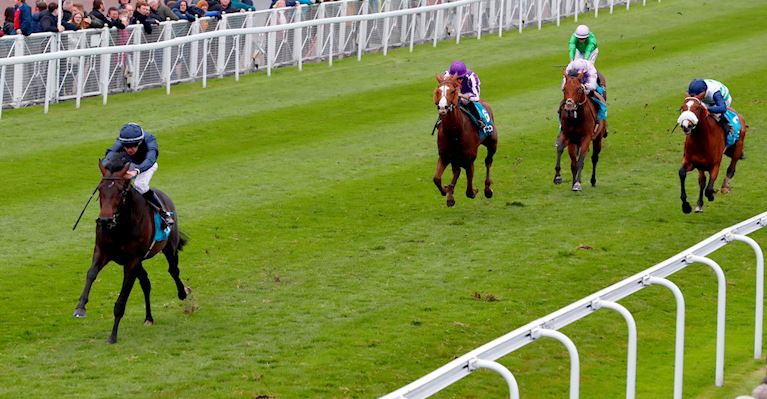 "He ran well but won't be winning the Derby," was Fellowes' immediate and honest assessment on social media. "Didn't get home in a strongly run race but travelled beautifully and has got some big days ahead of him."
Back at home in Newmarket a few hours later he was more philosophical. "Racing is a remarkable sport because it is a lot of lows punctuated very occasionally with ecstatic highs," said the 33 year old, who has been winning hearts and minds as well as decent races, over the past few years.
"We have come away disappointed because we really hoped we had a horse for the Derby but when the dust settles there are a lot of positives to take from the race. I did say beforehand that the one thing that could beat us was if we didn't stay.
"I thought my fellow would pick up when Aidan O'Brien's came to him but he had nothing left in the tank. But I have believed in this horse from day one. I am convinced he will have his day.
"I still think that King Ottaker will be the horse that takes us to that next level. It is not going to happen on 1st June - maybe it will in the autumn or perhaps next year."
Fellowes, whose father's cousin is Julian Fellowes of Downton Abbey fame, is one of a breed of emerging young trainers bringing healthy competition and a fresh outlook to the sport and who are looking to break through to the highest echelons.
George Scott and Ed Walker are others, with the likes of Hugo Palmer their trailblazer. They know how to communicate, are open, honest, forthright and personable.
Fellowes probably benefits from not being from a racing family. His father Lord de Ramsey is a big landowner but racing is not in his blood. Nor is it in his wife's or that of his closest friends. It allows him a sense of perspective.
When asked how he deals with setbacks, he replies: "You have to sit down and almost slap yourself over the face and look at the bigger picture. But in the grand scheme of things I have a pretty damn good life.
"I love my job, I feel like me and my team are making a pretty good stick of things so far. We just have to try to remain confident that it is going to happen.
"For me with my background, it is easier to appreciate there is a life outside this amazing little bubble we live in. I would not change my job or life for the world.
"It is gutting when a horse you like gets beaten and it happens a lot because they are not machines. When you are a small trainer and horses of this quality don't come through your hands very often, it can be even more gutting because there is even more pressure."
While Fellowes muses over King Ottaker's next steps – possibly a confidence boosting group two or three rather than a trip to Royal Ascot or to the French Derby - the defeat did crystallise one thing in the trainer's mind.
He will now move immediately into Bedford House Stables, one of Newmarket's finest yards, which he recently bought from the retiring Luca and Sara Cumani.
Fellowes had held off before the Chester Vase for fear of disrupting King Ottaker's Classic preparations. "I am going to get the wheels in motion," he said. "I have not been pushing in getting the yard ready, but after that I think I will try and get the horses over."
As for the rest of the season, he remains upbeat. "Just because the Derby dream is dead with him does not mean the dream is not still alive. I have a wonderful group of owners and train for some fantastic people.
"I get sent some very, very nice horses. I have a pretty decent group of two year olds coming through and I think I have some hidden gems in the three year olds."
So all is not lost, especially with Prince of Arran coming back into the yard.
In the space of three remarkable days in Australia last autumn the now six year old won the Lexus Stakes and, with it, automatic entry into the Melbourne Cup in which he amazingly finished third.
Now he is set for a return Down Under. In racing hope never dies.