Mark Souster meets an up and coming star is aiming to make the most of his second chance
In many ways Jason Watson knows just how lucky he is.
Firstly, the teenager is pursuing his dream as a jockey, secondly he has landed a plum job with Roger Charlton to continue his rapid development and thirdly and perhaps most importantly he appreciates that it could so easily have all been taken away in an instant after a crashing fall at Kempton Park in January.
His horse stumbled and he was thrown to the ground at 30 mph. He suffered four fractured vertebrae, three in his neck and one in his spine. "I was very lucky," Watson, last year's champion apprentice, admits.
"It could have been a lot worse. All jockeys go into the industry knowing that it will not be plain sailing and that these things can happen is always in the back of your mind," he continues. "But of all the possible injuries I never pictured my back and neck being damaged."
After three months of recovery and an intensive five day a week rehabilitation programme at Oaksey House in Lambourn he returned to the saddle at the end of March.
For an ambitious young man in a hurry the injury was a source of frustration. It interrupted the youngster's stellar upward trajectory after an unbelievable 2018 in which he rode 111 winners, including the Stewards' Cup at Goodwood for Hugo Palmer aboard Gifted Master.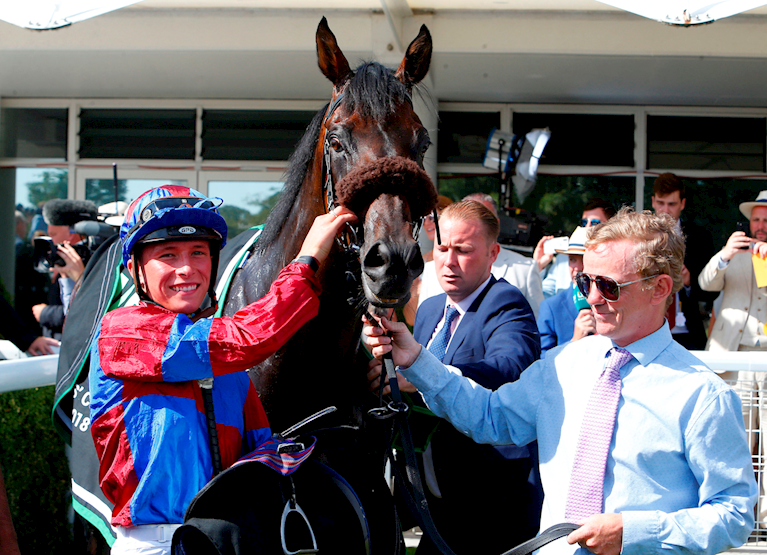 He also won his first Group One race in Italy for Luca Cumani and a big race in Qatar. He won the apprentice jockey's championship easily and his head-turning feats attracted the attention of trainer Charlton, whose subsequent offer came out of the blue.
"I am delighted that he thought of me," Watson adds. "It came as a bit of a shock to have such a well-established and successful trainer who has been around for many years to decide to come to me. I hope that I proved to myself and showed I had it in me. It is a great position to be in.
"I am pleased I got back as quickly as I did. It was great to get straight into the new job. I am getting on well with the Guv'nor and all the staff. It is a brilliant place to be and I am learning lots every day. And he has some very nice horses. It is a great yard to be in."
Watson may only be in his first year as a fully fledged professional rider but he has targets and ambitions. "I want to ride as many winners as I can for as many trainers as I can for everyone who has supported me. I definitely want to please my Guv'nor and do him proud and prove to him that he has made the right decision."
Being in the spotlight has had advantages. The old clapped out VW polo has made way for a new Mercedes and a part time driver as he continues his relentless pursuit of success. "After last year I had 700 odd rides and it was tough. I have taken a part time driver on. It is non- stop."
"You could be a jockey one day"
Watson's family background did not suggest he would choose riding as a career.
Born in Brighton, his father is a postman. But, supported by his parents he left school at 13 having started at a local riding school at the age of six.
It was run by Ray Goldstein, the former Jump jockey. "Straight after that first lesson Ray said to me, 'You could be a jockey one day'. It is the sort of encouragement you need. I didn't look back from that moment."
He spent 18 months with Jumps trainer Gary Moore, then at 16, switched to Flat trainer Andrew Balding, whose yard is regarded as one of the best 'apprentice academies' in Britain boasting Oisin Murphy and William Buick as alumni.
"If it wasn't for my parents, Mr Balding, John Reid (his jockey coach) and Ray Goldstein I would not be here," he said.
"You can ask my parents, I've always had my career planned out. Becoming Champion Apprentice has always been part of that plan. To do that from a yard like Andrew Balding's, which is renowned for producing some great apprentices I felt I had to achieve that goal. To then accomplish it was very important to me."
Watson believes he has blazed a trail for others who might fancy a career in the sport but perhaps do not know where to begin. He has shown that dedication hard work and talent can be rewarded.
"I would like to think younger people who want to get into the sport can see from what I've done that it is possible, even if you are not from a racing background. I'm lucky that my family has always backed me. Mum always has her worries as mums do. But I am pleased I have made them proud."
If he continues his upward career trajectory it won't only be his family who will be watching on proudly.