The Investec Derby competes with the UEFA Champions League Final and another big day in cricket's World Cup, not to mention tennis from Roland-Garros.
But make no mistake, it remains the world's greatest Flat race and is a 'must see' for any sports fan wherever you are at 4.30pm on Saturday.
Why does the Derby still matter so much in an era when top class racing is a truly global sport?
History is obviously a key element. This is the 240th running of the Derby and it has been won by many of the sport's true greats. Nijinsky, Mill Reef, Nashwan, Lammtarra and Sea The Stars in modern times alone.
Not all of the greats won it - Dancing Brave was controversially beaten and Frankel did not run - but you can count the race's poor winners on the fingers of one hand.
And why is that? Well it's because of the unique test that the race places upon the thoroughbred. The combination of the switchback track with its steep cambers and undulations - nobody would dream of placing a racecourse on top of the Downs nowadays - plus the highly charged atmosphere of the big occasion ensures that any weakness will be ruthlessly exposed.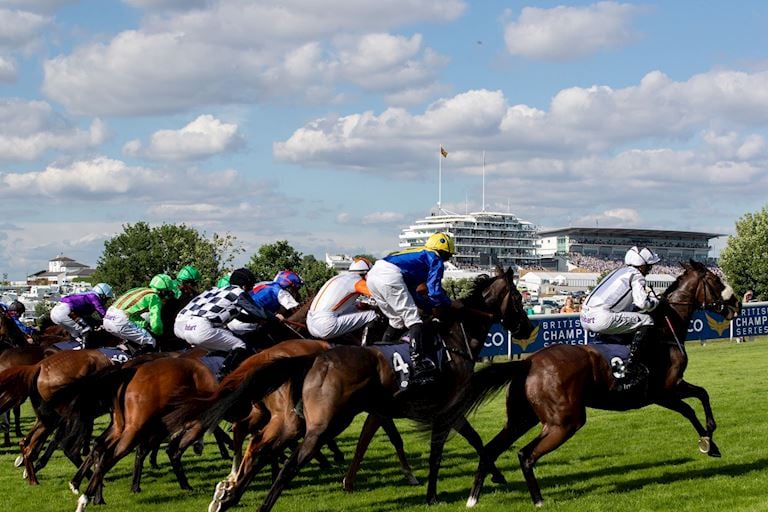 Class will also be a key requirement, of course, but even the best three-year-old in the world will not win a Derby if he cannot pass Epsom's examination of speed and stamina, balance and temperament.
You can find a Derby almost anywhere in the world now. But this will always be the Derby, and there's no other remotely like it.
MORE THAN MONEY AT STAKE FOR SUPPLEMENTED TELECASTER
This year's Investec Derby has a total prize fund of more than £1.6m and is worth a whopping £921,538 to the winner, but there's a lot more at stake than that.
The winner might not earn the £170m that Aston Villa will reportedly reap over the next two or three seasons following their defeat of Derby County in Monday's Championship Play-Off Final at Wembley, but his value will certainly be measured in tens of millions when his breeding potential at stud is taken into account.
Even so, the £85,000 it cost owners Mark Weinfeld and Castle Down Racing to supplement Telecaster for the race on Monday lunchtime needed thinking about very carefully. For a start the colt has had only 16 days to recover from his third quick race in York's Dante Stakes and running a top-class colt four times in little more than two months is not trainer Hughie Morrison's style.
Morrison did not get Telecaster to the track last year, which is why in March he could not advise the owners not to pay the mere £1,100 that was required at that time to keep him in a race he had been entered for as a yearling. Much therefore was riding on the supplementary entry he made once jockey Oisin Murphy had galloped him on Monday morning and satisfied everyone he was showing all the right signs.
Murphy, who enjoyed the thrill of a lifetime 12 months ago until Roaring Lion ran out of gas, points out that Telecaster is fathered by a Derby winner with an Oaks second place as a mother. He believes he has all of the attributes required, stamina is not a concern and neither horse nor jockey is likely to be fazed by the occasion.
They ought to have a big chance.
BANGKOK VICTORY WOULD BE ONE OF RACING'S MOST POIGNANT
When Leicester City chairman Vichai Srivaddhanaprabha perished in that horrific helicopter crash last October nobody could have guessed that there was a live Investec Derby candidate lurking in his burgeoning King Power Racing empire.
However, Bangkok, who had been beaten three times at that stage, was clearly a slow burner, as he has made such dramatic strides since that he will go to post with strong credentials.
Trained by Andrew Balding – brother of TV presenter Clare – the colt has a genuine chance of a most poignant Derby victory.
Fortunately for racing, Aiyawatt Srivaddhanaprabha has fully embraced his father's passion for the sport and King Power has made a fantastic start to the year, thanks in no small part to Vichai's insistence before his death on retaining a top-class jockey for 2019.
With great foresight, Vichai signed champion jockey Silvestre De Sousa, and the rest is history. Or at least it will be if Bangkok prevails.
SIR DRAGONET PRIMED TO GIVE O'BRIEN YET MOORE SUCCESS
Telecaster and Bangkok are the shortest-priced domestically-trained runners in a field of 13, but while both have live chances the maths tells you that the Investec Derby in all likelihood has Aidan O'Brien's name on it yet again.
O'Brien has won the Derby six times since 2001 and is mob-handed with seven runners. None stands out like Camelot (2012) or Australia (2014), but they include four of the first six in the betting.
You can see why Ryan Moore has gone for impressive Chester Vase winner Sir Dragonet, another who didn't race at two and was also supplemented, as his profile bears striking similarities to that of his 2013 winner Ruler Of The World.
But Moore does not always get it right. Two years ago he chose Cliffs Of Moher from a team of six, but having surged to the front at the furlong-marker the pair were collared close home by unconsidered stable-companion Wings Of Eagles.
If there's a lesson to be learned it's that it's dangerous to dismiss any of the O'Brien runners. They were all bred to win the Derby, and they all benefit from the genius of their trainer.
FAMILY FUN AT NOTTINGHAM FOLLOWS EPSOM'S SUPREME TEST
Saturday at Epsom Downs is not all about the Derby as there's a fantastic supporting card, featuring two more Group races and a £100,000 handicap over the fastest five furlongs in the world.
Alongside the racing you will also find a whole host of entertainment, from skydivers to celebrity DJ after-parties and stunning displays of fashion, so the Investec Derby Festival can claim to be the supreme test of the wardrobe, as well as of the thoroughbred.
The racing will be somewhat lower key on Sunday at Nottingham, but that's compensated for by fun for all of the family, with a range of inflatables, face painting and so on, all of which are free.
Under 18s get in free of course, and the youngsters can meet PAW Patrol's Chase & Marshall at intervals throughout the day on the trackside lawn.