Leading jockey Frost signs first sponsorship deal in Jockey Club Racecourses history

Leading jump jockey Bryony Frost today becomes the first ever to be sponsored by Jockey Club Racecourses.
The only British woman to win a Grade 1 race at the Cheltenham Festival, Frost is fast becoming a household name with sports fans thanks to impressive performances on and off track.
The popular 24-year-old has been a Jockey Club Racecourses ambassador for nearly two years, helping to promote the sport in a series of films and public appearances.
Now she will wear the logo of Britain's largest racecourse operator on her breeches and other clothing in an exclusive deal which starts with immediate effect. As part of the arrangement she will film a new behind-the-scenes series over the next 12 months, make further public appearances and write a monthly blog for thejockeyclub.co.uk.
Frost, who is based with Champion Jumps Trainer Paul Nicholls at Ditcheat, won her first Grade 1 race with Black Corton at Kempton Park on Boxing Day 2017, the Kauto Star Novices' Chase. Just months later, in April 2018, she rode in the Randox Health Grand National at Aintree for the first time and was the leading British jockey in the race, finishing fifth on Milansbar.
Since then she has 'ridden out her claim' as a conditional jockey – meaning she competes on level weights and terms with other professional jockeys – and landed the biggest victory of her career when winning The Ryanair Chase on Frodon at The Festival™ presented by Magners at Cheltenham in March. She also won last season's Champion Conditional Jockey title.
Frost is now due to ride Frodon in the first Grade 1 contest of the 2019-20 season at Haydock Park this Saturday (23rd November), her first major race as a Jockey Club Racecourses-sponsored jockey.
Frost's success has also gained wider recognition. She is flying the flag for horseracing as one of just eight nominees in BT Sport's Action Woman Of The Year Awards, alongside England football star Lucy Bronze and World Championship gold medal-winning heptathlete Katarina Johnson-Thompson.
She is also on the shortlist of six for tomorrow's Sunday Times Sportswoman of The Year Awards 2019 and, separately, is a finalist in the Jump Ride of the Year 2019 category at the forthcoming 'Lesters', the leading awards for British jockeys.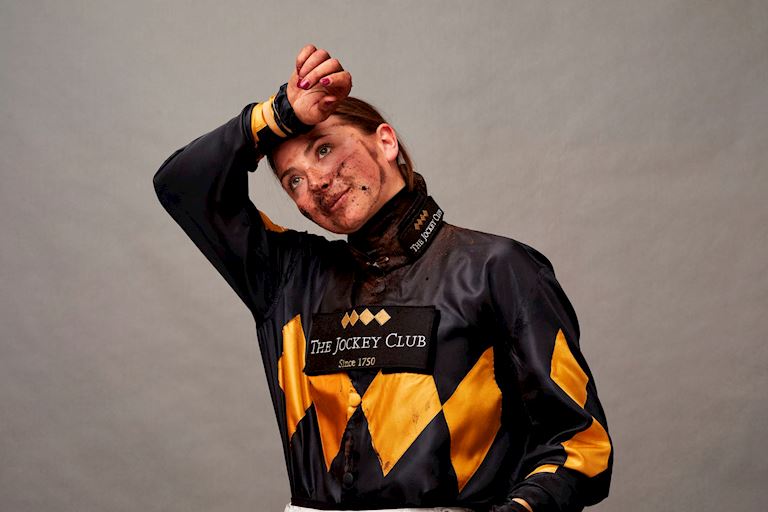 Bryony Frost said:
"I'm proud to have been a Jockey Club Racecourses ambassador for the last couple of years and it's been great to film some really cool videos with them. Hopefully they have been entertaining for racing fans and also interesting to other people too.
"I know that I'm incredibly lucky to do what I do for a living so it's important to me to be able to let people into my world when I can and show them things that they can't see just by coming to the races.
"Horseracing is a sport but it's also a way of life. I live for riding horses and the partnerships I have with them and The Jockey Club is just as passionate about getting that connection across as I am. They're great for our sport and steeped in so much history, having been part of racing from the very start. To be a part of that is really cool."
Jockey Club Racecourses is a part of The Jockey Club and stages some of British sport's most important events, including The Cheltenham Festival, the Randox Health Grand National, the QIPCO Guineas Festival and The Investec Derby Festival, but has never sponsored a jockey before.
Its Chief Executive, Paul Fisher, said:
"Bryony Frost is one of the most popular jockeys we've seen in recent history. There are not many people in any sport who are able to perform to the level she does, then immediately articulate moments later what she and her horse have achieved and explain what it means to her.
"Fan engagement is hugely important to us. Not only do we want to provide racing's existing fanbase with more insight and entertainment, we also need to attract new audiences who will consider racing as more than just a day out.
"By working with Bryony and raising the profile of our sport's participants we believe we can help make racing more appealing and interesting to those who might, at the moment, only have an occasional or passing interest.
"No one is more passionate about racing than Bryony and her infectious enthusiasm for what she does day in, day out presents a great opportunity for us to help educate people. We're excited to make her our first ever Jockey Club Racecourses-sponsored jockey."