In her first blog since becoming a Jockey Club Racecourses-sponsored jockey, Bryony Frost looks back at a groundbreaking 2019, the one race which made her more nervous than any other and why she isn't setting herself tangible goals for 2020.
If you'd told me this time last year that we'd have achieved all the things we did in 2019 I'd have probably smiled back politely - but never have believed you.
The year was crazy. A lot happened for us and a lot of opportunities went our way. I lost my claim, became stable jockey for Neil King, rode a Grade 1 winner at The Festival with Frodon, came back from injury, Black Corton won at Sandown for me – and that's not even everything!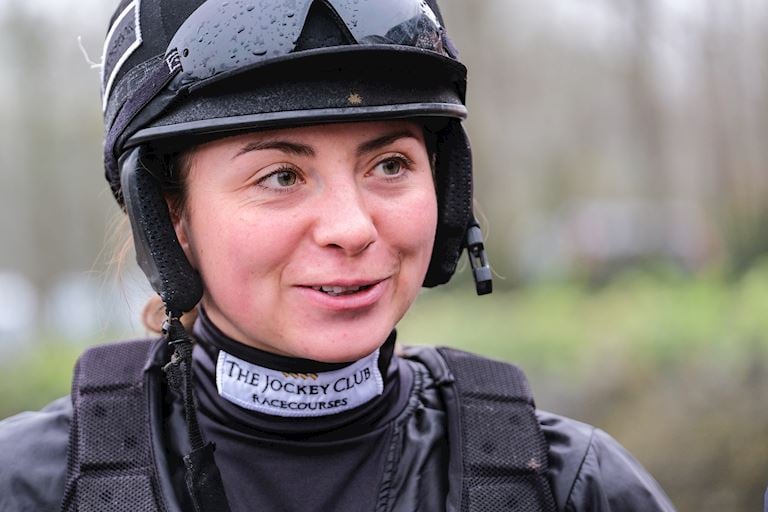 I was supported all the way by Paul (Nicholls), by my dad (Jimmy Frost), by Neil (King) and I was and still am picking up rides from other trainers. That in itself fills you with confidence, knowing they have the confidence to put you up on their horses even though they might not know you personally.
But between those times we had some really dark days in the season too. As a jump jockey nine times out of 10 you are going to hit the floor and you'll be alright, but sometimes you're not. I had five months off last season, which is quite a long time for two injuries, but you teach yourself as a patient to keep the willingness and determination going. The dark days help you focus on why you want to come back. If your head's in the right space your body will heal quicker.
It also taught me that you've got to come back 110% rather than half-heartedly or a little bit too soon when your body's not ready. Between Oaksey House and The Injured Jockeys' Fund they really helped me. For my last injury, when I broke my collarbone after Cheltenham, I did the rehab by myself. It was a frustrating time. I was watching winners rolling in and horses that I'd been with all season going past the post without me and that was hard.
I ended up working with ITV at the Grand National, which was frustrating because I was on the ground and not on a horse. Again it wasn't easy, especially seeing a few of my rides that I thought I could have been on. But to be able to talk about horses and racing and life, it was fun.
Everyone has a moment that on their darkest days they can go back to and focus on. I'm lucky that I have some great memories and I can try and replay those. I've lost count how many times I've watched this year's Ryanair Chase at The Festival back!
It's really cool because I'll be filling up the car or doing my Christmas shopping and you get stopped by people on the street who come up to you and talk about where they were when Frode won. These people weren't at the top of the hill with him like I was, but they still got a massive buzz out of it. That's really cool and I love hearing from those people.
I'm also lucky because I have great people around me. I have my Dad who's been through and come out the other side during his career and has been there and done it. Fitzy (Mick Fitzgerald, riding coach) Paul (Nicholls), Neil (King) – I had loads of people behind me. When I was injured they helped me take bits of how they deal with things and I added it to mine to start building a barrier of a wall to help cut my emotions out of healing myself. So even though my head was in turmoil I had a lot of calm heads around me.
I also had Dave Roberts, my agent, who filled me with the confidence that I'd take a lot of pegging back in the Conditionals title. He kept an eye on everything that was going on for me but every now and then he'd talk me through it and reassure me.
When I was pointing (point to point riding) as a kid and bumbling about, being Champion Conditional Jockey is just not something you think you'll be able to achieve. I'd never really thought about it.
To be honest the whole season I wasn't really thinking about it, but Dave was. Dave was definitely thinking about it! I would just take winners as they came, take things day by day, be better, improve. And then the only time I really thought about it was when I was injured. I was thinking 'I've actually got a chance here'.
I wanted to make it back in time for the last day of the season at Sandown, not just to pick up the Conditionals' title but to ride Black Corton and Present Man. Normally when you come back from an injury you can have a day and have a few rides and just take it steady, but I knew I was going to have to throw myself straight into the deep end and straight into Sandown on Black Corton.
Blackie - he's my dude. He hadn't won yet that season and I had people dissing him and I took that to heart. I knew that he'd had a hard novice campaign and he'd smashed it, but going into handicap company was difficult because he hadn't got a lot of breathing room from the handicappers. It was always going to be hard.
Cantering down to the start that day I was just thinking I didn't want to let him down. I knew my body was good and 110% and I was strong. I had had a lot of problems with my shoulder way back at the beginning of the season. But there at Sandown my shoulder was probably stronger than it had been the whole year, so I had confidence in my body. It was just about getting confidence in my 'racing clock' and to do right by him.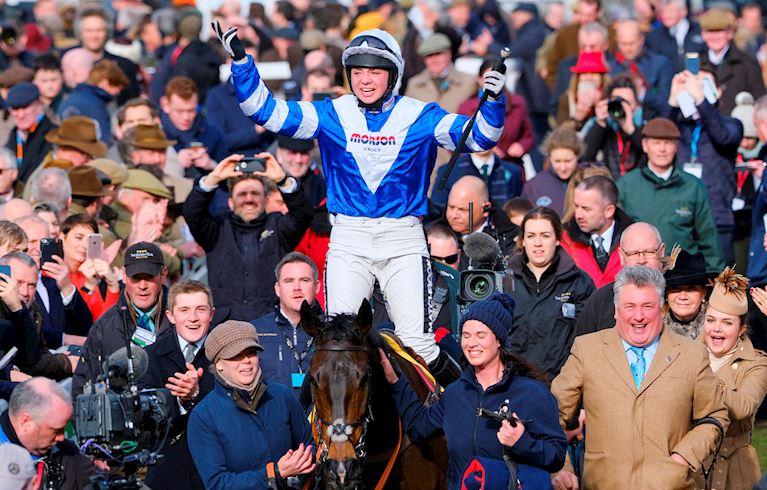 To be honest I was probably more anxious and nervous about Blackie's run at Sandown than I was with Frode at Cheltenham just because we'd got there, we'd got our title, it was the end of the season and I was stuck on 49 winners. Blackie hadn't won yet, it was a big ask, people were half expecting for him to win, I didn't want anything to go wrong and I was hoping I'd be sharp enough.
Everything like that was rolling into it but he pulled it out of the bag. That feeling jumping the last and then having a little look and seeing how far clear he was, that was a matching feeling to the one I had at Cheltenham with Frode.
As for 2020, I don't really have targets but it's important to me to keep being different and keep being myself. I've always been different as a kid, so I'll just keep being me. Keep wearing my emotions on my sleeve, not be scared to say it how I feel it, try and let everybody see racing through my eyes and let people into the world that I'm in.
Being sponsored by Jockey Club Racecourses is massive because it's never been done before so that's a really cool thing to be breaking another mould.
But looking at the year ahead is hard because your life is the most unpredictable thing - you can't control it. You've just got to keep kicking and moving forward. Improving yourself, the person that you are, your riding, the way you conduct yourself, keeping focussed and keeping the support behind you. Being loyal to the people who are loyal to you and just trying to keep moving forward.
Winning X number of races or winning this race or that race is just too unpredictable. I can't think about that. But I need to be better and I will be better. The main aim is to try and keep your head up when you're going through quieter times, keeping positive for the teams that you're riding for and just trying to be a nice person when it's all going wrong!
If I can keep trying to improve my horses' careers then they'll help me to improve mine.
Happy New Year!