To say Saturday was strange would be an understatement. I'd never have thought in a million years that I'd be spending Grand National day watching a computerised version of myself riding in a virtual version of the race!
I don't think the virtual horses liked jumping as much as the real ones because there was a lot of refusing going on and the virtual me plopped off Yala Enki three out, which wasn't ideal!
But nearly five million people watched and it gave people something a bit different to do. On top of that £2.6million was raised for NHS Charities Together, which is fantastic.
For racing, as it is for everyone, this is such an uncertain time and if you start looking too far in front it can all seem quite daunting.
The most important thing is everyone's safety. This is a nasty virus and it needs to be controlled, so we've got to do everything in our power to try to halt it and help prevent our NHS becoming overrun.
When it becomes safe to do so, racing behind closed doors would be a great thing to do. Summer jumps horses could race as normal and on the Flat those two and three year olds can start their careers.
But people need to remember that we have doctors and ambulances on course so racing can only get going again if it's not going to stretch the NHS.
When racing was suspended I think we all knew this wasn't just going to be a week or two. We knew this was probably going to be like this for the long haul and that we are probably talking months.
I spent that first week at Ditcheat riding out for Paul (Nicholls). We schooled a few of the young babies round the loop. It was good fun because you can see horses for next year getting all their practice in. It was just good to be making positive moves with our time and not getting down about it.
Paul has been really supportive to all his staff. He had us all out in the yard and said that everyone's still got their job, all the horses still need to be looked after and everybody's safe. You are under a big wing at Ditcheat and all the staff felt very secure. People often refer to 'Team Ditcheat' and this has been another great example of it all coming together.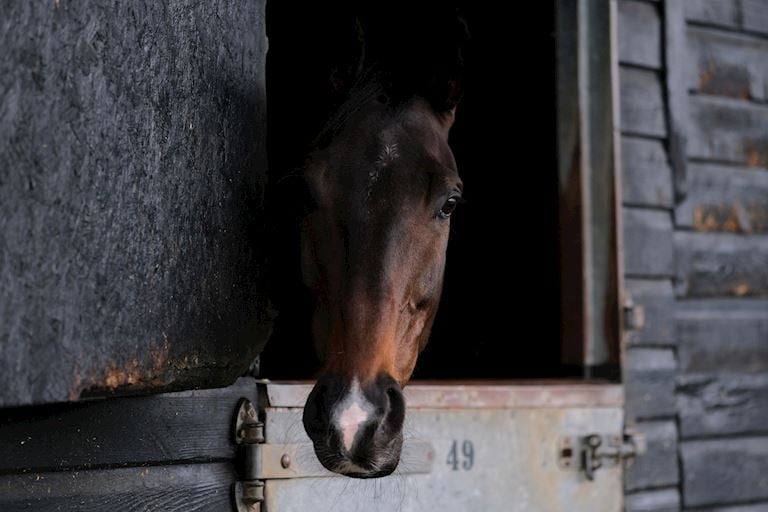 Paul let me go home the next week when 'lockdown' was looking imminent, so I've returned to Devon, where all my family are. I've just been working in the yard at Dad's in the morning and then in the afternoons I've been helping my brother Hadden with his showjumpers and chilling out.
I've even been going down to the river and having a swim. When you think of all the people who are in lockdown in confined areas and having to stay indoors, I'm really fortunate that I've got the farm to run around.
Cheltenham seems like a long time ago now but it was a mixed week for me. Frodon ran as well as he could in the Ryanair but there were proper Graded two-mile chasers in it and they had him off his feet early on.
All the way down the back I had to have him at top revs and he just didn't have that sort of speed for them. But he still ran a massive race and he gave me everything - he was very tired at the top of the hill.
We were really keen to go and try three miles at Aintree with him afterwards but obviously that wasn't to be. As horses get older they tend to aim for longer distances so maybe it's time for him to go and have a crack at his three mile races now.
There were some proper horses in the Ryanair. Min has always been playing bridesmaid to horses like Altior and never been far away so it was nice to see him get his day in the sun, having been to the Festival so many times.
The same goes for Politologue, who won the Queen Mother Champion Chase. Those two have been trying to track Altior for most of their careers and they finally got their chance to walk back through the middle of the paddock and into the winners' enclosure at Cheltenham, which is a special feeling.
Even though we'd like to be at the top of the hill first, it's always nice to see horses which year in, year out are performing to such a high level finally get their day.
On the Friday, Sir Psycho ran a massive race for me in the Triumph Hurdle. I actually wore the 'Jockey Cam' for that and it's a really cool video. Down the back he was just awesome. Even though he was fifth in the end there was only a blanket of about five lengths between us all.
He gave me a great spin and he's going to be one you can really look forward to next year. I'd say that when he goes to two and a half miles and when he's an older horse and sees a fence that's when you could get really excited about him, because his jumping is just brilliant.
He struggled with his jumping when he first arrived at the yard but the penny's really dropped with him now. He ran a massive race and I was really buzzed with him because I do think he's a special horse.
It's hard to believe how much things have changed since then, but racing will return when the time is right and, most importantly, it's safe to do so.
In the meantime stay safe everyone.