For all that is different at this year's Festival™ supporting WellChild, some things remain reassuringly the same. The 2021 running of the Weatherbys Champion Bumper marks 25 years of the racing administrator's sponsorship of the race and in that time one trainer has made it very much his own – Willie Mullins. Here the most successful handler in Cheltenham Festival history speaks to Nick Seddon about past winners and how they helped put him on the map.
There may be no hurdles or fences to navigate, but National Hunt Flat Races – or 'bumpers' as they are known - play a key part in the early education of a jumps horse.
In fact, while it might not be an easy concept to explain to the casual observer, the Weatherbys Champion Bumper is both an important Grade One race in its own right and a key indicator in identifying Jump Racing stars of the future.
A glance down the roll of honour for the only Flat race of the 28 staged during Festival week suggests that its significance is also not lost on trainer Willie Mullins, who has won the race a record 10 times.
The Champion Bumper was first run at Cheltenham in 1992 and after a number of different partners in its early years, Weatherbys began a sponsorship in 1997 which stands firm to this day.
Now an established and important part of Jump Racing's 'Olympics', the race itself has produced its fair share of stories and drama along the way.
Mullins is the most successful trainer in the history of The Festival with 72 winners. The first of those was with Tourist Attraction in the 1995 running of what is now the Sky Bet Supreme Novices' Hurdle. But it was his second Festival victory with Wither or Which in the 1996 Champion Bumper which provided the springboard for the unrivalled success in the Cotswolds he has enjoyed ever since.
Mullins, who trained and rode the winner that year, explains: "It's a race which I look back at fondly, because the first Champion Bumper we won was the foundation of our whole business.
"We bought him, trained him and rode him ourselves, and it showed that we could actually go to the sales and buy a young horse and bring him to Cheltenham – which was huge at the time.
"The amount of people who came to us after that to buy horses was amazing, so the Champion Bumper at Cheltenham has been very good to W P Mullins and Co - it put us on the map."
It did not take Mullins long to reap the benefits of that success. Indeed, he returned to win the race for a second time just 12 months later - in Weatherbys' first year as sponsor - with Florida Pearl.
No one knew it at the time, but Florida Pearl would prove to be a King George VI Chase winner and a horse capable of taking Mullins' career to an even higher level.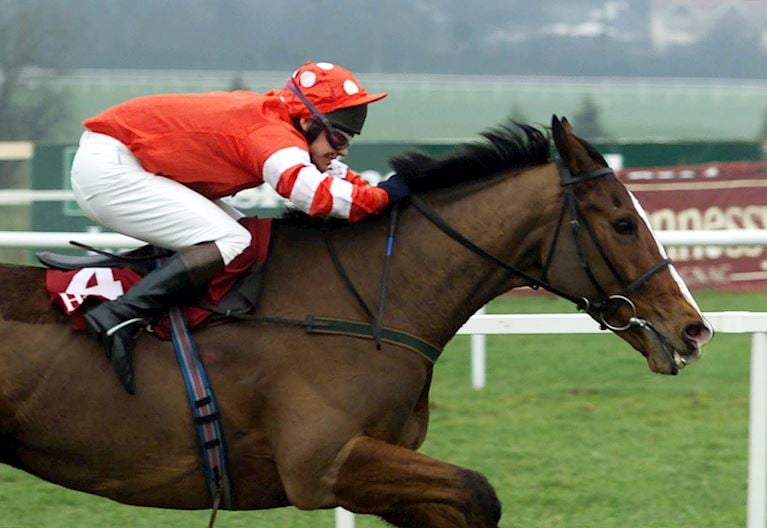 He explains: "Florida Pearl lifted our business. We had good horses before that, but this was a horse that everyone knew at the time, and we went from a bumper straight to a chase as he was so good.
"He was stood at about 17 hands and he was a big plain horse with a white face. You wouldn't miss him coming up the straight and he had such ability. To look at him, a lot of people would have said he looks too big to be a good racehorse, but with his size came ability and he had just raw power with his huge stride and his effortless way of jumping.
"I loved watching him in the Champion Bumper. We thought he had a chance and coming across the top he was in the leading bunch of horses as they faced down the hill.
"Richard (Dunwoody) then moved on him, and you could just see the engine igniting – I think even Richard got a fright as he put him back to sleep for another furlong or two! I suppose I was watching him in particular but you could see he had this power that the other horses didn't have, and rather than go too soon Richard took a hold on him and waited until he turned for home. To me that was just hugely exciting to watch."
It would be fair to assume that Florida Pearl's victory is Mullins' favourite victory in the race, though he confesses he has a particular soft spot for the 2008 Champion Bumper winner, Cousin Vinny, who provided his son Patrick with a first Festival winner in the saddle.
Patrick was just 18 at the time and having picked up his first Festival ride on Adamant Approach in the previous year's Pertemps Final, weather nearly scuppered his chances of riding 12 months later.
Mullins explained: "The race was very nearly run in the dark, as a big storm had led to it being cancelled on the Wednesday. Cheltenham were fantastic to put 11 races together the following day, but we were fretting and sweating all day whether there would be enough time to run the Bumper before the evening closed in.
"If there was one steward's enquiry or a couple of false starts we'd probably have had to miss the Bumper, so we were there on tenterhooks all day!
"We were hoping that he'd run well, not thinking he might win, but to see him turning for home with two top jockeys at the time (Ruby Walsh and Davy Russell) was hugely exciting for us as parents of Patrick.
"It brought together a lovely story. We won the Champion Bumper ourselves as owners and breeders with Joe Cullen in 2000, and Patrick was on the rostrum collecting the trophy with us.
"Sophie Weatherby was there, and she went down to give him a peck on the cheek. Being a typical kid Patrick then waited until he thought nobody was looking and gave it a big wipe afterwards! It was very funny, and little did he think that eight years later he'd be back on the rostrum as the winning rider, so that was very special and it's something we look back on fondly."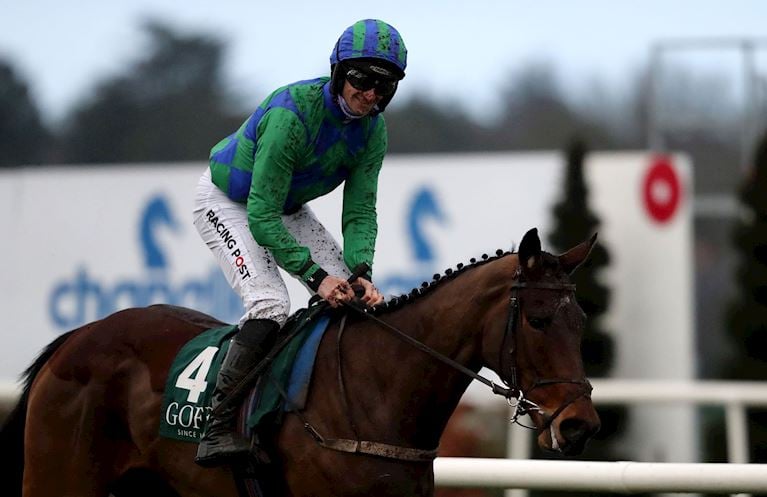 Mullins will be hoping that he and his team can make new Champion Bumper memories in 2021 and with two market leaders in Kilcruit (6-4) and Sir Gerhard (2-1) few would bet against him adding to his tally.
The former was a 12-length winner of a Grade Two contest at Leopardstown's Dublin Racing Festival in February and Mullins is hopeful of another big run at The Festival.
He adds: "Kilcruit put up a huge performance at the Dublin Racing Festival and I was very pleased. I was gobsmacked actually at how well he won on the day, and I'm hoping he can put in a similar kind of performance in at Cheltenham."
Sir Gerhard, meanwhile, is a last minute addition to the team and although Mullins conceded that it would be tough for such a young horse to acclimatise to a change in routine so close to Cheltenham, he feels he has a very nice horse on his hands.
He said: "Sir Gerhard is a fine horse. His form looks very good and he looks like he could be anything, as he's got all the qualities of a good horse. It's going to be very tough changing stables so soon before the race, but we'll see what we can do."
The Weatherbys Champion Bumper is the closing race on Day Two of the 2021 Cheltenham Festival, on Wednesday 17th March.