Celebrate all stud and stable staff
For the first time, The 2021 Godolphin Stud and Stable Staff Awards 2021 awards are taking place virtually and will be shown live on RacingTV on Monday 22nd February, starting at 6:30pm.
The awards are an important event in the racing industry calendar and an opportunity to thank and celebrate the work of all stud and stable staff.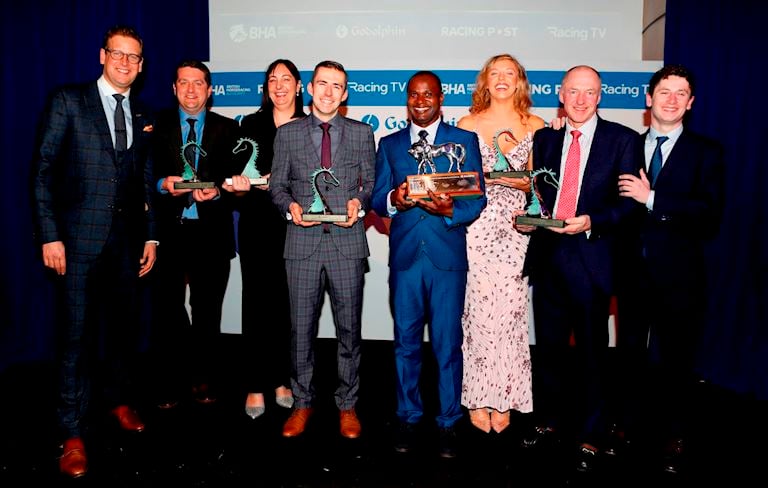 The Awards Ceremony will be broadcast live and free-to-air on RacingTV on Monday 22nd February. The show starts at 6:30pm and will be hosted by ITV Racing's Ed Chamberlin.
The virtual awards ceremony will celebrate the hard work and dedication of stud and stable staff who are vital to the racing industry and the care they provide to the horses they look after.
Please join and watch the show on the evening of Monday 22nd February to thank and show your support to all the stud and stable staff and recognise the achievement of our 18 finalists.
Following two rounds of judging, there are just three finalists in each of the six award categories which include:
David Nicholson Newcomer Award,
Leadership Award,
Rider/Groom Award,
Stud Staff Award,
Dedication Award and Community Award (In recognition of the wonderful work Rory MacDonald achieved at The British Racing School).
The winner of each category will be announced during the virtual awards ceremony, as well as four of the award winners being in contention to be crowned Employee of the Year 2021, taking home £10,000, match funded with £10,000 to the winner's yard/stud.
Its free to air on Racing TV, so anyone can watch it online or via their TVs, so it's not just for subscribers. Details below.
RacingTV channel 426 on Sky or 536 on Virgin Media, through the RacingTV app, available on Amazon Fire TV, Android TV and Apple TV or online at racingtv.com