Executive Contribution has increased 9.5% year on year
Total prize money across the 15 racecourses will be £59m, a £1m increase since 2022
Executive Contribution increases come as racing and the wider sport and leisure industry faces a challenging year ahead
The Jockey Club today announces that it will contribute more of its own money towards prize money in 2023 than ever before.
British horseracing's largest commercial operator and employer is budgeting to make a record executive contribution of £31.1 million next year. The figure is up £2.7 million year-on-year and continues the significant upwards trend over the past decade, where 93% of The Jockey Club's financial growth has been reinvested back into prize money*.
The executive contribution helps ensure overall total prize money at The Jockey Club's 15 racecourses exceeds £59 million in 2023, despite a number of financial challenges facing the sport and leisure industry and the significant impact COVID-19 had on the organisation's profits in 2020 and 2021. This figure is £1m more than in 2022 and shows only limited growth year-on-year due to the reduced central industry funding.
The 9.5% year-on-year rise in executive contribution is the latest in a series of increases, with the figure having grown 141% over the past 12 years. Even with an inflation adjustment this is the most significant area of reinvestment in this time period for The Jockey Club, which is governed by Royal Charter to reinvest every penny it makes in profit back into British racing.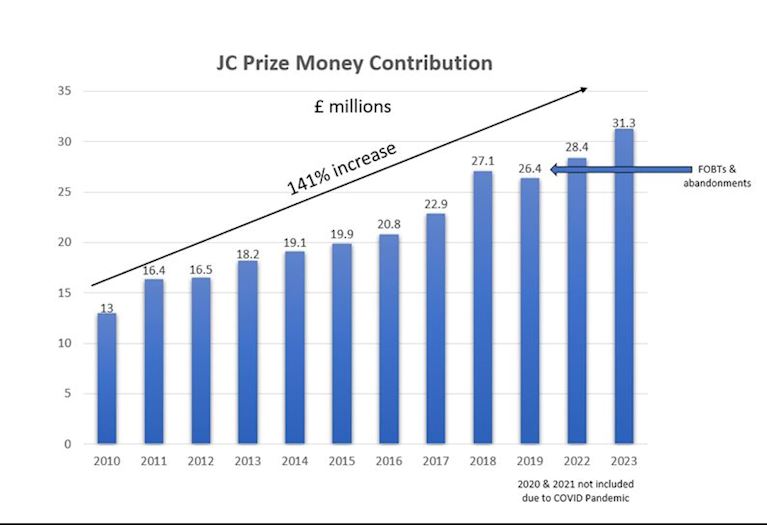 Nevin Truesdale, Chief Executive of The Jockey Club, said: "At a time when horseracing, like so many other aspects of British life, is facing such serious financial headwinds, we are pleased to be able to announce this record executive contribution towards prize money.
"Breaking through this £30 million barrier for the first time is a milestone we have been striving for and is testament to the hard work and dedication of The Jockey Club's teams all over the country. While it has been challenging to achieve against the backdrop of factors like rising energy prices and the cost-of-living crisis, both of which continue to impact British racing and our own finances, increasing our own contributions to these record levels has been essential in order to grow overall prize money levels slightly in comparison to 2022."
Explaining the importance of prize money to the future of horseracing, Truesdale added: "The passion and support of all our participants, trainers and owners is crucial if British racing is to thrive for generations to come and prize money plays a really important role in the wider economics of our industry and the jobs that it supports across the rural economy.
"While we continue to demonstrate our ongoing commitment to and investment in prize money at all levels of the sport, I am in no doubt that horseracing will continue to face significant financial challenges in 2023.
"British racing is facing many of the same financial headwinds that continue to affect families, businesses and other industries and that is making generating revenues to reinvest back into our own sport incredibly challenging. However, we will continue to do everything we can to drive engagement, grow our fan base and increase attendances for the good of horseracing as a whole and, in turn, prize money in the future."
In addition to prize money, The Jockey Club continues to invest in many other areas of the sport, with projects in 2023 expected to focus on the wider industry Weighing Room project, continued investments in equine welfare and improving the raceday experience for participants, owners and racegoers.
Charlie Liverton, Chief Executive of the Racehorse Owners Association, commented: "The ROA welcomes the increase in Executive Contribution in 2023 from Jockey Club Racecourses and their continued investment in prize money.
"Owners consistently tell us that prize money plays a central role in determining the level of their investment in the sport and by increasing their Executive Contribution by 9.5% in 2023, off the back of record high prize money levels in 2022, The Jockey Club continues to recognise the importance of continued investment in prize money. The coming year will see some difficult economic headwinds for businesses and consumers, and we look forward to working with The Jockey Club and the wider industry to navigate these challenges."
Ralph Beckett, President of the National Trainers Federation, said: "At a time when all businesses in the sport face significantly increased costs, it is important that we try to avoid owners footing the whole bill. Given this, the Jockey Club announcement that they will increase their Executive Contribution despite increases to their costs is very welcome and will help trainers to attract and retain owners in the coming months."
Prize money figures announced by The Jockey Club today are budgeted and subject to abandonments and potentially significant economic changes. Values for specific races and fixtures will be confirmed and announced in due course.
*Between 2012 and the pandemic, The Jockey Club has grown its core operating profit before prize money by £10.6million per annum and put £9.9 million (93.4%) of this into prize money.