This extract sourced from the Bourne Hall Museum describes how the Derby continued to take place despite the Second World War, and what was happening at Epsom Downs Racecourse in the meantime...
'…On 3rd September, 1939, at 11.15 a.m. Prime Minister, Neville Chamberlain, broadcast to the nation the following statement.
"This morning the British Ambassador in Berlin handed the German Government a final note stating that, unless we heard from them by 11 o'clock that they were prepared at once to withdraw their troops from Poland, a state of war would exist between us. I have to tell you now, that no such undertaking has been received, and that consequently this country is at war with Germany."
To begin with there were little signs of disruption, however, by the end of 1939, Epsom was commandeered by the Army and the following January, its race meetings were abandoned until further notice.
There were plans to hold the Epsom Classics at Newbury, but these too were abandoned after strong opposition from the local council. Eventually, the meeting was transferred to the Summer Course at Newmarket, where over the 12 & 13 of June 1940, they were run as the New Derby Stakes and the New Oaks Stakes, as previously titled throughout the First World War.
…The 'never say die' spirit of the public travelled with or without petrol coupons, to the 1940 Derby, only days after the evacuation of Dunkirk. Two years later, setting the seal of approval, King George VI won four of the five Classics, only missing out with Big Game in the Derby, when attending with Queen Elizabeth.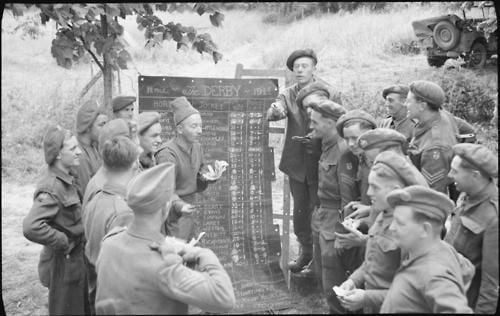 Troops betting on the Derby in Normandy, 6 June 1944. Image courtesy of Bourne Hall Museum.
Meanwhile at Epsom, the military moved into the Prince's Stand using it as the Officers Mess. Although, not every battle was lost, for in 1943, after a prolonged dispute between the Epsom Grand Stand Association and the nation's food producers, the Surrey War Agricultural Committee announced its decision to forego their claim to plough up the gallops.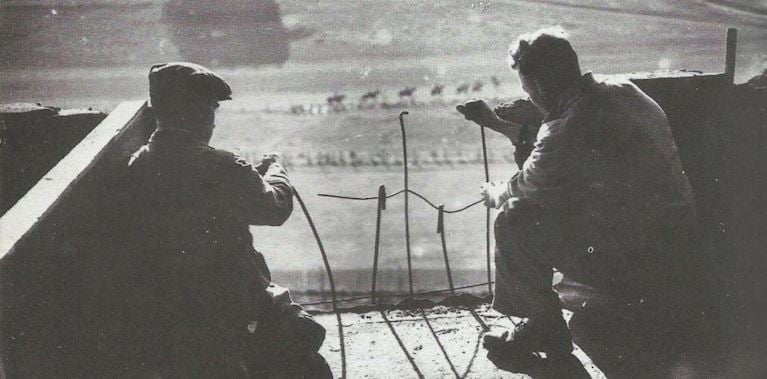 Officer's Mess inside the Princes Stand. Image courtesy of Bourne Hall Museum.
The racecourse, however, was affected by bombing. Parts of the Grandstand were damaged and there were craters in the enclosures.
Nevertheless, everything was patched up in time and the pre-war carnival spirit was in evidence for the first post-war Derby on Wednesday, 5 June 1946.'
More in this series:
epsom downs racecourse turned training school
Epsom Wartime Stories from local members of the public: