10 years ago: History made
There is a very small collection of horses who can claim to have won the Randox Health Grand National at odds of 100/1. The last was in 2009 and a horse called Mon Mome, trained by Venetia Williams and ridden to victory by Liam Treadwell, having his first Grand National ride.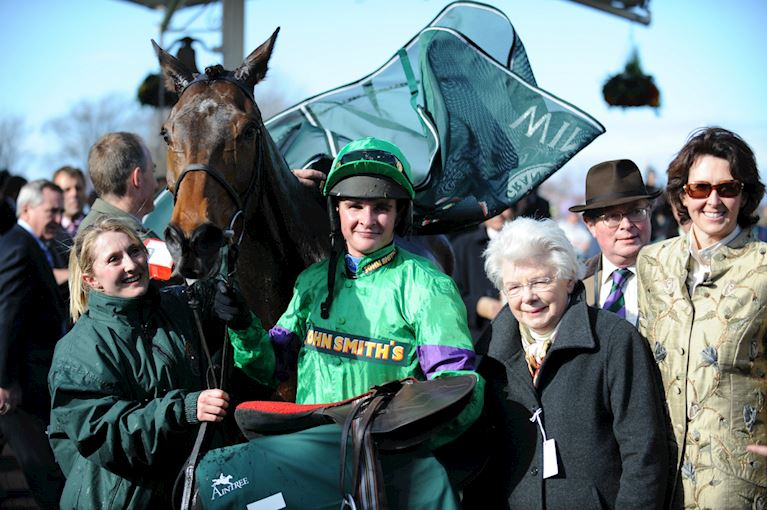 Image: PA Images
It was a canny ride by Treadwell, keeping Mon Mome out of trouble on the outside and while there were more than a dozen potential winners with two fences to go, only Mon Mome and Comply or Die were in contention at the last.
Comply or Die was bidding for back to back victories, but Mon Mome was carrying six pounds less than the previous year's winner and this was to prove crucial. After the final fence he and Treadwell pulled away to triumph by 12 lengths.
"It's an absolutely unbelievable finish, I had the perfect run through the race, he jumped brilliant for me. He was an absolute pleasure to ride. He is so genuine."
20 years ago: Irish Joy
Now there is nothing surprising about an Irish-trained winner of the big race, but back in 1999 there had not been one for 24 years.
Step forward the well-backed Bobbyjo & jockey Paul Carberry who had Irish fans on the edge of their seats as they jumped the last. "He jumped very well and as we jumped the last I knew he would quicken." Carberry later recalled "It can't get any better than that. It'll take a while to set in but it was worth going to bed at nine last night."
It must have bought back memories for Paul's father and Bobbyjo's trainer Tommy Carberry. He had won back-to-back Cheltenham Gold Cups on board L'Escargot (1970 and 1971), before denying Red Rum a third consecutive victory in the Aintree Grand National in 1975. It would be 24 years before his son would provide another Irish winner.
30 years ago
It was fourth time lucky for Little Polveir at Aintree in 1989. While he had completed the course in the race won by West Tip in 1989, on his other two attempts he unseated his rider.
After his victory in the Scottish National, Little Polveir was purchased by Ted Harvey as a ride for his son David who was an amateur jockey, in the Grand Military Gold Cup at Sandown.
While the plan had originally been to send him to the sales after that race, the temptation was to send him to Aintree and so a professional rider was sought.
Step forward Jimmy Frost who bought the stocky gelding home at odds of 28/1.
Frost remembered: "He was foot-perfect and if ever a horse wanted to be there, then it was him that day. He only gave me one moment's worry when he jumped the Canal Turn so sharply to the left that I nearly came off!"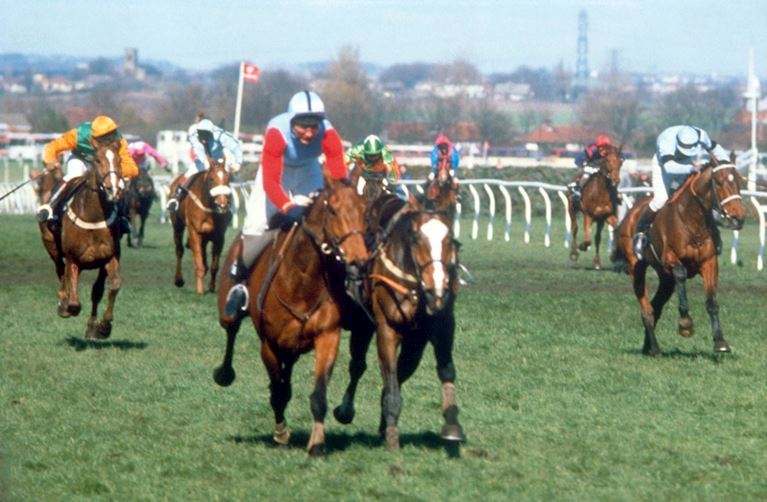 Image: PA Images
The story had a strange postscript: the single 'Little Polveir' by Sheffield band, Monkey Swallows The Universe. Lead singer and songwriter, Nat Johnson, was allowed one bet a year by her father. For three years her bet on Little Polveir was a losing one, but in 1989 her dad returned to her the princely sum of £29. It was her first winning bet – one she would later immortalise in song.
Coincidentally, shortly afterwards Johnson penned the single, Monkey Swallows The Universe were signed to Loose Music, owned by trainer Toby Balding's son in law, Tom.