A centenarian from Ely enjoyed a day to remember during Newmarket's Roaring Twenties Raceday on Saturday (July 30th) after meeting three Classic-winning jockeys as part of a special present to celebrate her 100th birthday.

Betty Veal, who turned 100 on July 1st, was introduced to Richard Kingscote, rider of Desert Crown, winner of this year's Cazoo Derby at Epsom Downs, and fellow top jockeys William Buick and Andrea Atzeni in the parade ring ahead of the Turners Handicap at the July Course.

And there could hardly have been a more appropriate venue for Veal to celebrate 100 not out, as she has a lifelong affiliation with horses and Newmarket was both her and her husband Jim's favourite racecourse.

Buick, has four Classic wins on his CV following his Derby victory on Masar in 2018 and St Leger wins aboard Arctic Cosmos (2010) Masked Marvel (2011) and Hurricane Lane (2021), while Atzeni has won the St Leger twice aboard Kingston Hill (2014) and Simple Verse (2015).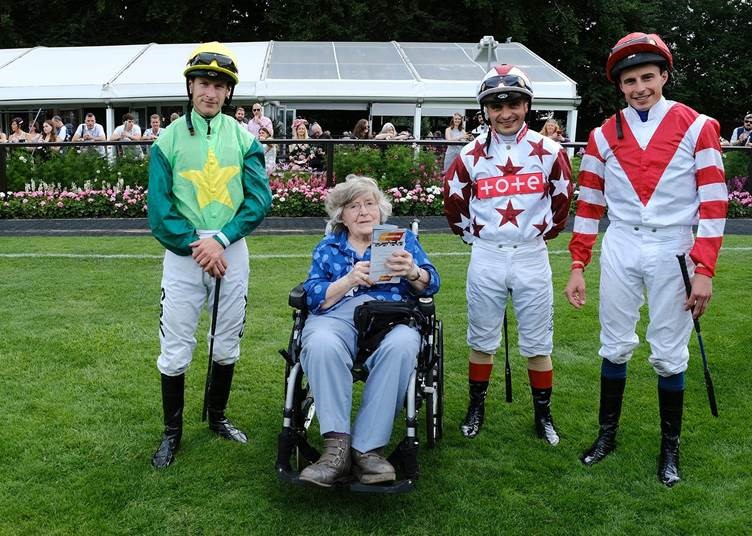 Betty Veal with (L-R) Richard Kingscote, Andrea Atzeni and William Buick

Before meeting the riders Betty enjoyed a meal with her daughter Liz Overstall and her husband Peter in one of the track's restaurants where on her return from visiting the parade ring she was greeted with a cake and a rendition of Happy Birthday.

Although finding winners hard to come by on the day, Betty admitted to having an "absolutely wonderful" time marking the landmark occasion alongside her family at a track which holds many special memories.

She said: "It has been absolutely wonderful to be here today and I couldn't have had a better 100th birthday present. We just love racing and horses.

"I was brought up on a farm and my father had horses. Once you love a horse you love them for the rest of your life.

"My husband Jim used to come here quite often. Newmarket is our favourite track and my husband would leave his work to come racing at Newmarket. I have so many memories of it."

Reflecting on some of her past memories Betty recalled the day that her late husband Jim backed a 66-1 winner that helped get their farm at Little Thetford up and running.

She said: "He came racing to Newmarket one day and put a bet on a horse called Riding Mill at 66-1 and it came first. He came home with the money and bought himself a sow which was in pig.

"It had 12 piglets on Christmas Day and I was there when the pigs were delivered and that started our farm off. It was wonderful. He always had a bet and his father loved racing."

Betty's also explained that her affection for horses goes right back to her childhood days spent on her dad's farm.

She added: "My father's horses were his pride and joy. We didn't have tractors on the farm and we used the pony and trap to go to Ely market.

"When we had the farm the people who took the horses and ploughs out onto the field used to put me on the back of a horse. That was the first time I sat on a horse and I was about three."

With horses being part of her life from a young age Betty admits she would have loved to have lived in Newmarket along the Bury Road, which is currently home to such trainers including Sir Michael Stoute, John and Thady Gosden and Roger Varian.

She said: "We moved on from pigs to chickens and from our farm we ran a business called Cambridgeshire Poultry Packers.

"We delivered poultry all over the country, not just Cambridgeshire, but we delivered it to the restaurant here along with Musk's in town among other places.

"I came here twice a week for years and years so Newmarket, the town, is like my second home. I'd like to have a house here. I wanted my husband to buy one along the Bury Road where all the stables are."

While the occasion was one to remember for Betty, it was also a special moment for current Flat jockeys' championship leader Buick, who secured victory in the finale aboard the Roger and Harry Charlton-trained Ashky to complete a double on the card.

Buick, who was also victorious on the Michael Dods-trained Azure Blue, said: "It was a real pleasure to meet Betty at the July Course on Saturday.

"She looked like she thoroughly enjoyed her day and her racing knowledge was very impressive."