Neil Phillips - The Wine Tipster and The Jockey Club's resident wine and food pairing expert - has some festive cocktails tips to liven up the mid-winter days.
Cocktails are a great way to make any occasion feel special and decadent. They can be fun to make together with friends and loved ones via video calls too. Not every cocktail has an unbearably long list of ingredients, or requires special equipment, and many are very accessible and easy to make. Why not try some of the following?
It wouldn't be a Wine Tipster recommendation without fizz. Bubbly of all styles works superbly in some of the easiest cocktails, perfect for any occasion this festive season:
It wouldn't be a Wine Tipster recommendation without fizz. Bubbly of all styles works superbly in some of the easiest cocktails, perfect for any occasion this festive season:


There's only one cocktail to have on Christmas Morning and that's the classic Bellini. This traditional recipe was invented in 1948 and is an elegant blend of bubbles and peach. Pour 100ml Prosecco DOC Brut or Extra Dry and 50ml peach purée into a glass and stir gently before enjoying. The Prosecco DOC Ruggeri Argeo Brut works fabulously for this.


If you're a fan of a Negroni, you'll love a Negroni Sbagliato, which uses Prosecco instead of gin. Use an old fashioned glass and Mix 25ml of Vermouth Rosso, 25ml of Campari over ice, add Prosecco DOC Extra Dry and mix again. Garnish with an orange slice.


English Sparkling is also a great addition to a cocktail, or wonderful on its own. Coates & Seely Brut Reserve NV makes a beautiful British Royale, just add 1 tbsp Crème de Cassis into a flute and top up with Coates & Seely Brut Reserve NV.


Champagne can always be relied upon to elevate a party and especially a cocktail, and Moët & Chandon has been doing just that since 1743. Try adding it to a Spice Me Up, great for a festive evening round the fire. In a shaker, muddle a small piece of fresh ginger, 40ml honey syrup (equal parts honey and hot water), and 40ml fresh lemon juice. Add 30ml Cognac Hennessy and ice before shaking. Strain into a rocks glass with a large ice cube and top with Moët Brut Imperial NV before garnishing with candied ginger on a toothpick.
For some more classic cocktails with a shake of festive spirit thrown in, try some of these winners:


For gin-based cocktails, let the award-winning South Devon based Salcombe Gin show you a good time. Southern Sky is a sophisticated rosé cocktail that combines 25ml Salcombe Gin 'Rosé Sainte Marie,' 15ml Knightor Rosé Vermouth and 15ml thyme infused Chambord (3 sprigs of thyme to half a bottle of Chambord in the fridge for 4 days). Add all ingredients to a mixing jug, fill with ice and stir. Strain the mix into a chilled flute and top with your favourite fizz – English Sparkling Nyetimber Classic Cuvée MV works fabulously here.
A popular cocktail that should be part of Festive experience a Whisky Sour. Pour into a cocktail shaker 25ml bourbon such as Woodford Reserve or Maker's Mark, ½ tbsp fresh lemon juice, ½ tbsp fresh orange juice, ½ tbsp sugar syrup and shake for about 20 seconds. Pour through the cocktail strainer into a glass over ice and serve with a slice of orange.
Whether you prefer your cocktail long and dry, short and sweet or even warm, replace your traditional spirit of choice with Fenjiu baijiu for a new experience this Christmas and New Year.


Baijiu has been the traditional spirit of China for thousands of years, a celebratory drink deeply integrated into the country's culture. Baijiu is the most consumed spirit in the world but is relatively unknown outside China, although its popularity is growing in the UK and it can now be found in several premium retailers and on the list at many top bars and restaurants.


Fenjiu Shanxi Mule is an easy cocktail to make using 60ml Fenjiu Bamboo Xin Li He Zhu 45% (Available from slurp.co.uk or another Fenjiu bamboo style in the range from Slurp or Harvey Nicholls) 15ml lime juice, 15ml Fever-Tree Clementine tonic water, top up with ginger beer. Simply mix over ice, stir and garnish with mint and a lemon slice.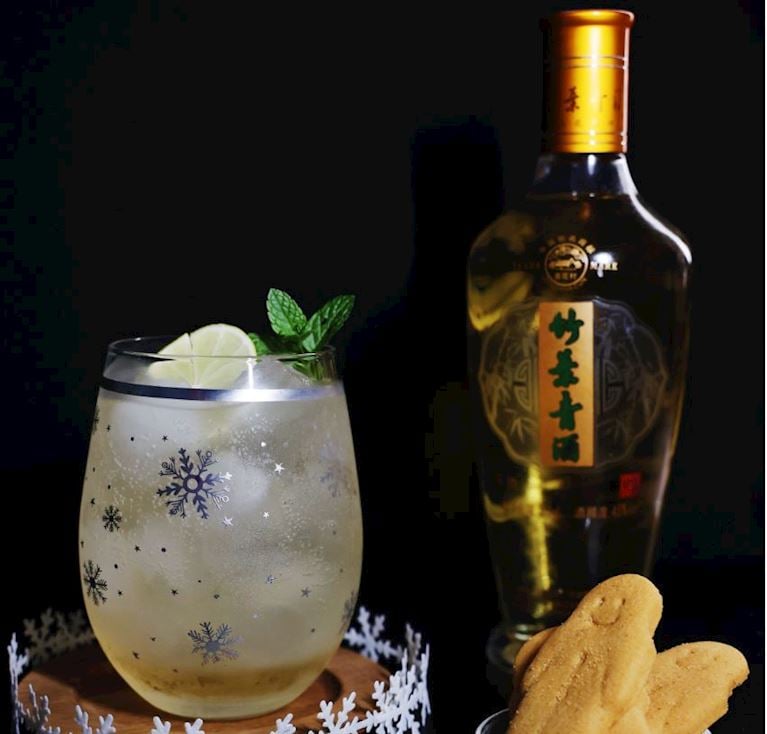 It wouldn't be Christmas without Mulled Wine. Port is also a must have this season which elevates this classic drink. Try Churchill's Reserve Port for this recipe (8-10 servings): Combine 1 ½ cups Churchill's Reserve Port, 1 cup fresh orange juice, ½ cup Cointreau, 1/3 cup dark brown sugar, zest of 2 oranges, 10 cloves, and 2 cinnamon sticks in a large saucepan. Bring to a boil and simmer for 10 minutes. Reduce to a low heat before adding 2 bottles of Churchill's Estates Red wine (or another quality red wine) and warm through. Serve in glasses with slices of orange.