On a wall of one of the four new state of the art barns at Andrew Balding's racing yard in Berkshire is a plaque to Vichai Srivaddhanaprabha, the late owner of Leicester City and the mastermind behind the increasingly influential King Power Racing operation.
It was erected earlier this year in tribute to the hugely popular 60 year old who died in tragic circumstances in a helicopter crash last October. It carries his name and the inscription 'The Chairman' 1958-2018, Remembered with admiration and affection'.
Srivaddhanaprabha was a man who had a positive impact on many people and organisations. His benevolence was legendary as was his nascent passion for racing, second only to his beloved football club whose heart-warming success in winning the Premier League title in the 2015-16 season is one of the great sporting stories of all time.
Of Balding's 200 strong string, 38 run in the colours of King Power – named after Srivaddhanaprabha's duty free and retail interests in Thailand – and whose association with the sport have been maintained by the tycoon's 33 year old son, Aiyawatt, known as Top. He succeeded his father as chairman and is a fine horseman and polo player in his own right.
Fittingly one of those horses is the appropriately named Bangkok, a three year old son of Australia, of whom Balding has great hopes for this year's Derby at Epsom on Saturday week.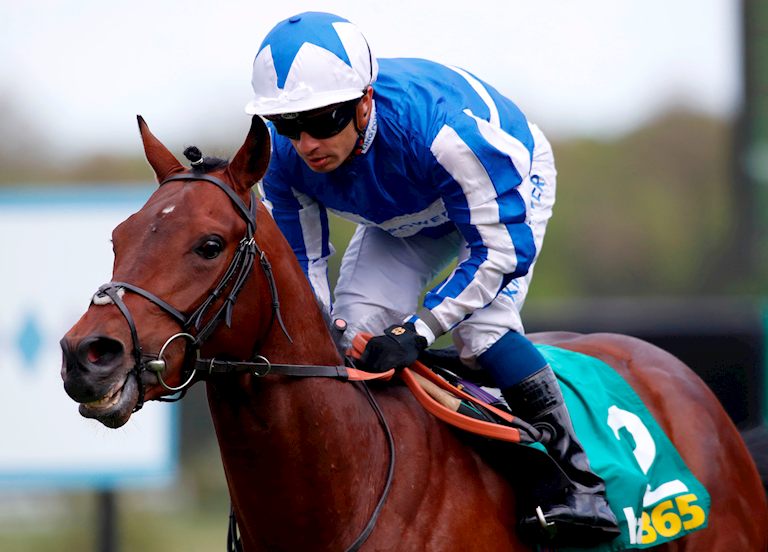 After impressive wins at Doncaster and in the Bet365 Classic Trial at Sandown, he is currently around 16-1 in a market largely dominated by Aidan O'Brien and Coolmore.
"If ever we had a horse with a chance this is it," Balding says. "He cost £500,000, the same as his father, is beautifully bred and from day one he had a lot of quality and came into training light on his feet. He has a very good action and is very well balanced.
"I would like to think we have a genuine contender. He has looked every inch a nice horse both at home and on the track this year. And he has a proper pedigree, the looks and ticks a lot of boxes.
"Ever since I've been going to yearling sales I've been looking out for something that might give you a chance to win a Derby. It is pretty tough to buy them for the type of money we usually get to spend. When King Power decided they wanted to buy some yearlings it raised the bar for us. It has been a turning point."
Balding is a scion of one of racing's most famous families. Ian, his father trained the great Mill Reef, the Derby winner in 1971. Toby, his uncle, sent out two Grand National winners, Highland Wedding and Little Polveir, while Clare his sister, is the celebrated broadcaster and television presenter who fronted the BBC's and Channel 4's racing coverage.
"She comes down here and is very supportive," Balding continues. "She has a house down here and we see plenty of her. She is on the board at Epsom and takes a lot of pleasure in that role. She is a member of the Jockey Club and very much involved in the sport."
Balding himself can think of no finer course for the ultimate examination of a thoroughbred horse than Epsom. "It is the ideal test. That is why our forefathers were pretty clever when everyone questioned how you could run your best horses on a track like that.
"Well, it is because it tests everything, that is the whole point of it; courage, physical agility, speed to get a position and the stamina to see it out. The razzmatazz of Derby Day, itself is a mental test as well. How they cope with game day you only find out on the day."
Park House Stables, which Balding took over in 2003 is very much a family affair. There are 74 full time staff, 69 of whom live on site. That side of the operation is run by the trainer's wife Annalisa whom he married in 2005. They have three children aged 12, 10 and eight.
"There's a lot to juggle," she says. "I help with the owners, staff, the estate liaising with owners, all the marketing. The staff part has evolved a lot because of safeguarding, health and safety, risk assessment.
"It is exciting and challenging especially at this time of year when it is non-stop. But it is also very rewarding. There's no better feeling in the world than a big winner. The children love it.
"Andrew is extraordinarily level. Whether we have a good or bad day he is the same person. I do think I am very blessed because Andrew does include me in a very meaningful way."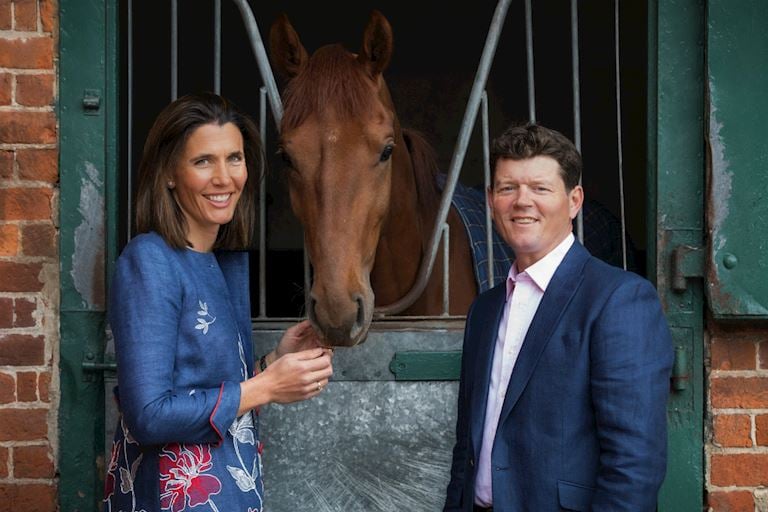 It is the colt's Classic which is at the forefront of his mind after what has been a very rewarding start to the Flat season. "Vichai had huge charisma and so much enthusiasm for racing," Balding continues.
"I am just grateful the family has decided to carry on with the racing side of things. He was instrumental in finding these horses, naming them, the horses that are racing now are very much his legacy."
And he adds fittingly: "Nothing would give me more pleasure than winning a big race for the Srivaddhanaprabha family. He was a terrific guy and he has left a huge void."