DONNACHA O'BRIEN ON THE PRESSURES OF RIDING FOR COOLMORE, HIS DERBY CHANCES AND WHAT HE THINKS OF THE DRAW
By Mark Souster
It must be enjoyable being Donnacha O'Brien.
As a son of master trainer Aidan O'Brien, he has some of the picks of the finest horses in Europe to ride, the quality of which ensure they are live contenders for the big races that matter both in England and Ireland.
When your father has won the world's greatest Flat Race, the Investec Derby, six times and is sending out more than half the runners in this year's Classic, then the chances of success are pretty good.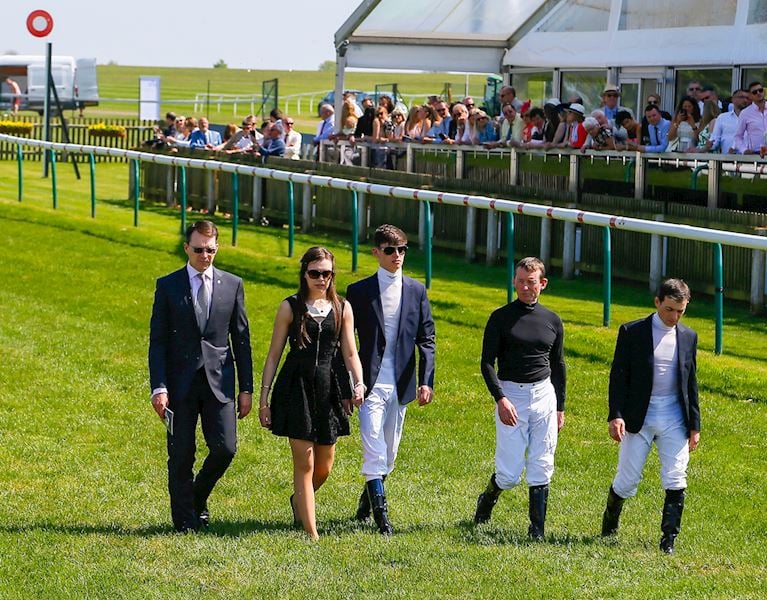 Image: Focus On Racing
O'Brien junior could afford to smile at his good fortune. Not that the 20 year old takes anything for granted, nor does he expect any familial favours.
It may be the advantages of birth which have provided him with opportunities most jockeys can only dream about, but not everyone has the talent, work ethic and hunger required to turn potential into achievement.
FULL OF TALENT
Over time he has had to prove himself, not only to his father but also to 'The Lads' - the triumvirate of tycoons who behind Coolmore. He has had to demonstrate he is worthy of their trust in partnering some of the multi-million pound bloodstock in the yard.
He has certainly done that. Last season he rode the winners of the first three Classics and he has already safely pocketed the QIPCO 2000 Guineas at Newmarket this year with Magna Grecia.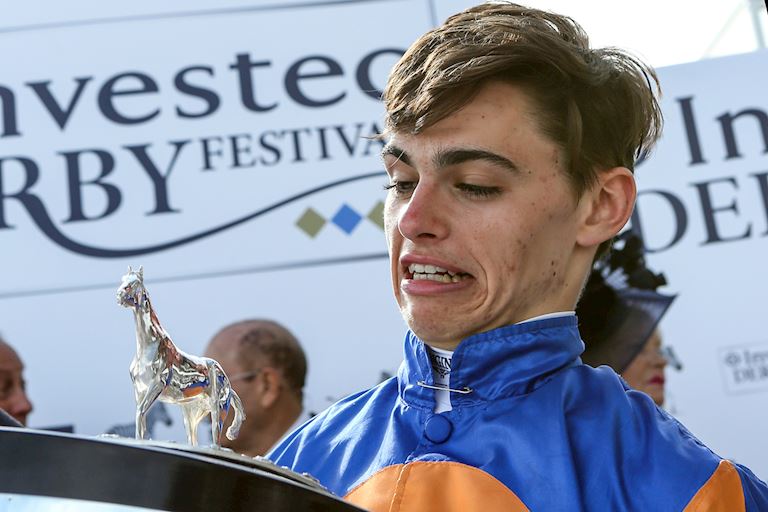 Image: Focus On Racing
Donnacha doesn't even turn 21 until July and is under no illusions that the old adage that you're only as good as your last ride is as applicable to him as it is to anyone
"Coolmore is a business," he says. "Results are needed. When you're put on these horses you're expected to not mess up so there's always a little bit of pressure. So it doesn't matter how long you're going to be riding for: if I'm not up to the job, I won't be riding tomorrow."
In what is the 240th Derby, Donnacha rides Broome, one of seven entrants from Ballydoyle. Broome is among the market leaders after a convincing victory in the Derrinstown Stud trial at Leopardstown on 12th May and goes from stall eight.
"It is hugely exciting," O'Brien told the thejockeyclub.co.uk. "I am really looking forward to it. Who wouldn't be? The trial seems to have been quite good and his form is very solid. He is an uncomplicated horse. The draw is fine. It is in the middle. If anything given the choice you'd like to be a little bit wider.
"But the Derby is what it is, the ultimate test for horse and jockey," he continued.
"The horse needs speed, stamina, balance and a great attitude to handle the environment. What happens at Epsom is the foundation of racing, not just in Britain and Ireland, but around the world. So much (in breeding) revolves around it."
Donnacha's own personal success comes at a cost. Like his brother Joseph, twice a Derby winner on Australia – Broome's sire - and Camelot, Donnacha is 6ft and tall for a jockey.
A PERSONAL BATTLE
The battle with the scales is a sometimes draining part of life. Joseph decided enough was enough at the age of 23. It is unlikely that Donnacha will make it that far.
"I will keep going as long as nature allows," he says, knowing that the lightest weight he has ridden at this season is 8st 11lbs. "I don't know what my body is going to do and what my weight is going to do.
Image: Focus On Racing
"I might stay the shape I am for the next five years and if I do I will carry on riding. But if and when it becomes unhealthy for me then I will pull the plug very quickly."
He supports Pat Smullen, who in a recent interview said the time had come for racing's authorities to raise the weights for jockeys by a few pounds, which would not make a jot of difference to the burden the beast beneath them carries.
"The human race is getting bigger and the general health of riders is something that we can't just keep ignoring," Smullen wrote.
Donnacha does not believe change will happen in time for him to extend his riding career beyond the near horizon. "Like everything in racing it takes longer than it should do to make these changes."
However, he is already planning for life out of the saddle by enrolling on a trainers' course.
"The chance came up and I thought I may as well do it," he explained. "I'll complete the course, which began on May 15, and when I've done it I'll think about things. But the plan for now is to continue riding."
So as the saying goes, catch this gifted horseman while you can. He may not be around for as long as we'd like.