WHY FRANKIE LOVES THE INVESTEC DERBY AND HIS MOST EMOTIONAL VICTORY
You can often tell a lot about someone from their Twitter profile. In the case of Frankie Dettori the words "proud dad of 5" appear before "jockey" and the only race given a namecheck is the Investec Derby - twice. Once to say he's won it and the other to proudly declare himself its official ambassador.
He could have typed anything. Prix de L'Arc De Triomphe winner. The Breeders Cup. He could have mentioned Ascot, where he famously won all seven races on the card in 1996.
But no. The two greatest loves of his life – family and the Derby. Oh and Arsenal, golf and skiing. They get mentions too.
In many ways Lanfranco Dettori isn't like most people. In fact, he's not even like most sportspeople.
At 48 he could have retired years ago, with a house full of memorabilia and a head full of memories. A recent report estimated his fortune at £14 million and the pay cheques for 'Frankie the entertainer' won't stop the moment he hangs up his breeches.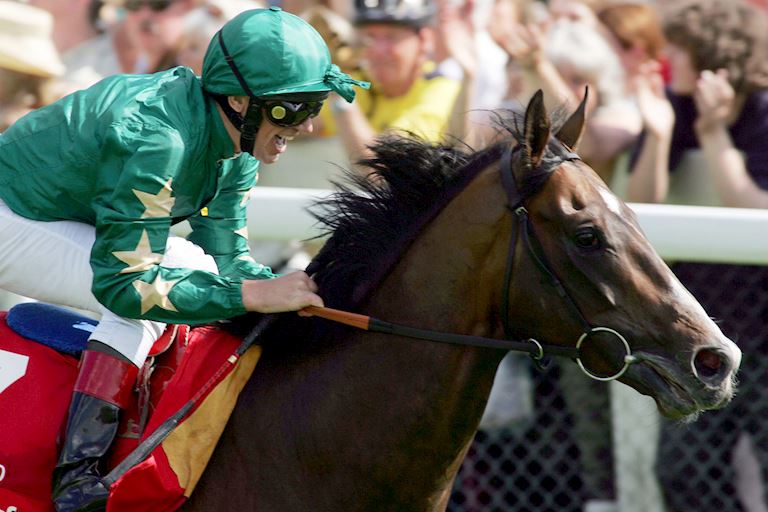 Image: Focus On Racing
So what IS keeping him going?
Targets and ambitions
When we meet at Newmarket it's early May but it's a bitterly cold day, with blustering wind and rain in equal measure. Frankie hates the cold. He really hates the cold. "This isn't Flat racing weather. It's 'orrible," he says in the thick Italian accent he's retained despite living in the UK for more than 30 years.
We remind him of the thunderstorm which raged on as he won the Investec Oaks on Enable in 2017. "Ah", he says, breaking out into his trademark grin. "But I won that day. The weather's not important when you're winning!"
And there it is. The reason the alarm sounds at stupid o'clock each day and the same reason he travels the UK and further in pursuit of victory.
"I sat next to Pat (Eddery) for many years. When you start this kind of job you always set yourself targets and one of my ambitions was to become Champion. I managed to achieve that at quite a young age.
"But, like in every other sport, you want to try to win everything that's put in front of you. I'm no different to any other sportsman. I want to win as many races as I can."
Why the Classics mean so much
Frankie has 17 Classics to his name and it's clear the big races excite him now as much as they ever have.
"The Guineas Festival is special because it's the first two Classics of the season. It's the beginning of the season and will establish who's the best colt and filly over a mile and can set them up for the Derby or the Oaks.
"Every sport has its own showcase. In American Football it's the Super Bowl. In Formula One everybody knows about the Monaco Grand Prix. Wimbledon in tennis. The FA Cup Final in football or the World Cup. Well we have the Epsom Derby. It's the pinnacle of our sport. It's our race. It's the one that everybody wants to win."
Dettori won the world's greatest Flat race for the first time in 2007 on Authorized. A day he will never forget.
"Having dad there was amazing. We'd talked about it for years. He had this beautiful white gold watch … he used to dangle it in my face. He would say, 'One year when you win the Epsom Derby I'm going to give it to you'. True to his word he brought the watch with him and he gave it to me. It meant a lot."
But it was his victory in 2015 on Golden Horn which he cherishes most. Dettori, a man full of emotion but not one to cry, is almost tearful as he recalls it.
"In my 32 years as a professional that was probably the most emotional moment that I'd felt in my life.
"When Golden Horn hit the front I knew I was going to win. To a point that I didn't feel my body. It felt like jelly. Like someone had taken the power out of my muscles.
"I was 44, I'd been through some bad times, the kids were old enough to understand. I remember they had made banners for me when I left the house. In all the big races I've won that was probably the most emotional I'd felt."
The Dettori future
After three decades at the top of his profession Dettori faces repeated questions about how long he can continue in the saddle. But while most of us would take it as an insult - some kind of insinuation that we are no longer up to our jobs and that it's time to give it all up – Dettori takes it in his stride.
Almost before the question has finished, he's answering. "I want to win all the big races again. I want to get another good five years."
As it happens, winning Flat racing's elite races is not the only reason the proud Italian wants to continue into his 50s. His 14-year-old son, Rocco, has his heart set on becoming a jockey himself and the pair would love to race against each other one day.
"It's up to him. At the moment he seems very keen but when you're a teenager you can change from week to week! If he does decide to do it I will back him and try to help him as much as I can.
"I did ride with my dad and it was an amazing experience and I'm very proud that I did it. It's an amazing ambition of mine to be able to ride with him. He can tell his children that we did it."
Who knows how long one of Flat racing's greatest ever jockeys will remain in the saddle for and whether we'll ever get to see L Dettori and R Dettori in the same racecard.
For now we should enjoy him while we can.