a young man hoping for a Change of fortune in the Randox Health Grand National
by Mark Souster
When many of your forebears went to the guillotine during the French revolution for being on the wrong side of history - with only one managing to escape to find sanctuary in Britain - the prospect of tackling 30 fences in the Randox Health Grand National will hold few issues for Nico de Boinville.
That is if he can get over them. His only previous two outings have resulted in frustrating first fence exits from the race the world stops to watch.
In 2016 he came down at the first on Hadrian's Approach and a year later the same fate befell him on Cocktails at Dawn. "The writing was on the wall for both of them going into the race," he says.
De Boinville was the leading rider at the Cheltenham Festival last month with four winners, so his National form is something of an anomaly for a jockey at the peak of his powers.
This year he is aboard Step Back for the training team of Mark and Sara Bradstock, whose ability to conjure top class horses from their small but historic – not least in Grand National terms - Oxfordshire base is remarkable.
Letcombe Bassett is where Tim Forster trained his three winners Well To Do, Ben Nevis and Last Suspect, and before that it was where Basil Briscoe trained Golden Miller, the 1934 winner.
It was the victory on the Bradstock's Coneygree in the 2015 Gold Cup which capitulated the 29 year old into the big time. He won whilst still a conditional jockey with Nicky Henderson.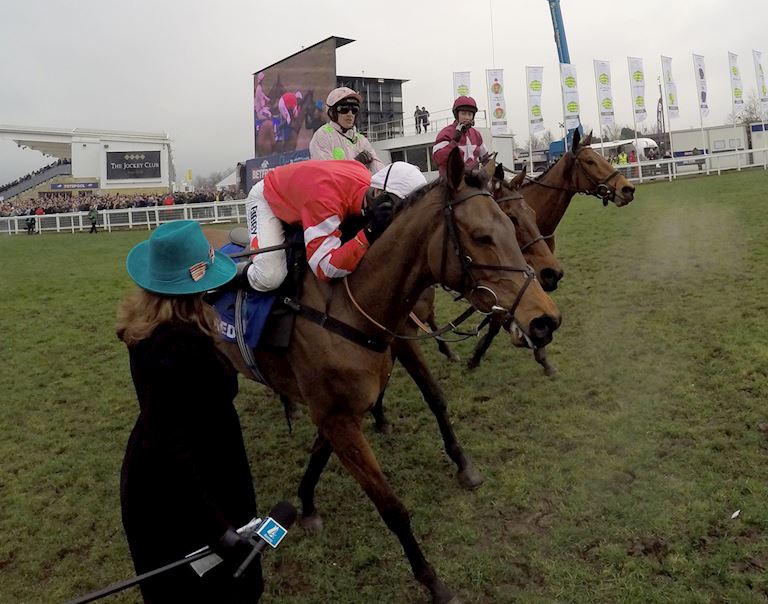 Since then with the turbo-powered support of Seven Barrows, he has laid claim to most of the sport's major prizes.
While he recognises that his have been frustrating experiences, he points to Richard Johnson, whose 20 rides in the race without a victory is a record, and the man he calls 'The Guv'nor', Nicky Henderson, who has never won any National of any sort anywhere.
"It would be nice to do it but I know it's not easy," says the softly- spoken jockey. "Look at Richard and how many goes he has had. It is not something, however, I lose any sleep over.
"And in Nicky's case that is a strange one I guess," he continues before offering an explanation. "Perhaps our horses are better suited to the likes of Cheltenham and those Grade One races."
All this of course does not to disparage the status or the importance of the Grand National which he readily acknowledges. His first memory is of watching of Earth Summit win in 1992.
"It is always good to watch for everyone in the country. You know a lot of households are sitting down. It is great to be a part of it."
So can he in effect get past 'Go' on Step Back, the impressive winner of the Bet365 Gold Cup at Sandown last year?
"I'm relatively optimistic this time. Step Back went up over the National fences in Lambourn three times and was very good. He has a nice weight and is a strong stayer. I hope the horse runs to his potential."
Henderson's entries at Aintree was largely shaped by how well his runners came out of Cheltenham as De Boinville explained. "It was about getting the horses back, seeing how they were and and if there have been ready then you can roll the dice again."
Pentland Hills, was a case in point. Success in the Triumph Hurdle was backed up by victory in the Doombar Anniversary Juvenile Hurdle on Thursday. That took De Boinville's seasonal tally to 82, with a landmark century of winners within reach.
So what about his forebears? They were landed gentry from Lorraine, with the one that got away, Jean Baptiste de Boinville also at one time an aide-de-camp to the Marquis de Lafayette.
"Nineteen of them (my family) got the chop," De Boinville, a keen student of history, explained. "Jean Baptiste got away. He was good friends with Lafayette."
Jean Baptiste sought political exile in London where he arrived virtually penniless in 1789. He married an English woman Harriet Collins, who at one point had been part of George the Shelley set, and whose father had made a fortune in the West Indies.
Jean Baptiste's story did not have the happiest of endings. He died on the retreat from Moscow at the end of 1812 as part of Napoleon's stricken Grande Armee.
His descendant will hope for a somewhat happier ending to his 2019 Grand National adventure. "Getting round would be nice this time," he jests.
If both horse and rider are at the top of their game then who knows what might happen?
Images: PA Images/FocusonRacing