Guy Disney's army career was going well. Two tours of Afghanistan and growing opportunities to ride as an amateur jockey in between.
Then, in July 2009, while serving as a Captain with the Light Dragoons in Helmand Province, he was caught in an ambush which changed his life.
During a 10-day period which claimed the lives of 11 British servicemen, Disney's vehicle was out on patrol when it was hit from the side by a rocket-propelled grenade.
He recalls: "The RPG went straight through my leg and killed the lad next to me. I was only saved through the exceptional work of the guys with me who put a tourniquet on my leg and got us back to Camp Bastion."
Disney had his first operation in the field hospital and two days later arrived back in the UK at Selly Oak Hospital in Birmingham for the start of a long road to recovery.
Determined not to let the injury change him, one of his first questions was to ask when he could get back on a horse.
Growing up in the heart of Jump racing in Gloucestershire, Disney had been competing in point-to-points from the age of 17 and riding out regularly for Henrietta Knight and family friend Kim Bailey.
His determination to ride again was a hugely motivating factor during his physio, while getting used to life with a prosthetic lower leg.
"I was going ok before, so it was really hard to have that enforced break. I don't underestimate how lucky I've been to have the help and support of some well-connected friends in racing. I couldn't have done it without them.
Disney names Bailey, Peter 'Scu' Scudamore and David Pipe as the biggest of those supporters.
Bailey remembers how impressed he was to witness Disney's sheer determination. He told the Jockey Club's Love the Jumps podcast: "I saw Guy when he was in Selly Oak. When he was lying there, all he wanted to do was ride in a race and get back in the saddle: that was his ultimate dream."
His recovery and rehabilitation were progressing, but his hopes of a rapid return to racing were derailed when he applied for his jockey's licence in 2010.
Disney says: "I got an absolute 'no' from the BHA which was a real blow. They had concerns that I'd get the prosthetic stuck or if my foot slipped out of the iron I wouldn't be able to get it back in as I couldn't feel it. It was a shock as I hadn't thought up to that point that the injury was going to change my life."
He vented his frustration by signing up for Prince Harry's Walking With The Wounded trek to the North Pole and it was while he was training for the expedition that his luck turned.
"I met a chap call David Carey who was one of those incredibly irritating overachievers. He'd been a navy doctor and flown planes and now he was retraining as a barrister.
"When I told him I'd been turned down for a licence he said he had done functional tests helping pilots get back in the cockpit and thought he might be able to help. He offered to work with me on a pro-bono basis and we set about making a case."
After months of work - and with the help of Toe Stoppers, stirrup irons where the foot is prevented from slipping forward - the pair did enough to convince the BHA to review their decision.
"In the end I got a phone call out of the blue in 2014. Someone from the BHA said that if I retook my amateur jockey course I could have the licence."
Disney still had a way to got, but he persevered and in the end David Pipe gave him his first winner in the 2017 Royal Artillery Gold Cup at Sandown Park.
Describing the experience he says; "I remember getting ready for the race and thinking 'do I really want this still?' But when I got in the saddle I absolutely knew."
Characteristically dismissive of his part in the win, he says: "Rathlin Rose is a class act. To win with an amateur like me on board he has got to be pretty decent. I just try not to get too busy on him,"
A year later he became the first back-to-back winner of the event setting up a tilt at Aintree fences aboard Gallery Exhibition. The horse is trained by Bailey, who remains in awe of Disney's doggedness.
"We all thought he had no chance and then he rode in a charity race and finished second. Since then he's moved on to prove himself under rules and in point-to-points.
"The hours he's spent with Yogi Breisner and others trying to help him to get back in the saddle and ride have been extraordinary."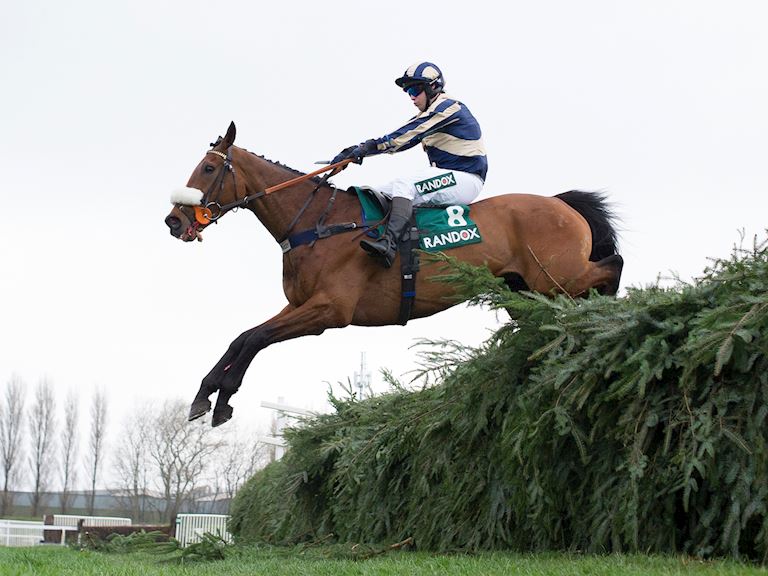 Disney lined up for the Randox Health Foxhunters' Chase on the first day of the Grand National Festival this year. While there was no fairytale finish, he was delighted to have had the opportunity to take part. He subsequently put together a syndicate to buy the horse and hopes the racing dream will continue.
"Winning horse races is like a drug," he says. "It's a hell of a fix and it's hard to get that any other way, so I just take any opportunity I can to ride."
When he's not in the saddle, Disney is involved with several charities including the There But Not There initiative whose silhouetted figures of First World War soldiers he has brought to Sandown, Aintree on Armed Forces Day and Cheltenham.
"It's good to have the racecourses get behind the initiative… It's a quiet and fitting tribute and one which aims to make sure those still involved get the right support."
Among his future plans is a project taking injured veterans to Zambia to give local rangers advice on maintaining their vehicles, basic medical and radio training.
But, whatever his other commitments, one thing is for certain – Guy Disney will always find time for racing.