THE WORLD WATCHED … IN AWE OF THE TIGER
We all hoped Tiger Roll might do it, and he looked better equipped for the job than any winner since Red Rum. But, hand on heart, how many of us really believed it?
After all, this was the Randox Health Grand National. It's not the world's most famous horse race for nothing. Four and a quarter miles, 30 fences, 40 runners. So many winners had tried and failed since Red Rum's back-to-back wins 45 years ago. Why should it be any different for Tiger Roll?
But, barring a couple of stumbles on landing late on in the race, there was scarcely a moment's worry for the 'Little Legend' - at least not once he had been persuaded to join the pack for the start of the race.
Remarkably, at the end of nine minutes of pure sporting magic, he still looked full of running and won with an ease which left even hardened professionals open mouthed. It was quite magnificent.
It's hard to believe now that it was not so long ago Ryanair boss Michael O'Leary and his team feared Tiger Roll had fallen out of love with the game and were considering retirement. For, after his JCB Triumph Hurdle win, he was finding chasing hard work. Just look at him now.
It's plain for all to see that he loves his jumping again, and three more wins at the Festival™, presented by Magners - two of them in the uniquely challenging Glenfarclas Cross Country Chase which is credited with reviving his enthusiasm and teaching him new dance steps - and now a second Grand National have made him a household name and taken his earnings to £1.36m. No wonder O'Leary was buying the drinks on the plane home again.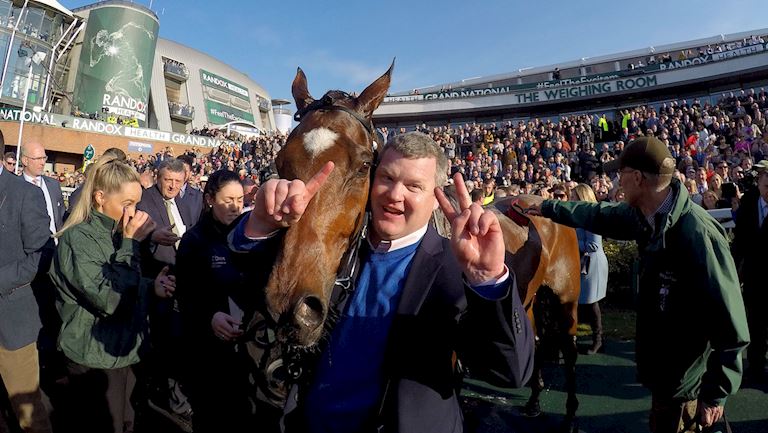 Some are clamouring for the chance to see Tiger Roll bid for an unprecedented third consecutive Grand National win. But not O'Leary, Gordon Elliott or Davy Russell. Not at the moment anyway.
O'Leary appreciates how privileged he is to have won two Nationals with Tiger Roll and three in all, and he knows that a task that on paper looked difficult enough this year will be made even harder in 2020, when the handicapper inevitably allocates an even bigger weight.
He pointed out that while one can be greedy in business one shouldn't be greedy in sport. "If he were to go back and win five times at Cheltenham - what more do you want from the horse? I think at that stage I would mind every precious hair in his body."
Hours later O'Leary said it was "very unlikely" his pride and joy will return in 12 months to defend his crown. One thing is for sure. The world will be watching to find out.
AINT NO MISTAKING A CRACKING THREE DAYS
Aintree is all about the Grand National for most people, and the supporting races are often underappreciated.
Make no mistake though, with 11 hugely varied Grade One races spread over the three days there's no question it justifies its festival billing and they lived up to expectations again and again.
A cold and wet first day was brightened up considerably by victories for Kalashnikov, Pentland Hills, Kemboy and Supasundae. Then Ladies Day saw Grade One wins for Felix Desjy, Lostintranslation, Min and Champ.
Kemboy and Min in particular were imperious, and we saw plenty of other fantastic performances, but the three-way battle between If The Cap Fits, Roksana and Apple's Jade in the Ryanair Stayers' Hurdle was extra special.
What a way for young Sean Bowen to advance his claims for the Harry Fry seat recently vacated by Noel Fehily.
It was the finish of the season, not just the meeting.
UNSUNG PADDY ENJOYS MAGIC OF THE NATIONAL
Paddy Kennedy, the unsung older brother of multiple Grade One winner Jack Kennedy, was only confirmed for the ride on the mare Magic Of Light in midweek, but what a spin they enjoyed in second.
It would be stretching things to suggest that the 30-year-old from County Derry has made a comeback of Bob Champion and Aldaniti proportions, but he certainly hasn't had it easy and it was only two summers ago that he was operated upon for a tumour on his bladder.
The pair survived ploughing through The Chair at the end of the first circuit - a clash of heads left Kennedy bleeding from the nose and mouth but helped keep the partnership intact - and they led six out until Gordon Elliott's "horse of a lifetime" cruised upsides before the last.
It was some effort in a race no mare has won since Nickel Coin in 1951, especially considering Kennedy had never before tackled the Aintree fences and had only once previously ridden Magic Of Light, in a handicap hurdle.
Let's hope it's not too late for this glimpse of the limelight to lead to much bigger and better things.
LUCINDA PLOTTING ARTHUR'S 2020 BID ALREADY
Hard luck stories were surprisingly few and far between on Saturday but One For Arthur, the Grand National's second returning hero, evidently did not enjoy the easiest of passages.
Still, it was fantastic to see the 2017 winner complete in an honourable sixth, his only two appearances in between having ended fairly disastrously.
One For Arthur is only 10 and so he could well have another National or two in him. He's not exactly high mileage.
Jockey Derek Fox was "delighted" but confirmed that One For Arthur ran into a lot of trouble before tiring from two out. Lucinda Russell's pride in him after two such a difficult years was obvious.
She is already planning for Aintree 2020.
BARRY'S FOR RETURNING … NOT RETIRING
One man who sadly will not have enjoyed Aintree is Barry Geraghty, who fell from Peregrine Run in Friday's Randox Health Topham Chase and later that evening confirmed that he had broken both his tibia and fibula just above his right ankle.
Geraghty missed a Grade One win on Champ later on Friday afternoon and then the Grand National ride on Magners Cheltenham Gold Cup second Anibale Fly, who finished a respectable fifth in the big race. He will also miss Punchestown and the end of season celebrations at Sandown Park's Jump Finale on April 27.
He recalled being off for four months after he broke his left shin in a previous fall and described the injury as "a real sickener" and "hard to stomach".
But, while he will be 40 in September, it was good to hear that his heart is set on returning, rather than retiring.
We wish him well.