It might only be January but with the entries for the Randox Health Grand National out this week it's inevitable people will start to talk about the greatest steeplechase in the world.
For me my dad is my hero. Although obviously I hadn't been born when he won on Little Polveir in 1989, we had a video of it at home as a kid and I watched it so many times with my nose pressed up against the screen. So to ride in it two years ago was a big moment in my career.
This year it's mega to know that I have a horse in Yala Enki who is potentially, all things being well, going to line up at Aintree in April.
I have some great partnerships with Frodon, Blackie (Black Corton) and Present Man and Yala is another fine string to my bow. I'm very lucky to be partnered up with him and I love the way that he wears his heart on his sleeve.
He's a front runner, a bold jumper, a staying chaser – they're just epic to be with when you're out there. He won a couple of weeks ago at Taunton really impressively.
Paul (Nicholls) found that race to grow his confidence again and give him the opportunity to be back in front. Taunton is a sharp track and for him to show that speed early on, especially the gallop we went, makes us really excited for what might come in April.
Will we go again before then? Paul is the master at planning where next for his horses so I'll leave that completely with him. But for the horse to get his head back in front and boost his confidence and for his owners was great.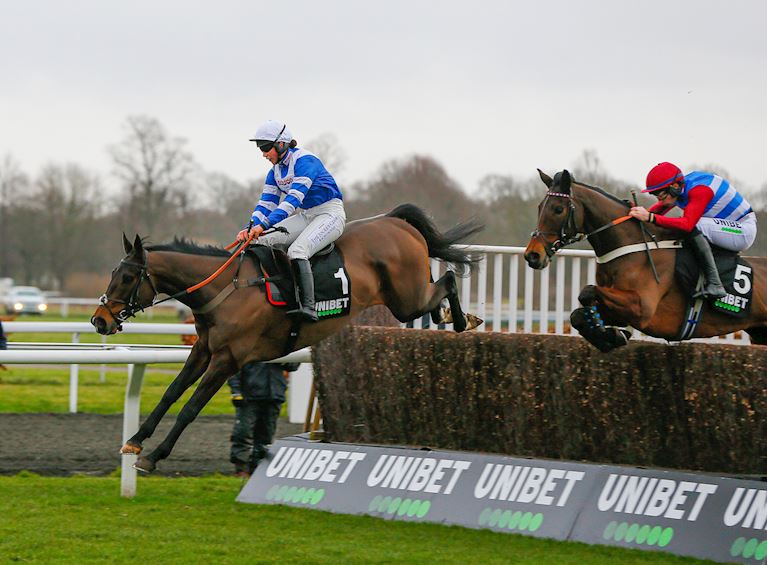 Yala and Frodon have got the same sire so their traits are very similar. He's quite boisterous and very opinionated! The thing with Yala is he just doesn't stop. Even at home he just loves to get out there and get galloping.
April is a long way off in the world we live in but he's everything a Grand National horses should be.
Everybody dreams to have a National horse and, for me, if I'm partnered with him, if I get there in one piece and so does he and if we get down to the start and we line up that'll be a pretty mega place to be.
Another highlight of my month was to have Frodon back to his dominating best to win the Silviniaco Conti Chase at Kempton Park.
He had really started to come into his own at home and Holly who rides him every day said after his final piece of work that he was right back, so that filled us with huge confidence.
One of the many great things about Paul is that he grows his horses' confidence and he finds those races that build them and allow them to get their heads back in front.
And when these horses have confidence and the wind in their sails there's not a lot that will stop them. That's what Paul does time in and time out and it shows because they keep coming and they keep delivering season upon season.
To have Frodon back in front, for me personally, that's a brilliant feeling. I was bouncing off the walls again!
To me he's not just a horse, he really is a mate. His owners, Mr and Mrs Vogt, were over the moon as much as we all were and all in all it was a good day.
He's come out of that race great and he's back to being the cheeky chap of the yard!