At the age of just 18, Benoit De La Sayette has gone from a jockey no one had heard of to one of horseracing's hottest young properties in just two months. Our writer Graham Clark caught up with at Kempton Park…
Few people have enjoyed the first five weeks of 2021 quite like Benoit De La Sayette.
While the UK remains in lockdown and waits for 'normality' to return, the 18 year old Flat jockey has enjoyed one of the most remarkable starts to any career imaginable.
The fact that De La Sayette is the first apprentice jockey on champion trainer John Gosden's books for 29 years speaks volumes, but he's also delivering the goods on the track.
A sensational start to his race riding career has seen him ride seven winners from his first 21 rides (as of February 4th 2021), including six from his first 16.
For a jockey who only rode his first winner under rules in December, it's easy to understand why De La Sayette is still pinching himself.
He told thejockeyclub.co.uk: "I only had my first ride at Chelmsford in November and I had my first winner in December, but January has just been fantastic. I've just been keen to ride whatever I'm on and learn as much as I can.
"I've been incredibly lucky to have this at this stage of my career. To sit on lovely horses in the morning, and the afternoon is a dream come true.
"I've ridden pretty much all my life to be fair and it's always been my ambition to be a jockey. At the moment I'm just a very lucky boy to be where I am and riding the horses I am at the moment. I couldn't have asked for a better start to my career."
Plenty of jockeys have graduated from the pony racing ranks to make successful careers in the saddle, and though not winning any major titles or championships in that discipline, it is an experience De La Sayette believes prepared him perfectly for the career ahead.
He explains: "I was never a champion in pony racing and the reason for that is I was backwards and forwards from France. My Dad sent me over there not really to ride but to improve my French speaking, but he said you might as well learn an extra language and do something you like at the same time, so I ended up spending about five summers over there.
"In England the best pony wins but in France they are pretty much the same standard and they ride more in a bunch and a pack, like a proper race, and it teaches you a lot more."
Every aspiring jockey needs role models and while the former Comberton Village College pupil looks up to plenty in the weighing room there is arguably no one he respects more than his father, the former rider Geoffroy De La Sayette.
He said: "My father was a jockey in France. He started as an amateur and then he went as a professional. He rode about 250 winners in about five seasons so he did pretty well.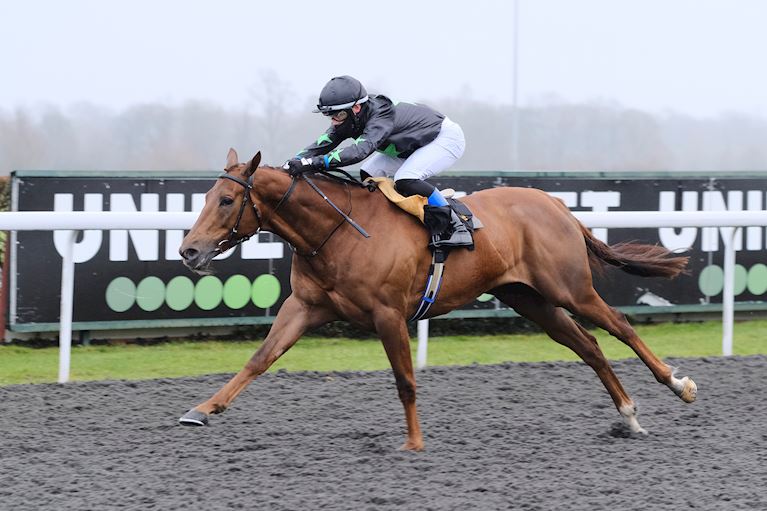 "He came to England and got a good job riding Swain for Godolphin when they first started out. He has been a work rider for James Fanshawe, who is another very good trainer, for about 15 years and I used to go in with him every holiday and every Saturday from the age of 11 to 15. It is there where I sat on a racehorse for the first time properly.
"To have someone who has ridden in racing, especially your Dad, helps you out and from time to time you need that."
Few people ever go on to pursue a career in the occupation where they went on work experience while at school, but for De La Sayette it is where his association he now enjoys with Clarehaven Stables master Gosden all began.
De La Sayette, who refers to Gosden simply as 'The Boss', explained: "A lot of my friends were going to things like accountancy firms and things like that and dad said you've got three weeks so you might as well try and get in the best yard.
"Dad was lucky enough to know Tony Proctor (travelling head lad) and he got me three weeks there after speaking to the boss. I asked the boss one day what his opinion was of me and I was lucky enough for him to say 'I would quite like you to be my apprentice'. It was an unbelievable day and things have been flying ever since.
"I did my GSCEs and once they were done I went to the British Racing School for a four week course. Then I went off to go and work for the boss full time.
"He said to me the other day I've not had an apprentice since 1992. For him to say that and for me to be the first he has had in almost 30 years is an incredible feeling.
"The boss is amazing and he has played a big part in my career already. The way he explains stuff to me, I just learn so much there every day and hopefully it will carry on."
While many already tipping him to reach the very top already, De La Sayette simply has his eyes on winning as many races as he can in 2021 to mount a challenge for the Apprentice Jockeys Championship.
He adds: "Every young jockey dreams to be champion apprentice and that is what I've got on my mind. Hopefully if everything carries on from the Guineas meeting to Champions Day I can be up there.
"This month I will take a little break though so I can get 7lbs off nice horses in nice races for the turf season. I'm speechless with what is happening at the moment and I can't wait until the turf season starts, where hopefully everything will carry on like this."