Whilst we are in lockdown here is a chance to practice your bread making skills and create a great start to any dinner party with this simple recipe.
A bit of history first! In Ancient Rome Focaccia was a flat bread baked on the hearth. The word is derived from the Latin focus 'hearth, place for baking'. The basic recipe is thought by some to have originated with the Etruscans, but today it is widely associated with Ligurian cuisine.

As it is super adaptable, Focaccia is sometimes considered to be a kind of pizza, though focaccia is left to rise after being flattened, while pizza is baked immediately.

We are going to make Focaccia Genovese, marked by its finger-sized holes on its surface and is brushed or sprinkled with olive oil, coarse salt, and sometimes water before the final rise.

Here is Focaccia al rosmarino 'focaccia with rosemary' is topped with rosemary.
It may be served as an antipasto, table bread, or snack. Whole or sliced fresh rosemary leaves may be used, as can dried rosemary.
It may be garnished with sprigs of fresh rosemary after baking and sprinkled with salt. Potato rosemary focaccia is often called "potato pizza" in New York City.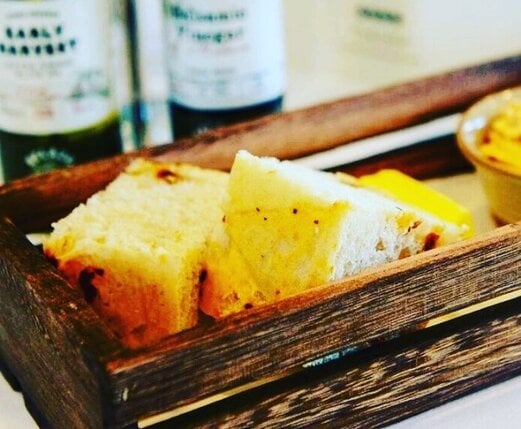 Recipe
Makes 1x baking tray or 2x loaf tins
Ingredients
Bread flour (plain flour can be used as a substitute) 500g
Dried Yeast 7g
Table salt 2 tsp
Sugar 1tsp
Olive oil plus a splash or two 3Tbsp
Warm water 300ml
Sea salt
Rosemary
Chefs note – plain flour can be used but it just has not got as much protein in which produces more gluten. If you can use the best possible olive oil as it really helps with the end flavour
Method
For the bread Dough (made by hand on a mixer with the dough hook)
Place the flour salt, yeast and sugar in a bowl, give a little mix.
Add olive oil and water kneed for 10 mins (if doing by hand put the radio on your favourite channel first and just forget about everything its quite therapeutic!)
Brush with a little oil and cover with cling film, place in a warm area as possible, and leave for an hour (this is the first rise)
Pre heat oven to 200 degrees (fan or gas)
Take the dough out the bowl and give it a gentle kneed and stretch out over a greased baking sheet or divide into 2 loaf tins
Poke your fingers in to make dimples and drizzle a touch more olive oil over. Cover with a cloth and leave to rise for another hour ideally.
Grind some sea salt on the top and add rosemary sprigs on the top.
Place in oven and bake for 20 mins.
Take out and leave to rest for 10 mins as it will become softer and spongy.
Cut into cubes and serve or cover with cling film until needed (just a quick warm through the oven is all that's needed)

Chef note – The more time you can leave it to rise the more flavour the bread will develop. After the first rise you can add, ripped olives, sun dried tomato, feta cheese or my favourite diced chorizo! Serve with humus, balsamic, olive oil dips. This will always impress any dinner guests!
This is a real winner and something you can also make with children as it will give a real sense of achievement and there is nothing nicer than warm bread!