SMOKED HADDOCK FISHCAKE
BOMBAY POTATOES, KORMA SAUCE AND CURRY OIL
Serves 4
Ingredients
Fishcake
Naturally smoked haddock fillets 800g
Maris Piper potatoes (cooked and mashed) 200g
Fresh coriander (finely chopped) 5g
Seasoning
Flour 50g
Eggs (beaten) 2
Breadcrumbs

250g

Oil for deep frying
Bombay aloo
Maris piper potatoes (cooked and cut into 10mm cubes) 600g
Brown mustard seeds 10g
Madras curry powder 10g
White onions (cut into a small dice) 100g
Butter 10g ml
Spinach 100g
Curry sauce
Milk Coconut 400ml
Korma paste 50g
Curry oil
Madras curry powder 10g
Rapeseed oil 100ml
Garnish
Kale (de stalked and shredded) 100g
Method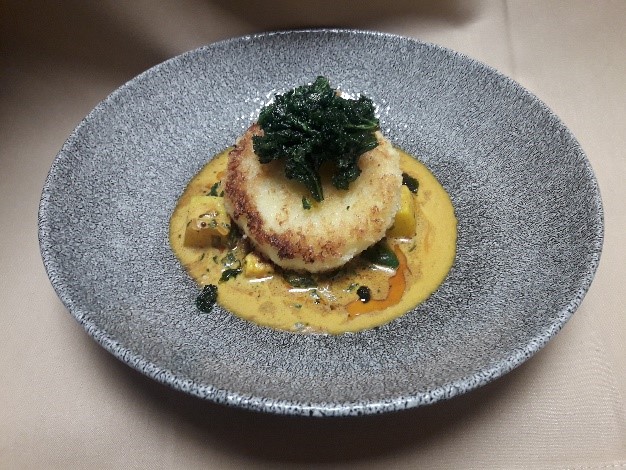 1. Make the curry oil. Dry fry the curry powder in a frying pan and mix with the oil.

2. Make the fish cakes by cooking the haddock, flaking and combining with the coriander, seasoning and mashed potatoes. Form into 4 round cakes and place in the fridge to cool and firm up.

3. Pass each cake through the flour, then the eggs and finely the breadcrumbs. Set aside.

4. Deep fry the kale for garnish and allow to dry on a paper towel.

5. Make the curry sauce with the korma paste and coconut milk. Heat and keep warm.

6. Deep fry the fish cakes and keep warm.

7. Make the Bombay aloo. Dry fry the brown mustard seeds until they start to pop. Add the curry powder and the butter. Add the onions and sweat them off with no colour for 5 minutes. Add the diced potatoes and heat through. Don't allow the potatoes to break apart. Finish with the spinach.

8. To assemble the dish. Place the Bombay aloo in the bottom of 4 bowls. Dress with a little curry sauce and place a fishcake on top. Garnish with the crispy kale and finish with a drizzle of curry oil.