Confit Sea Trout, Pink Lady Apple, Toasted Walnuts, Fennel
The recipe is for a sea trout fish starter that is served with pink lady apples, tarragon mascarpone, toasted walnuts, fennel and celery. Flavours that are reminiscent of a "Waldorf" salad.

This starter can all be prepared in advance to make it ideal for dinner parties where stove and oven space can be used instead for your other dishes.
The sea trout can also be substituted for a similar fish such as salmon that will work just as well.

The recipe serves 5 people.
Ingredients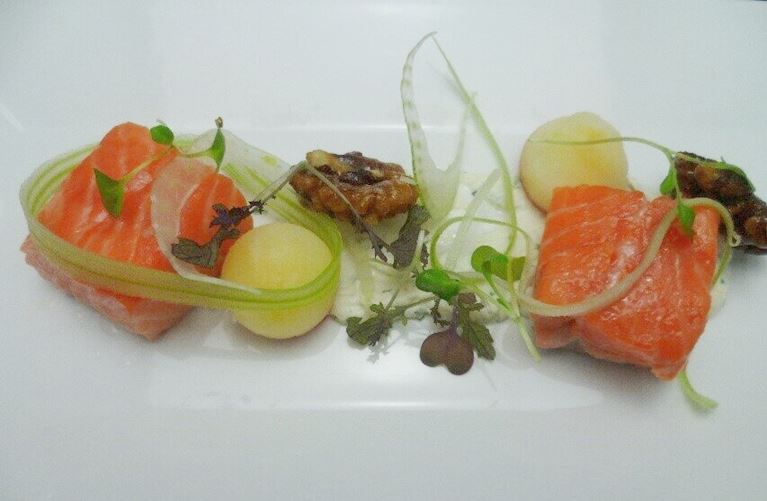 Confit sea trout
300g sea trout fillet (skin and pin bones removed)
1 stick lemongrass
5 black peppercorns
2 bay leaves
10 coriander seeds
500ml of rapeseed oil (you need enough oil so that it coats the fish completely)
Tarragon mascarpone
75g mascarpone cheese
3g fresh tarragon
Candied walnuts
40g walnuts
Caster sugar (enough to coat the walnuts)
Water
To serve
1 pink lady apple
1 lemon
1 stick celery
½ bulb of fennel
Baby herbs
Method
Cut the trout fillet into neat 30g square pieces and set to one side.
Warm together the oil, chopped lemongrass, bay leaf, coriander seeds and peppercorns. Bring to a temperature of 60c before carefully placing the trout into the oil and then removing immediately from the heat. Leave this to cool allowing the flavours to infuse into the trout.
Mix together the finely chopped fresh tarragon and mascarpone, add a little salt if needed.
Use a melon baller to create balls of apple and then squeeze on half the lemon juice to stop the apples from going brown.
For the walnuts, coat the walnuts in water and then sprinkle liberally with sugar so that it sticks to the water. Bake the walnuts in the oven at 180c for about 10 minutes until the sugar has caramelised.
Make shavings of the fennel and the celery by using a mandolin or a vegetable peeler. Place the shavings into iced water with the remaining lemon juice and allow them to become crisp.
We serve the dish by smearing the mascarpone across the centre of the plate.
We then place 2 pieces of the drained trout onto the plate along with 2 apple balls and some of the walnuts.
Garnish the dish with the fennel and celery shavings and finish with baby herbs.