DOUBLE GRAND NATIONAL HERO LEIGHTON ASPELL ON THE TIMING OF HIS RETIREMENT AND THE BHA JOB HE APPLIED FOR BUT DIDN'T GET
by Mark Souster
Leighton Aspell can be forgiven for feeling more than a little disorientated this week.
Following the sudden announcement of his retirement last Saturday and his final ride just 24 hours later, the routine which has shaped his life for more than a quarter of a century has literally vanished overnight.
In its place lies a degree of uncertainty and a period of readjustment, but also a sense of release and anticipation at what might come next. It is a scenario which every professional sportsman has to contend with at some stage, but Aspell is content that he has bowed out on his own terms with nearly 1,000 winners to his name. He certainly says has no regrets.
There was nothing sinister behind his decision, which some have, understandably, queried given its timing just a fortnight before Cheltenham and five weeks before Aintree.
It was simply that, at the age of 43, he realised that the mental and physical challenge was taking its toll more than he ever thought it would. He gradually came to the realisation that enough really was enough.
"I am beginning to get my head round the fact that I won't be race riding anymore. It's been brewing for a while," Aspell said. "I am 43 going on 44 which is old for a jump jockey. I was still getting plenty of rides and enjoying it, but I think I was just ready for a slower pace of life.
"It's been a high pace of life for a lot of years; the driving the injuries. I never thought it would catch up with me and take its toll but it definitely has."
In time-honoured fashion he is taking time out to spend a few weeks with his family, his wife Nicola and three daughters, Lucy 12, Niamh, 10, and Kitty aged eight, all of whom have their own ponies.
"It's a bit of an adjustment for them too," he continues. "They are used to their Dad being a jockey and asking questions like 'Where are you tomorrow? Where've you been today? How did you get on? Did you win?' It's changed for them too. For the moment they seem happy to have Dad around!
"After a break I'll take stock, make a plan and see whatever the future may hold."
Aspell departed after finishing second at Fontwell with tributes from his weighing room colleagues ringing in his ears and fond memories shared by racing's public.
An amiable Irishman from County Kildare who arrived in England in 1993 aged 16, is acknowledged by all who know him as a thoroughly decent man, a consummate horseman and first rate jockey, one who forever will be recognised for his Grand National exploits, winning the race back to back in 2014 and 2015 with Pineau de Re and Many Clouds respectively.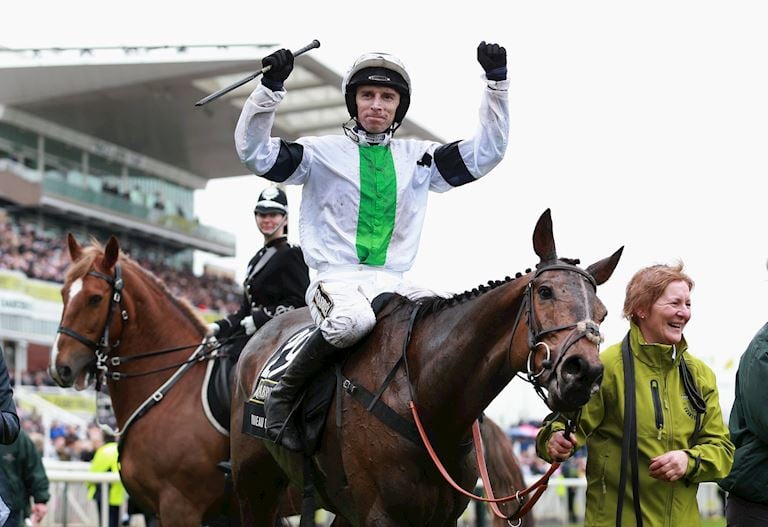 Messages of goodwill and good luck have poured in over the past few days. "I have been overwhelmed really, hearing from people going back years who I've ridden for.
"I have always done some pre-training alongside race riding and will continue that. I rent some stables off Amanda Perrett," he explained. Twelve years ago Aspell retired for the first time to become a pupil assistant to John Dunlop at Arundel.
He spent 18 months there before realising he had made a mistake and returned to the saddle for what turned out to be the most successful period in his career.
It included back to back his spectacular Grand National double. He explains: "Many Clouds was special partly because of my association with Oliver Sherwood but also because he was the best horse I ever rode. There was not a braver or tougher horse. You only appreciate it when they're gone. They are so few and far between. They really are."
In the wider picture he would like to make the most of his passion for race-reading, form, analysis and handicapping. When it is jokingly suggested that he should apply for a job with the British Horseracing Authority, Aspell reveals he did at the end of 2017 when Head of Handicapping Phil Smith retired only to miss out on the job to Dominic Gardiner-Hill who was appointed in February 2018.
"There was a bit of a shuffle around at the BHA," he explains. "But it ended up being an internal promotion. If something like that came along on those lines – they don't come along that often – that would appeal. I wouldn't mind some sort of official role. I am trying to keep my options open."
The timing of Aspell's retirement might come as something to a shock to most. Despite his Grand National heroics he never recorded a victory at the Cheltenham Festival and it might be natural to want to rectify that with just a fortnight remaining until Jump racing's Olympics kicks off again.
However, he was adamant. "Cheltenham is generally quiet for me. I am normally busy elsewhere in Cheltenham week. It was looking similar this year. I has nothing solid for Aintree, nothing even pencilled in. Those things tend to sort themselves generally after Cheltenham."
Aspell becomes the fifth 40-something jockey to retire in the past 12 months. Ruby Walsh, Noel Fehily, Wayne Hutchinson and Andrew Tinkler have all departed in that time.
"That is the nature of the game," he continues. "Out with the old and in with the new! It's just coincidence that so many have gone. But it will make room for a few others! Andrew was someone I always sat next to, as was Ruby when he was in the UK."
Until the picture becomes clearer Aspell will keep on with his long distance running and watching sport and perhaps he might even get to see his beloved Aston Villa. Whatever comes next you can be sure we haven't heard the last of Leighton Aspell.