DAN SKELTON ON WINNING 200 RACES IN A SEASON, COPING WITH STRESS AND THE SPANISH-BRED HORSE HE HOPES CAN WIN THIS WEEKEND
By Mark Souster
There can be few trainers who are as open, honest and, indeed, frank about the peaks and pitfalls of horseracing and the demands on a yard than Dan Skelton.
As competitive as they come, he may only be 34 but almost a decade with Paul Nicholls taught him how to handle pressure, how and when to let off steam and most importantly to whom.
Perhaps because of his own experiences, Dan Skelton is a trainer who appears to possess the wisdom and perspective of someone much older.
Having family around him has played a big part in that. Among them is his father Nick, the former show-jumping great and 2016 Olympic gold medallist. His brother Harry, his main jockey, and Grace his wife complete the close-knit family team.
"They ease the pressure. The people around me know me, the business and horses. Everybody around me is used to me and what stresses me out.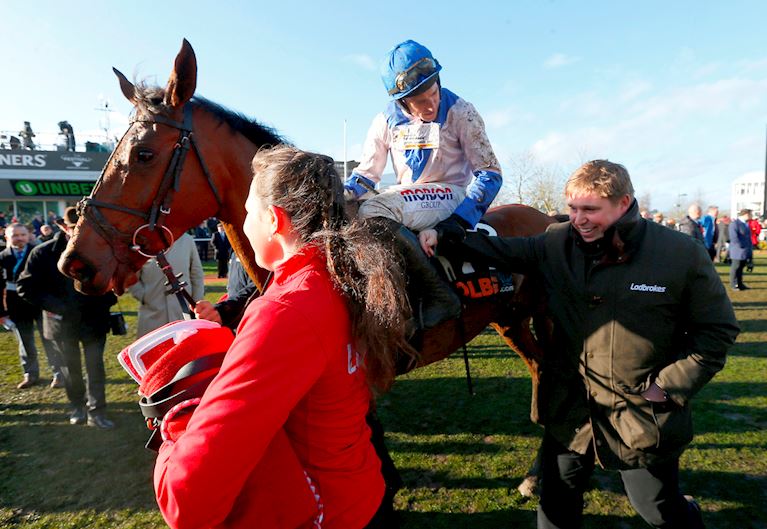 "I have learned to cope better with it. A lot of the things that can concern you, I don't interact with now. It may come across as slightly arrogant or aloof, but I am aware of the dangers.
"Things are out there to sting you. I don't need complications with a business to run and with my staff effectively relying on me making good decisions to make sure the ship goes in the right direction."
One thing he does struggle with is social media, not least the abuse that he, like many trainers, face from anonymous and aggressive trolls. As a result, he refuses to be on any platforms personally. "You get appalling stuff," he explains." Some delightful people wish you and your close family the very worst.
"Talk is cheap and when you are hidden behind a username it is spineless filth. I don't have any social media apps. A girl in the office does it for us. I am not interested in the opinion of keyboard warriors who say despicable things."
However difficult the job, outwardly Skelton appears to be thriving in it. Last year he became only the second jumps trainer – behind Martin Pipe - to pass 200 winners in a season. But emulating that will be impossible, he says, and so this time round he refused to set any targets.
"I know another 200 was unachievable," he continues. "I know what you have to have in your locker to achieve that figure. That is the one thing about doing it, it makes you realise what you need to have to repeat it.
"You can't fake it, get to Christmas and say, let's hope we can do it. I know the February before the May season whether we can do it or not. If we are ever to be in the position to do it again I will know. I know where the trip wires are."
One who could add to the tally of 106 this campaign, though, is Nube Negra, who is something of a rarity in the sport in being Spanish-bred. The six year old goes in the Agetur Kingmaker Chase at Warwick, Skelton's local track, on Saturday.
"I hope he goes very close, He has some course form, and it's only up the road. I haven't really any excuses to be honest. It is definitely a race I want to win, really want to win. But to be honest I really want to win them all!"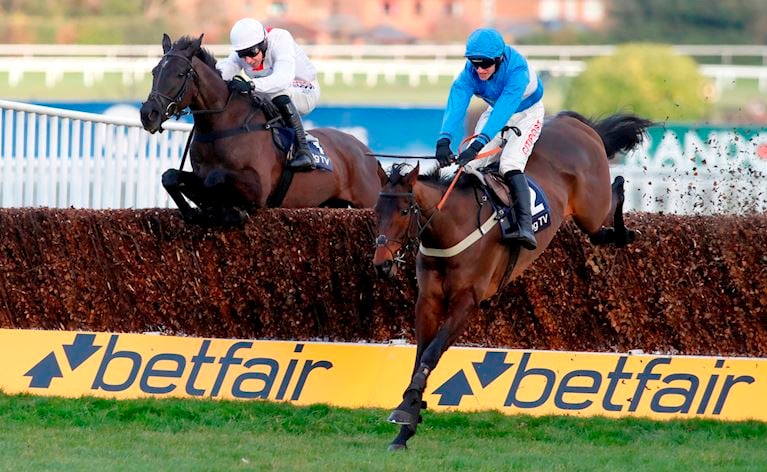 Spain is not renowned as a breeding ground for quality racehorses, as Skelton explains. "He was bred by a friend of Dad's, a show-jumping guy who ran him on the Flat over there.
"But he was always jumping him and said to my Dad, 'I have quite a nice horse here who I think could win some Jumps races, but we don't have any Jumps racing in Spain. I would rather you try him in England'.
"He came over won first time very well, went down the Fred Winter route as a juvenile, finishing third at the Festival. It was a good run. He was always going to be a chaser, but last year he struggled as some four and five year olds do.
"He couldn't reproduce the form he is capable of. The time we gave him (six months off) has paid dividends because he is a strong horse now and we are really happy with him."
He won twice last October but whatever the outcome at Warwick, Nube Negra will not be heading to Cheltenham. Rather, at the behest of owner Tom Spraggett, his target is Aintree and the Randox Health Grand National Festival.
"It is a flatter track, nicer ground and perhaps some sun on his back. We recognise we did not have a perfect year last year with him. We don't want to just go all guns blazing just because you have had good start and then end up at Cheltenham and put ourselves on the back foot again."