POSITIVITY THE KEY FOR UPBEAT LAVELLE AHEAD OF FESTIVAL TRIALS DAY
by Mark Souster
It is difficult to imagine a more upbeat trainer than Emma Lavelle. Oozing positivity she is someone who enjoys a laugh.
Her historic yard on the Wiltshire downs near Marlborough is sandwiched between those of Neil King and Alan King. "I am a queen between two kings," she jokes.
However, don't think for a minute that behind the easy-going façade she is not deadly serious about her ambitions. Given that her stable is increasingly full of some serious equine talent, she has every reason to be optimistic about the immediate future, as well as the longer term.
This Saturday two of her stable stars will tread the boards at Cheltenham Trials Day, a dress rehearsal for Jump Racing's Olympics in March on the biggest stage of them all.
Lavelle has the highly popular Paisley Park and the wonderfully named De Rasher Counter competing in the Cleeve Hurdle and the Cotswold Chase respectively.
Paisley Park, named after Prince's recording studio in Minnesota, is owned by Andrew Gemmell and has won his last six races on the bounce, most recently the Ladbrokes Long Distance Hurdle at Newbury.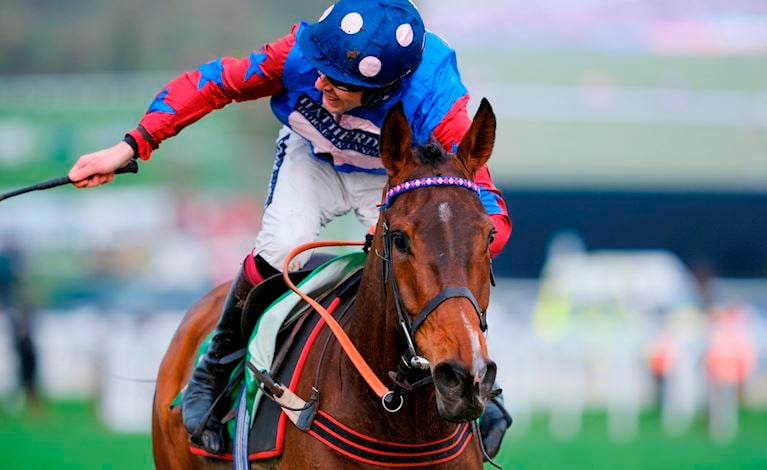 His target is to successfully defend the Stayers' Hurdle title at the Festival, which he won impressively last year and for which he has been laid out almost ever since.
If De Rasher Counter, named after a bar in Wexford and who is known as 'Streaky' at home, wins this weekend then a bid to win the Magners Gold Cup will follow. He also won last time out at Newbury taking the Ladbrokes Trophy Chase.
"If we as trainers cannot enjoy this period of our lives then we should not be involved in racing," she says. "When you set out to be a trainer it is what I dreamt about – having winners at Cheltenham and now we have two horses with actual chances at the big Trials meeting. It doesn't get much better.
"Everything points to March. It becomes this massive beast which everyone is obsessed by from the first of July. That is what it has become. We are all in the same boat.
"If you look at the entry stage for the Cleeve, it is the Stayers' Hurdle in January," she continues. "He (Paisley Park) is in really good form. I could not be happier. He looks great he always carries a bit of condition. That is him. He is ready to go and do himself justice and fingers crossed he will run his normal good race."
De Rasher Counter is owned by the Makin' Bacon Partnership.
"He is flying", says Lavelle. "The Cotswold Chase looks unbelievably competitive on paper. It is very important for us as it will dictate where we are heading for the rest of the season; to Cheltenham for the Gold Cup or to Cheltenham for a handicap or perhaps we look elsewhere like the Grand National or the Scottish equivalent."
The only thing certain about this weekend is that a win for De Rasher Counter will make her mind up for sure come March.
"There were no superstars in the Ladbrokes. But it was very competitive with 24 runners. The way when we hit the front, turning in, and were galloping away, ears pricked, was no mean feat.
"He of course has to step up but I do not feel it is beyond the realms of possibility – if he wins he goes for the Gold Cup."
Lavelle has 70 full boxes at her Bonita yard, where Sir Gordon Richards once trained, as did Bob Turnell and latterly Peter Makin. The quality of the gallops is such that Lester Piggott declared they were the best he had ever ridden on.
While the undoubted star of the yard is Paisley Park there is increasing strength in depth, with Lavelle gradually improving the quality around her, due in no small measure to the eight year old's exploits.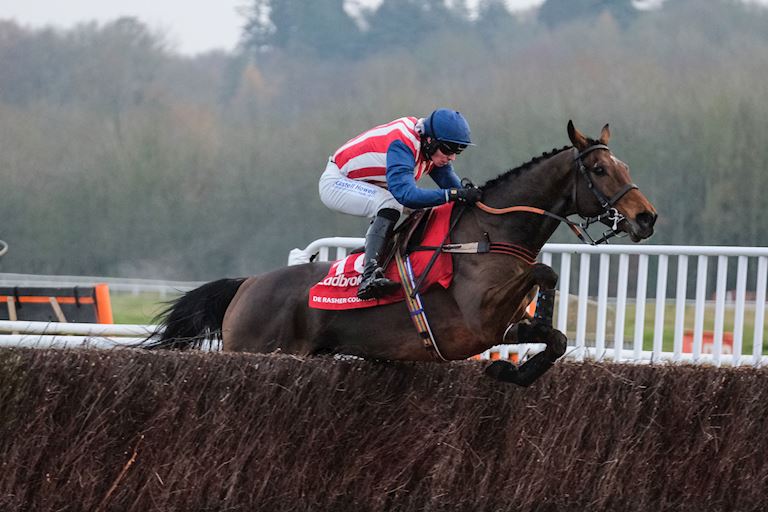 "He has been very important in terms of bringing in new horses and new owners," she explains. "You need those good horses for the big days because the big days are those that people really notice.
"Paisley is obviously exceptional. That kind of horse doesn't come into everybody's life anyway. We are very lucky to have a horse like him.
"To be able to produce a horse like that has given existing owners and new ones confidence in our preparation and our ability to be able to produce a nice horse. It has brought in more quality and some more established owners."
Lavelle is under no illusions that while results and regime are important, owners want to enjoy themselves. "The one thing we have to remember as trainers is that we are in the entertainment industry - it has to be fun for people and owners. That is the greatest thing that Toby Balding instilled into me, you have to make it special for them.
"It has not always been about winning lots of races - it is about winning good races. Of course you want to win as many races as you can. But I would rather make a nice horse over a period of time than try and win three or four little novice hurdles around the country."
She started out as a trainer in 1998 aged just 25 with this maxim from Paul Barber, owner of the likes of the great Denman, which resonates to this day.
"He told me that bad horses make bad trainers. I didn't want to be operating at the bottom end trying to make ends meet. I always wanted to be at the top table.
"Accordingly, if that didn't look like it was happening, I would still be young enough to change tack. But that hasn't happened - I am still here!"
The way she is going, she'll be here for a whole lot longer.