Trainer Paul Hennessy and jockey Richard Condon were given a guard of honour by their Irish peers after Heaven Help Us gave them both their first ever winner at The Festival™ supporting WellChild when taking the Grade Three Coral Cup Handicap Hurdle.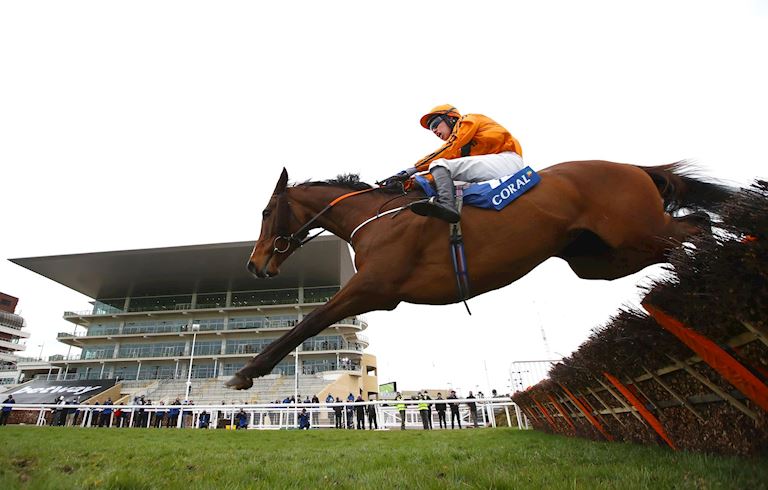 Hennessy is a greyhound trainer by trade with 40 dogs but has just three horses in training, while Condon is a 7lb claimer who was having his first ever ride at Cheltenham.
Irish colleagues emerged from the Weighing Room to give the hugely popular duo a guard of honour as they returned from the track to the winner's enclosure to give them a moment they will never forget.
Heaven Help Us was returned at 33-1, the joint longest-priced winner in the history of the 2m 5f contest. There was no fluke about the victory however, as the Yeats mare scored by nine lengths.
In an interview with ITV Racing Hennessy described her as "my Enable". He said: "We took a chance, and wasn't Richie brilliant? He's never ridden round here before and he just took the race by the scruff of the neck. I said to him, 'Richie, jump around and stay out of trouble — she will either stay or she won't, and we think she'll stay it'. She's just amazing, I can't describe her.
"We bred her, she was born at home and I've raised her. The places she's brought us are just ridiculous. It's amazing. There she goes, she's my Enable."
In the post-race press conference Hennessy added: "It's unbelievable! It's quite incredible, to be honest. We had a plan - something similar to Leopardstown - and I said to Richie, the pace he travelled over two miles at Leopardstown, I thought she'd stay at that pace for a long time.
"There were probably 26 Plan As in the race, but at least we got to use ours. What can I say? Niall Prendergast does all the preparation work with her, and it's paid off in spades. Richie gave her a brilliant ride again.
"She will jump the fences, but she just won't challenge them. She'll jump round fine but she loves the hurdles; she's more confident, and since we switched her back to hurdles she's improved again and again today.
"It looked a little bit questionable, I suppose, coming up the first time, to make the running in a race of this calibre, and looked a bit cheeky, but that's what we wanted to do and we thought she'd stay, and I must say Richie was absolutely incredible on her. I don't think anyone could have ridden her better than that.
"I only have three horses in training, this mare was born and reared at home. Niall, who does the work for me, got injured in a point-to-point and Richie came in and helped me out. And then when I wanted a jockey for the Leopardstown race, Danny was taken by Willie and I said, if you want to ride her, you know her better than most.
"You wouldn't think he was a 7lb claimer out there, would you? It's off the planet to win here. I must be dreaming. Thanks be to God - I can't believe what's happening. We needed a miracle, and, Heaven Help Us, we got one.
"We've got three horses in training at home. Greyhounds is our career - we were lucky enough to win the English Derby a few times over here, one of which was for John Turner, who owns Heaven Help Us. We've always kept a mare at home which we'd foal - that's how this mare was born. We've got about 40 greyhounds now; we used to have maybe 100 at one stage.
"The Mullins family introduced me to horses and we'd go to Pony Club and gymkhanas together, and going racing with Paddy was the great excitement. It was a great grounding for all the rest of it.
"To watch her jump the second-last still on the bridle and Richie, the plan was to hold on to her for as long as I could, and I knew she had more left, it's just unbelievable that she didn't fall into a hole and cut out. If someone said to you, you could have a wish in life - anyone would wish a winner at Cheltenham, wouldn't they?"
Jockey Condon, 24, said afterwards: "It's my first experience over here and I'm absolutely delighted. You dream about these kind of things and for it to happen in such an early stage in my career it hasn't sunk it in yet. That's it now, one ride, one winner. I can go home to Ireland a happy boy.
"I'm disappointed the pubs aren't open but back home in Ireland we are dairy farmers and there probably won't be a cow milked for a week.
"Because there was such commotion at the start (false start) and we had plans to make the running I thought it might be a bit more difficult than what it was. After we jumped the first and from there on I was in a gorgeous rhythm the whole way round. I was always in my comfort zone I couldn't believe it.
"Danny Mullins could have ridden her at Leopardstown provided Willie Mullins had nothing in the race which he did so thanks a million to Paul and John Turner for giving me the opportunity in Leopardstown but also to keep me on her at Cheltenham as not many inexperienced seven pound claimers get to ride at the Festival, let alone with a good opportunity.
"David Bass came upsides down the hill and he started clicking at his one and I knew his horse wasn't a bad one at all so I thought if he is clicking the rest in behind were getting going and I was just focused on picking a stride at the second last and getting into a little breather into her before we took on the hill.
"I've never ridden here before and to be out in front for the whole way, I had good conversations with Paul Townend and David Mullins and they told me how to ride it.
"It is unbelievable. For the Irish jockeys to give me a guard of honour on the way in was really special. We are like a family back in Ireland and all great sportsmen."
Trainer Tom Lacey said of third-placed Tea Clipper: "It was a great run. I thought his price was an insult. He was 50-1 this morning and I thought that was an insult on the back of his win in the Silver Trophy (at Chepstow last October) and the form stacked up quite nicely.
"I never for a minute thought he was a 50-1 shot coming here today but obviously you need all the luck in-running and I thought Johnny (Burke) gave him a super ride. He gave him a good clean look at his hurdles and he hit the line hard. Had he not have been interfered with at the last he possibly could have been second – we'll never know – but we're over the moon with that run.
"We'll look at Aintree and Ayr. The ground can sometimes get really firm up at Ayr, I wouldn't be that keen to run him on rock hard ground, but I look forward to seeing him over a fence next season."
Trainer Willie Mullins said of fourth-placed Sayo: "I'm delighted for him and I'm delighted he could do it in Appreciate It's colours for Michael Masterson. It's not every day that he's able to put everything together, but he did it today and I'm really pleased with him."
1st - Heaven Help Us – Paul Hennessy IRE 7-10-09 Richard Condon (7) 33-1
2nd - Craigneiche – Nicky Henderson 7-10-10 Tom Cannon 17/2
3rd - Tea Clipper – Tom Lacey 6-10-12 Jonathan Burke 33-1
4th - Sayo – Willie Mullins IRE 7-11-00 Bryan Cooper 28-1
6-1 Fav Grand Roi (12th)
23 ran
Distances: 9, 2¼, nk
Time: 5m 8.59s
Winner owned by J Turner
Breeder: Paul Hennessy
Breeding: b m Yeats (IRE) - Spare The Air (IRE) (Trans Island)
Paul Hennessy – 1st winner at The Festival™ supporting WellChild
Richard Condon – 1st winner at The Festival™ supporting WellChild