CHELTENHAM'S NEW YEAR'S DAY RACEDAY
START 2022 IN STYLE
Is there any better way to celebrate a New Year than a day jam-packed with excellent racing and superb entertainment at Cheltenham Racecourse?
Join us on Saturday 1 January for free family fun and a very special post-racing performance in The Centaur from the world's Premier Beatles band, The Bootleg Beatles from 4.00pm - 5.00pm.
Please note: The Family Fun and Bootleg Beatles are only available to club/tattersalls ticket holders.

In 2020 we were treated to one of the greatest finishes we have seen for many years. Lalor, Oldgrangewood & Saint Calvados were three abreast as they charged up the Cheltenham Hill in the most valuable contest of the day, the Paddy Power Handicap Chase, with Oldgrangewood coming out on top in the photo finish.
Make sure you are there this year to watch another epic day of racing unfold and live music..
Please note: We are a cashless venue. On-course betting facilities will take cash and there are cash machines on site.
Correct as of November 2021. All information, including sponsors, are to be confirmed.
| Start Times | Race | Distance | Type | |
| --- | --- | --- | --- | --- |
| 12:15 | The Ballymore Novices' Hurdle (Class 1) (Listed) | 2m abt 4½f | Hurdle | |
| 12:5 | The Winchcombe Handicap Steeple Chase (Class 2) | 3m abt 2½f | Steeple Chase | |
| 1:25 | The Paddy Power Dipper Novices' Steeple Chase (Class 1) (Grade 2) | 2m abt 4½f | Steeple Chase | |
| 2:00 | The Paddy Power Millionaire Handicap Chase (Class 1) (Grade 3) (Feature race) | 2m abt 4 | Steeple Chase | |
| 2:35 | The Paddy Power Handicap Hurdle (Class 2) | abt 3m | Hurdle | |
| 3:10 | The Dornan Engineering Relkeel Hurdle Race (Grade 2) | 2m abt 4½f | Hurdle | |
| 3:50 | The Cheltenham Pony Club "Junior" Standard Open National Hunt Flat Race (Class 1) (Listed) | 1m abt 6f | Bumper | |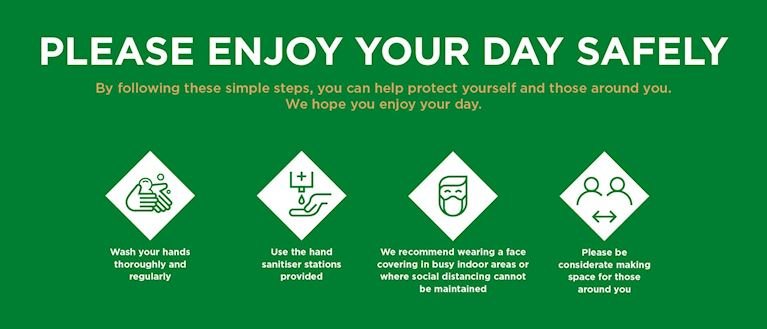 COVID-19 GUIDELINES
All racegoers are recommended to observe the following measures:
Wear face coverings in enclosed and crowded areas – there will be additional facemasks available on the entrance to the racecourse but we recommend you bring your own.
Wash hands regularly – there will also be hand sanitising stations around the racecourse on the day and we recommend you use them frequently.
Observe social distancing where practicable and enjoy the vast amounts of space around the racecourse and avoid congregating in busy areas.
Be Covid-19 double vaccinated and any booster when offered, depending on personal circumstances, or undertake a Lateral Flow Test 48 hours prior to the raceday to identify positive cases.
If you feel you may be experiencing any of the recognised symptoms of Covid-19, please put on a face covering and speak to a member of staff in a well-ventilated area.
It is best to travel home if it is safe to do so. Please do not attend if you are feeling unwell or are self-isolating.
Thank you so much for your continued support and co-operation. We hope you have a wonderful day with us.
Tickets
100% Money Back Guarantee
Attend with total peace of mind that your safety is our priority
Find Tickets