Snooker's biggest stars will be at Cheltenham Racecourse later this year when the Cazoo British Open is staged at the Centaur Arena for the first time.
When?
25th September - 1st October 2023
Where?
Cheltenham Racecourse, Evesham Rd, Cheltenham GL50 4SH
The tournament will run from September 25th to October 1st in 2023 and tickets for the world ranking event are ON SALE NOW.
The line up will be announced nearer the time and the field is expected to be packed with the sport's biggest names. Ryan Day won the title last year, beating Mark Allen in the final.
Tickets start at just £15, and fans have the option of an Event Pass to see every session of the seven-day tournament for just £190.
The British Open was initially staged from 1985 to 2004, then returned to the calendar in 2021 after a 17-year absence. It starts with a flat draw of 128 players and there will be a qualifying round for certain players ahead of the final stages in Cheltenham. The first four rounds are all best of seven frames, followed by best-of-nine quarter-finals, best-of-11 semi-finals, and then the final on Sunday October 1st will be best-of-19.
WST has staged several tournaments in the Centaur Arena at Cheltenham Racecourse and it has proved an excellent venue. The event will be televised live by ITV, as well as a range of broadcasters worldwide.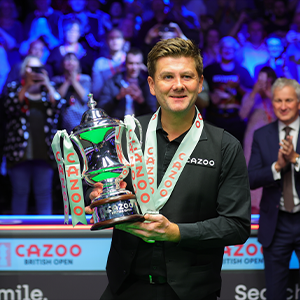 Event Schedule
Monday 25th September | 13:00 | 19:00
Tuesday 26th September | 10:00 | 13:00 | 19:00
Wednesday 27th September | 10:00 | 13:00 | 19:00
Thursday 28th Septmeber | 13:00 | 19:00
Friday 29th September | 13:00 | 19:00
Saturday 30th September | 13:00 | 19:00
Sunday 1st October | 13:00 | 19:00