ONE WEEK ON ADAM WEDGE REFLECTS ON A DAY HE'LL NEVER FORGET AS HE keeps himself busy during racing's covid-19 suspension
By Mark Souster
It is strange to think that just a week ago Adam Wedge was celebrating his first Cheltenham winner and proving that sport's capacity to spring a surprise is one of its enduring charms.
The 50-1 success of Lisnagar Oscar in the Paddy Power Stayers' Hurdle was a moment he, nor indeed the trainer Rebecca Curtis, will never forget.
For Wedge it was the latest in a line of big day successes which are putting him very much on jump racing's map.
For Curtis it was reward for being put through the mill these past few years. And for the syndicate members who own him, the appropriately named Racing For Fun, and most racing fans besides, it was the feel good story of the week.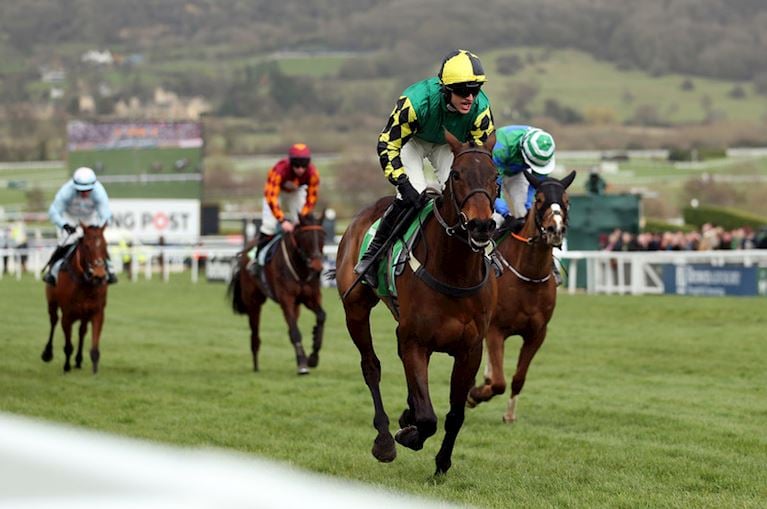 Wedge, like every jockey up and down the country, is currently confined to barracks, twiddling his thumbs and not at all sure what the immediate future holds after racing's Coronavirus-induced shutdown until the end of April at the earliest.
At least he is paid to ride out for Evan Williams every day. Many other stable workers are not so fortunate.
"It is quite scary now not knowing when anything is going to be happening," Wedge says. "I'm managing to keep busy. But I know for a lot of lads it will be hard. Many of them were on the breadline already and before all this happened."
Since the curtain came down on Tuesday he has enjoyed having more time with his family and girlfriend, Lauren. The dogs are getting lots of walks and he has not missed the long hours at the wheel of the car which is the lot of most riders.
"I will be keeping myself fit," he continues. "I have a bit of a gym in the house. I am trying to keep everything normal; run with the dogs. I am just trying to keep busy. I am lucky. Evan (Williams, trainer) pays me a wage so I have still got some money coming in."
If ever there is a down moment, Wedge can reflect on the momentous events of seven days ago. He's watched it back many times and the smile has barely left his face since the moment he landed his first Grade One victory and joined an exclusive club of Champion race winning jockeys at The Festival.
"I'm having my best season then I get a Festival winner," he says. "It is the cherry on top. It is what every lad in that weighing room wants, what you get up for every morning. That is the dream. It's great for Rebecca who's had Festival winners before. Hopefully it will give her the kick-start that she truly deserves."
He thought his best chances of the week were on Tuesday in the Unibet Champion Hurdle with Silver Streak for Williams.
He laughs: "Shows how wrong you can be! Every ride I had on the Thursday was big odds. I thought Lisnagar was bigger than he should have been. If he was 20-1 it wouldn't have surprised me.
"Once we came down the hill the first time and out onto the second circuit he got into a nice rhythm. He likes to have a bit of daylight in front of him rather than a wall of horses in front of him. I always had that in my mind. I didn't want to get stuck. He was much happier.
"At the top of the hill I gave my lad a little squeeze between my legs and he just came alive coming down the hill. That's when I started to think he could run a big race. He just started to take off underneath me. I was mindful to let him start enjoying himself. I couldn't quite believe it.
"Turning in I thought I'd keep the revs moving forward because going up that hill you've got to have a bit of momentum. He jumped the last well and has gone away a length or two after that. I was just very happy that he kept his head down and made it to the line. It was unbelievable.
"It was only a stride before the line I thought, 'I've got this'. From the last to that point I was thinking anything could come from behind me at any time. I didn't want to let myself believe I was still in front until we were on top of the line.
"When you get past the post it hits you. My legs were like jelly. I couldn't quite believe it that there I was celebrating winning the Stayers' Hurdle.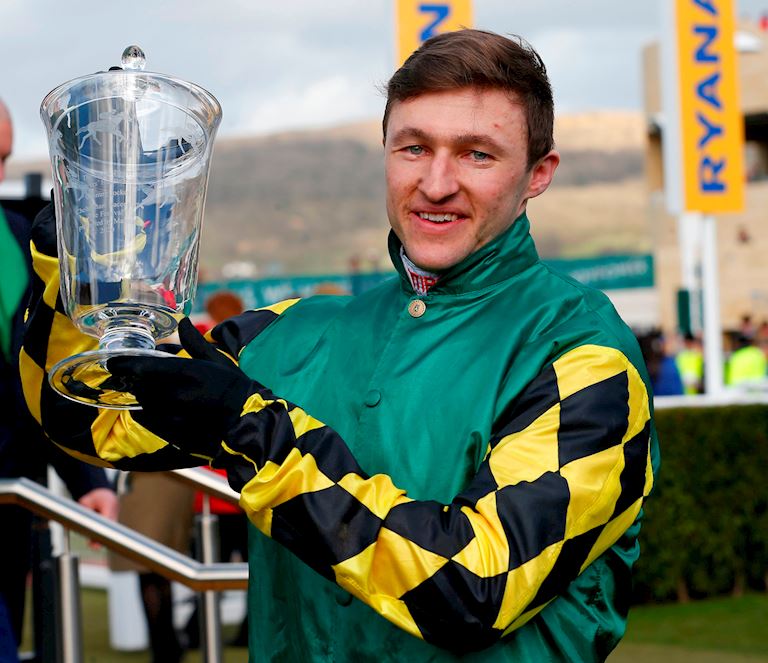 "You couldn't write it. I first saw Rebecca when we were walking into the paddock. She'd done a fantastic job getting the horse there in A1 condition despite just having had a baby and rebuilding the yard. She's amazing. And I'm thankful to the owners for letting me ride the horse. I'd only sat on him once before in the Cleeve Hurdle (won by Paisley Park in January).
"I think I'm quite a reserved person. It is probably the first time have ever really celebrated a winner. You can't help yourself when walking back in and giving a bit of a fist pump. The atmosphere brings it out of you!"
Sadly for Wedge's family and friends none of them were there to witness his bit of history. "They'd all come on Tuesday!" he explains. "But I've a lot of friends in the weighing room and everyone came up to congratulate me.
"When we are out there we are riding our own race. But once you cross the winning line everyone is happy for you. That camaraderie is something special.
"I don't think there are too many sports where we are fierce contestants on the track but afterwards there wasn't one person who didn't shake my hand. It is fantastic."
It is that spirit which will help to ease the inevitable hardships many will face over the coming days and weeks in what is already the toughest of sports.