THE STORY BEHIND BEN PAULING'S HUNGER FOR SUCCESS
by Mark Souster
You are what you eat is a maxim which we are all encouraged to abide by. For Ben Pauling it has been the secret behind his stellar achievements this month, the highlight of which was undoubtedly a second winner at The Festival™, presented by Magners winner with Le Breuil.
It's not, however, that Pauling has changed his own diet. Rather it is his horses which have had their feed regimes amended. Put simply, Pauling is feeding them less.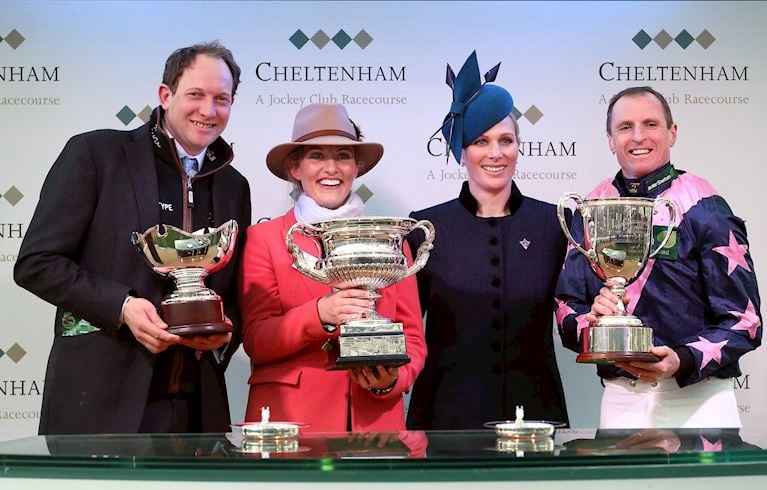 Image: PA Images
The transformation, he says, has been startling. Ten winners in nine days earlier this month is proof that something is working. "Since we altered their feed the amounts we give them, we have seen a dramatic improvement," Pauling said. "We've made a tweak to their feeding and since we did so it has been a revelation."
It certainly seems to have left his horses and their trainer hungry for success.
FESTIVAL WINNER NO.2
Pauling was understandably delighted by Le Breuil's victory in the National Hunt Chase, an epic duel between Le Breuil under Jamie Codd and Discorama up the hill. As the race commentator aptly described the closing stages, it was the equine equivalent of two gladiators slugging it out.
The question for Pauling is, was a Festival winner better second time round with a horse who looks like a Randox Health Grand National horse in the making?
"You are able to enjoy it a little bit more. It is not such a shock. The first time (with Willoughby Court) it is about achieving a dream. When you do, all you want is more. When you get your second one it doesn't mean it feels better, but you can take it all in and enjoy the whole occasion.
"There has been an awful lot of talk about the race. But it was a four mile race on very soft ground and it was going to take its toll. The fact that two very good horses battled it out up the hill and came back fine is a great story in itself."
Pauling celebrated with his customary zeal. In fading light and to the strains of cheering and singing punters he could barely contain himself in the winners' enclosure, hugging Zara Tindall on the podium and even planting a kiss on her cheek.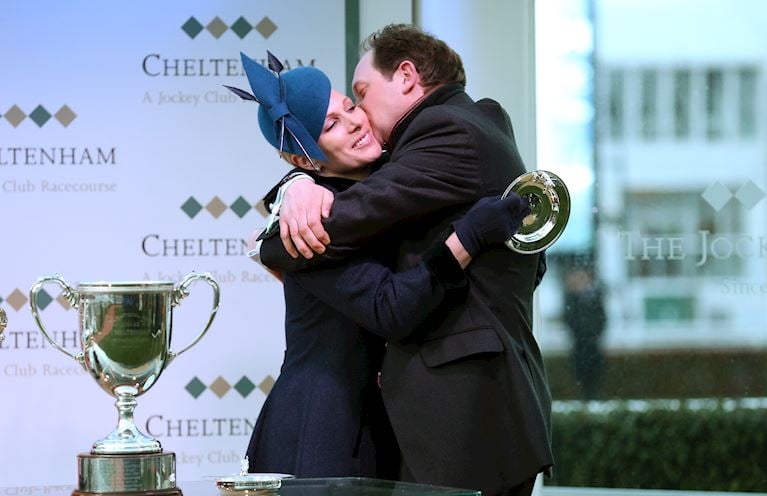 Image: PA Images
And, while he won't get many marks for artistic impression - often resembling as he does an animated windmill - he does know how to have a good time and guarantees his stable staff do too.
"I took everyone to the local on the Tuesday evening and opened the bar and said, 'Get on'. We had a lot of fun. We know how to celebrate but you've got to know how to celebrate the good days because you know how tough it is to get hold of them. It is important to keep everyone together. I have a brilliant team. There's not one bad egg among them."
BUILDING FOR THE FUTURE
He understands only too well the fine lines trainers tread. Since December he has lost two of his leading lights, Barters Hill to retirement and the aforementioned Willoughby Court who had to be euthanized.
Barters Hill put the yard on the map but the injury when a tendon came away from the hock meant he could never reproduce his early glittering early form in which his conquests included Altior, Buveur D'Air and Bellshill. Willoughby Court, owned by the Rooney family, succumbed to a blood infection.
"They were two genuine grade one horses who with a clear run you could have had Gold Cup runners and Ryanair runners this year," he continued. "You keep having to look to the future to the young stock coming through.
"We are building another fresh team and one horse which stood out head and shoulders above anything else was Bright Forecast who was given a very sympathetic ride in the Ballymore and flew up the hill to be beaten only four lengths. I think he is going to be a very smart horse in years to come.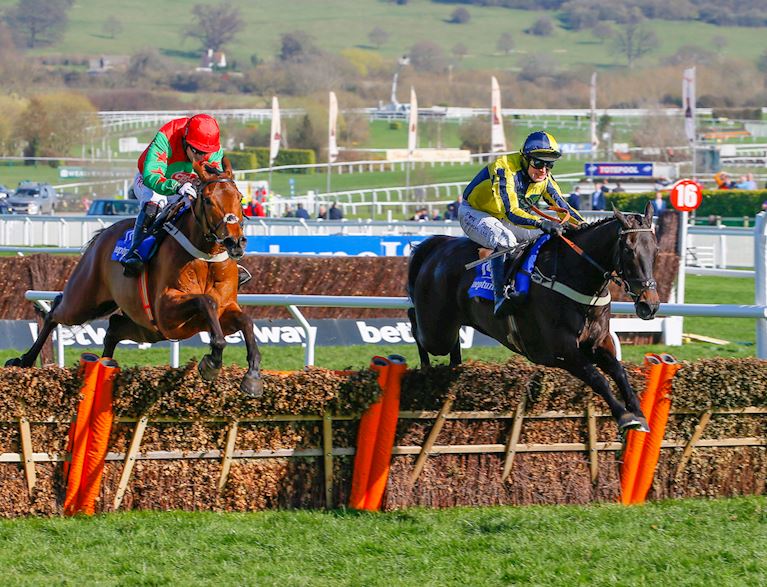 Image: focusonracing.com
"We have a nice bunch of horses. Of the 80 we have in, we have 30 bumper horses or youngsters who haven't run. We are building a nice group in behind. I know Global Citizen wasn't overly enthralling at the Festival but he will be an exceptionally exciting novice chaser next year."
The likeable Pauling, brother-in-law to fellow trainer Charlie Longsdon, with whom he is close, is enjoying comfortably his best season with 41 winners to date. The half century is the target. "We have won three grade 2s, and listed races. It would be great to top it up with a Grade 1. That would make it a dream season.
"We have gone above and beyond where we could have hoped to be when we started out," he continued.
"We didn't have a huge amount of financial backing or big owners. We set out with a few cheap horses owned by friends and family. There were eight horses in the yard the day I started. We have gone from strength to strength. Hopefully we are set for a great end to the season."