Team Tizzard is eyeing more success at The Festival™, presented by Magners.
by Mark Souster
Towards the top of the main gallop at Venn Farm in Dorset, tucked away slightly to one side of the sharp incline, lies a weathered stone. It marks the grave of Les Tizzard.
The spot lends a panoramic view stretching as far as the eye can see of the farm at Milborne Port which he built up from nothing and which set Colin, his son, on the road to Gold Cup success.
"He's looking down on us all the time," Joe Tizzard, Colin's son, said. "It is just a lovely place. He loved it because he could look at where he started. The sun goes down in the evening. It is a nice quiet calm spot. He was a big village man and did a lot for it."
When Les was born in the local pub there was nothing to suggest that it marked the foundation of an operation which focused initially on cows - he had six when he got married - but which broadened out over 20 years to embrace an equine empire under Colin and Joe.
From Dairy to Gold top
The dairy cows which underpinned racing in the early days, recently went. The focus is almost exclusively now on training and at this time of year, Cheltenham.
"It's everything I dreamt of doing," Colin said. "I was a farmer for 25 or 30 years, the cows have left now and this has taken over full-time. I used to say they were a safety net but they weren't, they were a lead weight holding us back.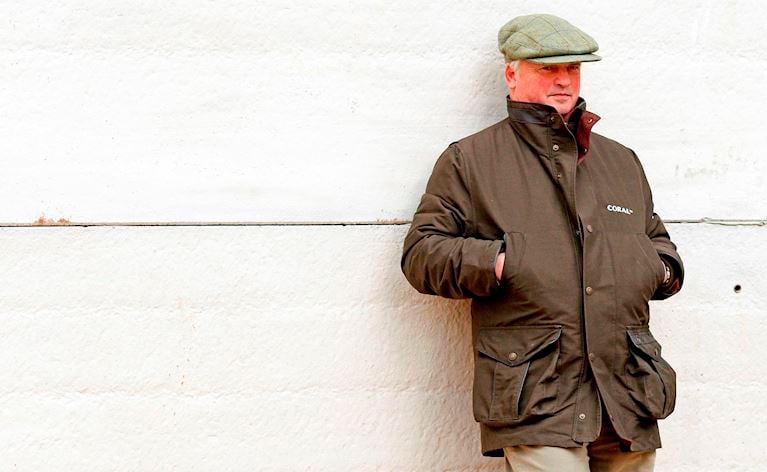 Cap: Model's own
"I went to market last Friday and bought 49 beef cattle, which gave me a lot of pleasure. We're carrying on farming but we're going to have beef — you haven't got to milk them 720 times a year."
The Tizzards whose name derives from the Flemish word Tissier or weaver, head to the Festival armed to the teeth, basking still in last year's success with Native River. The stamina-laden nine year old returns next week looking to become the first winner to record back to back successes since Best Mate.
Native River heads a three pronged assault on the Magners Cheltenham Gold Cup which also includes Thistlecrack, a former 32 Red King George VI winner and Elegant Escape, the Welsh National victor. It is the proverbial high powered dream team.
"For me the Gold Cup is everything in life," Colin said.
Celebrating Tizzard Style
They celebrated last March in appropriate fashion especially after a drought of 42 losers in a row at the Festival. In a jaw-dropping 45 minute spell, Kilbricken Storm took the Albert Bartlett Novice Hurdle, before Native River - under a masterful tactical ride from Richard Johnson – saw off Might Bite in a riveting duel, reminiscent of the days of Kauto Star and Denman.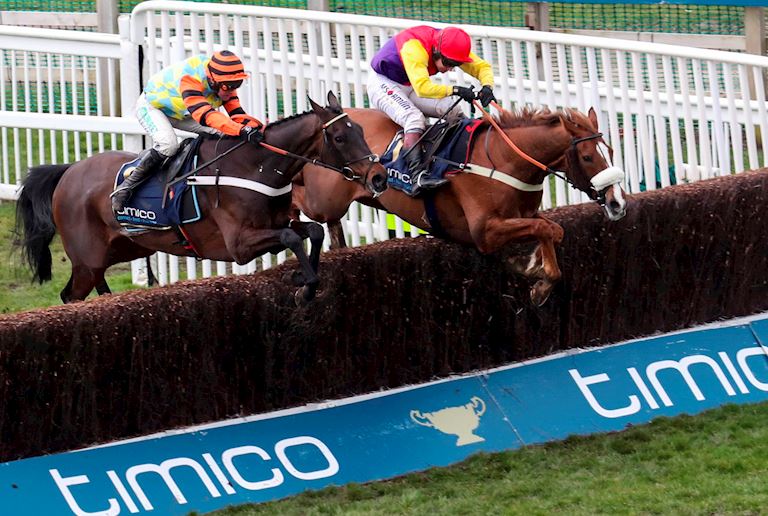 "I said, 'Let's see if we can't drink them dry and have some fun'," Colin said. "And we did! We went to the owners' and trainers' bar and got the champagne out and had 50 bottles. We had to go on to that pink stuff in the end but at that time of night it all tastes the same.
"You must enjoy it. It was a wonderful time in our lives and you might think it's going to happen [again] but it might not."
To have three horses of such quality competing for the biggest prize in Jumps racing is remarkable. To put it into some context, Nicky Henderson and Paul Nicholls may only have one each.
Native River is the third-favourite behind Presenting Percy, last year's RSA Chase winner, and Clan Des Obeaux, who took the King George at Kempton on Boxing Day.
"The betting says that one has got a better chance than the others and the betting is the weight of opinion, so you can't get away from that," Colin continued.
"My opinion is that Native River has probably got the better chance but the other ones, on their day, are in a race after all and, if everything went right for either of the other two, they'd have a chance.
"Elegant Escape is a stayer – you can't get away from that – while Thistlecrack won a World Hurdle, and he's a brilliant horse. Keeping him sound has always been the issue but he's fine at the moment and he's done all his work and won't need much more. We'll let them run and see which one's the best."
What makes a Gold Cup horse
He will have other fancied runners at this year's meeting, including Elixir Du Nutz in the Supreme Novice Hurdle. A second Gold Cup is an increasingly realistic prospect.
"These Gold Cup horses, the rest of their families are never as good as they are," Colin continued. "It's usually one in a family and they are almost like freaks, really. You have to look after them so they are fit and well, then you need a huge amount of luck.
"It's what we try to achieve, and it takes a special horse," Joe added. "There are plenty who get nearly good enough but it takes a certain kind of horse to take that next step. Luckily we have got them."
Some might say you make your own luck. So don't be surprised if the Tizzards weave some more magic next week.
Images: PA Images, Racingfotos.com, The Jockey Club